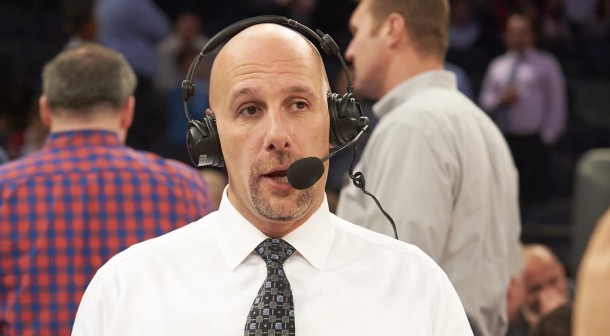 The Toronto Blue Jays will have a familiar face returning to the Sportsnet broadcast booth in 2016, as Dan Shulman has announced he will work alongside Buck Martinez and Pat Tabler for the next two seasons.
Jeff Blair was first with the news as he quickly alerted Twitter not long before Schulman joined Dean Blundell and Co. this morning on Sportsnet 590 The Fan to announce the news. He made an appearance later in the day on Tim and Sid as well to discuss his new position.
Shulman, who is a Toronto native, called Blue Jays games with Buck from 1995 to 2001. Shulman has been the voice of Sunday Night Baseball since 2011 alongside his duties which included covering NCAA men's college basketball for ESPN, in which he will continue his work for.
In a statement from Shulman, he said, "I'd be lying if I said anything other than this is (a return home). There is a lot of sentimentality to this. I wouldn't be doing 30 games in another city. This is home."
During the course of the playoffs, Shulman covered the American League Division Series which included Toronto taking on the Texas Rangers, which were the first Blue Jays game he has worked in 14 years.
When asked about what it was like to be part of the experience in his hometown, Shulman said, "It was fun when I did Game 5 of the Texas series for ESPN Radio, driving down the (Don Valley) Parkway and parking underneath (Rogers Centre) like I used to do all those years ago and getting a chance to see some friends and share it with family. All those things mean something."
Shulman adds more experience to the broadcast club and feels he will be able to add a unique voice as well which originated in the Greater Toronto Area.
When asked about what it will be like, Shulman said "Doing games in your hometown you have a real feeling about what is important to people. Having been through sports in this city for 30 years gives me a nice little bit of perspective."
In addition to calling games on Sportsnet, Shulman will make regular appearances on Blue Jays Central, Tim & Sid and Sportsnet 590 The Fan.
As noted by Bob Elliot of the Toronto Sun, there will be some games on occasion where Shulman will replace an announcer while it will otherwise remain three men in the booth.
Shulman won Sports Media Canada Broadcaster of the Year twice (2000 and 2007) and he earned the National Sportscasters and Sportswriters Association Sportscaster of the Year in 2011.