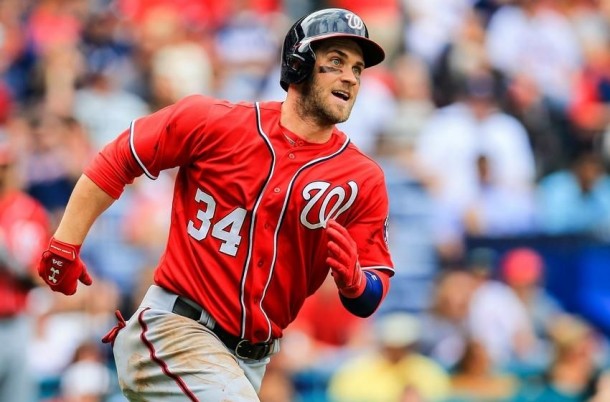 Bryce Harper of the Washington Nationals won the National League Most Valuable Player award in a unanimous vote. The 23-year-old hit .330 (second in the NL) with 42 home runs (tied for first in the NL) and 99 runs batted in. He led the majors in on-base percentage (.460) and slugging percentage (.649), becoming the third player since 1900 to lead baseball in those two categories, joining Ty Cobb in 1909 and Stan Musial in 1941.
Harper was the seventh unanimous NL MVP and youngest in major league history. At 22 years, 353 days on the final day of the regular season, he is the fourth-youngest MVP in major league history, the youngest since Cal Ripken Jr. in 1983 and youngest NL MVP since Johnny Bench in 1970. He is the first player in Expos/Nationals history to win the MVP award. Walter Johnson in 1913 and 1924 and Roger Peckinpaugh in 1925 won MVP's as members of the original Washington franchise, then called the Senators.
Harper is now one of seven number one overall picks to win an MVP, joining Jeff Burroughs (1974), Ken Griffey Jr. (1997), Chipper Jones (1999), Alex Rodriguez (2003, 2005, 2007), Josh Hamilton (2010) and Joe Mauer (2009).
Some statements from Nationals management: "The entire Lerner family extends congratulations to Bryce on his well-deserved Most Valuable Player award and his tremendous, record-setting season," Nationals owner Theodore N. Lerner said in a statement. "It's such a pleasure to watch him play and we look forward to his future outstanding contributions to the team."
"What a remarkable achievement for Bryce, to become the first Nationals or Expos player ever to earn the Most Valuable Player award," Nationals president of baseball operations and general manager Mike Rizzo said in a statement. "There has never been a question about Bryce's talent. It's transcendent. And to watch him put together the type of historic season he did in 2015 -- at age 22 -- only heightens the excitement for what remains ahead of him. We are extremely proud."
A pair of first baseman, Paul Goldschmidt of the Arizona Diamondbacks and Joey Votto of the Cincinnati Reds finished second and third, respectively.