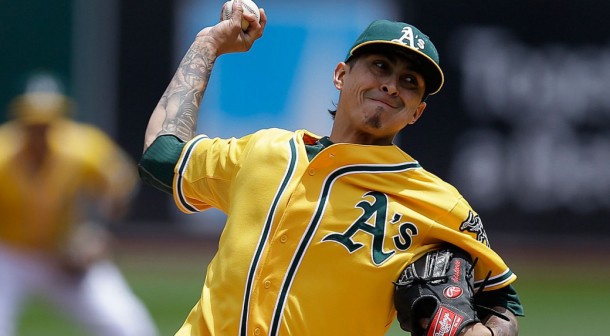 The Toronto Blue Jays have acquired right-handed reliever Jesse Chavez from the Oakland Athletics in exchange for right-hander Liam Hendriks, according to a report from Ken Rosenthal of Fox Sports on Friday night.
The news comes along as the club is currently on the hunt to add some starting depth to a rotation in which could use it.
It is said that the Blue Jays were pursuing a trade for Chavez back in July and interest was recently renewed. As of now, both teams have announced the deal.
Chavez was last with Toronto during the first half of the 2012 season where he posted an 8.44 ERA having given up 22 runs on 25 hits, six of which were home runs over a total of 21.1 innings pitched.
Since then, Chavez has spent his time with the Athletics where he has showed off the capabilities in which he can hold with his powerful arm which he displayed well in his last stint with the Blue Jays.
Over the course of the 2015 season, Chavez posted a 4.18 ERA alongside a 7-15 record while having thrown 157 innings pitched in 30 games, 26 of which he got the start in. As he heads into his final year of arbitration before hitting the free agent market, MLBTradeRumors has projected him to earn $4.7 million in 2016.
Hendriks finished the 2015 season with the big league team while having posted a 2.92 ERA while having given up 23 runs on 59 hits in 64.2 innings pitched with a 5-0 record. He is under club control for four more seasons and will receive the league minimum in 2016.
As noted by MLBTradeRumors, this acquisition is reminiscent to that of Marco Estrada last year, giving the Blue Jays an under the radar swing man with some upside.
This will provide the Blue Jays with more options in spring training possibly heading into the regular season as well as a guy such as RHP Drew Hutchison could loose his spot in the rotation.
Chavez should give Toronto exactly what they need and that is innings, depth in the rotation, and flexibility to come out of the bullpen.