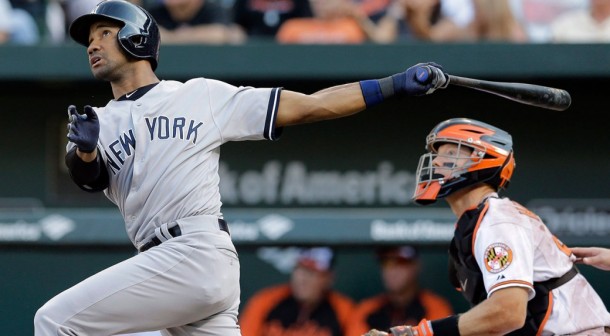 The Boston Red Sox are said to be nearing a deal with veteran outfielder Chris Young, according to a report from Ken Rosenthal of Fox Sports on Monday afternoon.
As Rosenthal mentions, it would be a multi-year contract which at the moment is currently pending a physical.
The move comes as the team is on the lookout for a right-handed hitting outfielder, specifically one who has the ability in which he can play the corner outfield.
As reported by USA TODAY's Bob Nightengale, general manager Dave Dombrowski immediately targeted the 32 year old in free agency and thought he'd be perfect fit at Fenway.
As per his contract with the club, details are still in the works and will be finalized later this week with an announcement from the organization to follow.
This move supplies the Red Sox with both depth and flexibility alongside solid action on the defense side of things with improvement needed in terms of offense in which will be worked on in spring training.
Earlier in the day, a source told Sean McAdam of CSNNE.com that a deal could not be confirmed. This had to do with the fact that a physical is currently being waited on. An industry source was later able to affirm the report.
It is said that Boston met with Young's representatives in Florida earlier in the month where the first round of MLB's GM meeting's officially began where light rumours quickly started to surface.
With Rusney Castillo likely to make the cut from the spring training squad in Fort Myers, Florida, he will likely start 2016 in right field with Jackie Bradley Jr. as another option and likely his backup before the team gives Young the go-ahead knowing as he is no longer considered an everyday player.
Young spent 2015 with the New York Yankees where he hit .252/.320/.453 with 14 homers and 42 RBI's while making a total of 356 plate appearances in 140 games played.
Over the course of his ten-year playing career, he has spent it with the Arizona Diamondbacks before being traded away to the Oakland Athletics which later led to a trade in which he was sent off to New York.
Earlier this offseason, Dombrowski said that the team was likely done with major trades and would attempt to fill its starting pitching needs through free agency and it seems as if a big deal may just be around the corner with the Red Sox targeting veteran left-hander David Price as the team is said to be his top suiter for the time being.