The Boston Red Sox have put their fans through a wide range of emotions in the past four years. They captured a World Series championship in 2013 but finished in last place the other three seasons.
Last year's 78-84 record left much to be desired, forcing the firing of former general manager Ben Cherington and prompted Boston owner John Henry to go after a game-changer to take over his front office.
Nobody fits the "game-changer" moniker better than Dave Dombrowski. The 59-year-old dealing savant was let go by the Detroit Tigers after last season and, not surprisingly, it didn't take him long to find another employer.
His current project may seem daunting, but not as much as his last one. Then, he transformed the Tigers from an 119-loss team to a perennial American League power who won the AL Central four straight times and made two World Series appearances.
Turning around the Red Sox shouldn't be quite as difficult, but it's still going to take some clever and maybe some bold moves. Luckily, those are Dombrowski's forte.
Dombrowski has earned a reputation as a front office executive who can turn teams into winners sooner rather than later. He is not afraid to make big splashes on the free agent or trade markets, and he is never content to sit through losing seasons.
As Jesse Spector of Sporting News recently described Dombrowski: "He is paid to make these [lucrative] deals, do everything possible to win World Series and worry about dealing with financial boondoggles down the road."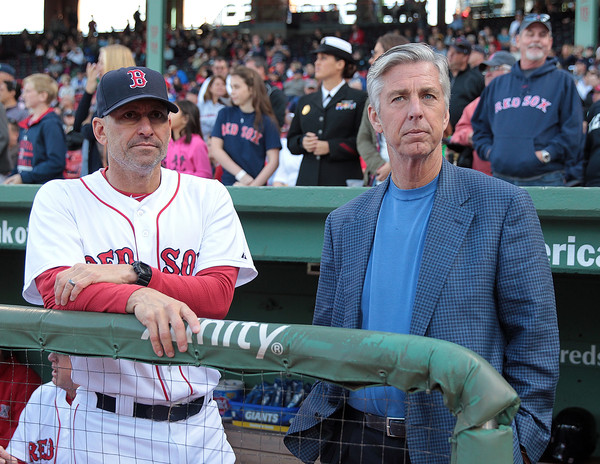 Jim Rogash/Getty Images
Yahoo! Sports' Jeff Passan echoed a similar tune when he wrote about the new Boston GM's style in a recent column: "The Red Sox didn't hire Dombrowski to be like Andrew Friedman and bring principles like surplus value and efficiency to the Red Sox. They brought him in to make big, bold, brash maneuvers, and tightening his purse strings would go against the entire rationale behind jettisoning Ben Cherington for Dombrowski."
In other words, if you are waiting for Dombrowski to try to get by with a mediocre starting rotation - as the Red Sox did last year by refusing to sign a true ace - or pursue an elite player with anything other than inspired vigor - as they did when they half-heartedly courted Jon Lester in free agency - you're going to be waiting awhile.
Dombrowski does not wait around, which is why it really wasn't much of a surprise when Peter Abraham of the Boston Globe reported on Tuesday that Boston had signed David Price to a mega deal.
But seven-year contracts never work out, you say.
Who cares? Dombrowski sure doesn't. It takes great players to win championships, and that caliber of players typically come with a little bit of risk and a whole lot of money. If that means getting top-tier production at the beginning of the contract but sacrificing a couple of good years on the back end, it's worth it.
Because Dombrowski and the Red Sox can't afford to wait around.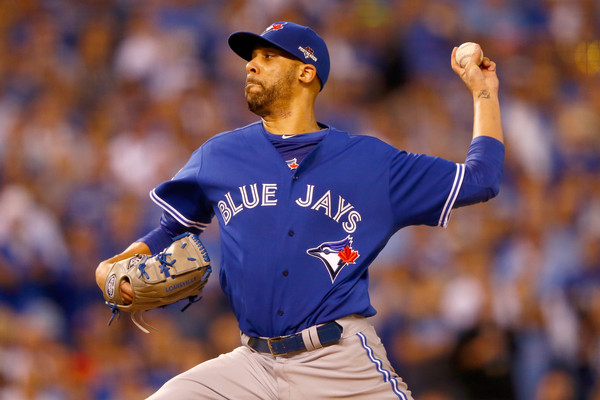 Jamie Squire/Getty Images
Which is precisely why Boston had to have Price. There is plenty of familiarity between Dombrowski and Price - the GM acquired the southpaw at the trade deadline two years ago when he was still with the Tigers - and Price is very familiar with the AL East division after spending six years in Tampa Bay and a few months in Toronto last year.
He also thrives in Fenway Park, compiling a 6-1 record and a 1.95 ERA in 11 career starts.
Price projects to add some much-needed stability to the Boston starting rotation. Last season, only the Tigers and White Sox starting pitchers gave up more runs than the Red Sox, and Boston's "no true ace" policy was a direct factor.
Now, they have an ace in Price, and a darn good second starter in Clay Buchholz, who some scouts and players say has the filthiest stuff in Major League Baseball. Who will fill out the rotation is still a bit uncertain with Rick Porcello, Wade Miley, Eduardo Rodriguez and Joe Kelly still on the roster, but whatever management decides to do, it'll be incredibly difficult to match last season's futility on the mound.
Yet Price wasn't even Dombrowski's first move.
The offseason was barely underway, and the Red Sox had already made a trade, nabbing Craig Kimbrel - arguably the game's best closer - from the Padres in exchange for four prospects.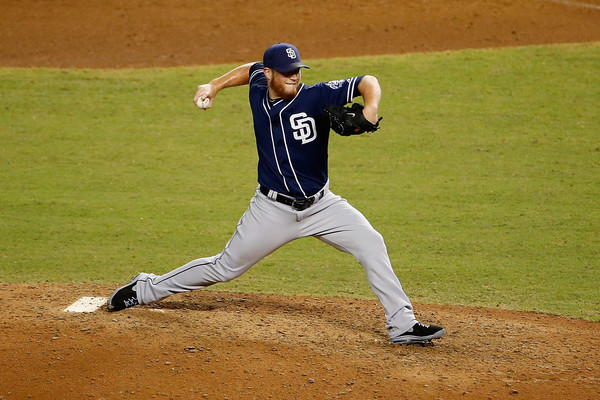 Christian Petersen/Getty Images
Now, the Sox have a terrific bullpen. With potentially Junichi Tazawa in the seventh, Koji Uehara in the eighth and Kimbrel in the ninth, there aren't too many teams who boast such a stout core of late-game relievers.
In other words, it seems like the Red Sox might finally have a pitching rotation that doesn't repeatedly waste offensive production. Last year, the Sox scored the fourth-most runs in the AL, but also recorded the second-worst ERA, which resulted in more losses than wins and eradication from postseason contention in July.
Dombrowski inherited incredible position player talent that cannot go unnoticed, particularly up the middle. Blake Swihart is a prize behind the plate, Xander Bogaerts is a former can't-miss prospect who finally had his breakout season last year, Dustin Pedroia is a consistent veteran who can flat out rake and Mookie Betts is a young jewel who will only get better at the plate and playing center field.
Then there's Hanley Ramirez and Pablo Sandoval, each whom signed monster contracts last offseason and proceeded to play poorly in 2015. If they can improve just a little and engender just a fraction of their past success, it would do wonders to the club's chance of contending in 2016.
Also, the Red Sox possess one of the deepest and most talented farm systems in the game. Baseball America and MLB.com each ranked them No. 2 after the Chicago Cubs, which means that there is a pipeline of potential within the organization.
That's another reason that Dombrowski can be so bullish in trades and free agency: he not only has the pieces to pull off big deals, but he also has a stocked farm system that can overcome a bad trade or a miss on a big-name free agent.
By the time of Dombrowski's exit in Detroit, the Tigers were considered to have one of the worst farm systems in baseball. Yet Dombrowski still found a way to improve the roster and build contenders year in and year out.
Give him a stocked system of young talent, and the sky could be the limit.
The Sox will likely be ranked near the top of the AL East standings in most preseason predictions, as they seemingly always are. Now, with Dombrowski on board, it will be interesting to see if he can build a team that can live up to those expectations.
If the beginning of the offseason is any indication, he can. And with the Winter Meetings on the horizon and another three full months before Spring Training starts, Dombrowski has all the time in the world to make more deals.