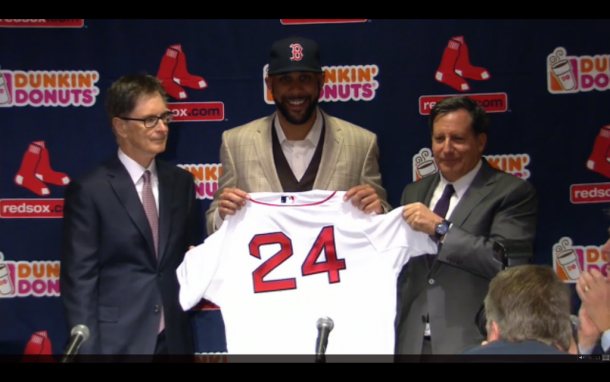 Always well-spoken, newly acquired Boston Red Sox starting pitcher David Price was quick to charm the local media on Friday evening as he was introduced as the newest addition to the team at a press conference at Fenway Park.
Price fielded questions in the Royal Rooters Club, the season-ticket holders lounge at the historic ballpark, from the media along with team owner John Henry, chairman Tom Werner, president of baseball operations Dave Dombrowski and general manager Mike Hazen.
Valued at $51.2 million by FanGraphs in the 2015 season for his MLB-leading ERA of 2.45, his impressive record of 18-5, his 9.2 strikeouts-per-nine innings rate, and his stellar 1.076 WHIP, Price received a seven-year contract worth $217 million from the Red Sox on Tuesday afternoon, making him the highest paid starting pitcher in baseball history.
One knock on Price is that he has never won a postseason start, going 0-7 with a 5.42 ERA so far in his playoff career. When questioned about his relatively poor history in the postseason, the 30-year old had a sly response planned.
"I think I was just saving all my postseason wins for the Red Sox," Price uttered with aplomb, his confident smile ringing through the room.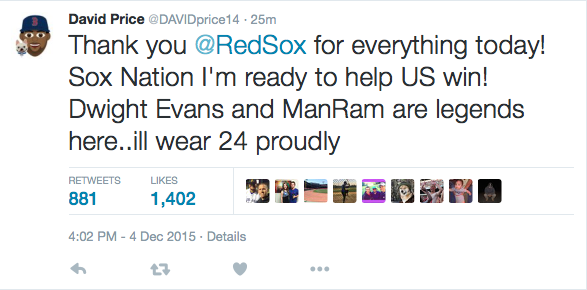 When asked about why the opportunity to join the Red Sox intrigued him, Price continously shifted his focus to the bright future of Boston, referencing the immense talent the team has accumulated over the years at nearly every position and citing the number 1 overall ranking that the Red Sox's farm system received from Baseball Prospectus in 2015.
Although Price has traded his fair share of blows with legendary Boston designated hitter David Ortiz, the veteran pitcher stated that he genuinely gets along with everyone and that he will become Ortiz's biggest fan, enthusiastically rooting him on each time he steps to the plate in 2016.
Price pointed to the growth of his relationship with Detroit Tigers infielder Ian Kinsler as an example of him getting over past disagreements in order to form relationships with new teammates. While Price pitched for the Tampa Bay Rays and Kinsler starred for the Texas Rangers, the two feuded, however, once the two of them were both sent to Detroit, they instantly developed a lasting relationship.
The left-hander, who will wear No. 24 next season, referenced the history of the Red Sox and the successful tradition of the Boston sports scene as further reasons for his signing with the team.
"This is a place that wins," Price said. "This is a place that has winning in its history, and they definitely have winning in their future."
"This is a place to win, a place that expects to win, and that's something I want to be a part of."