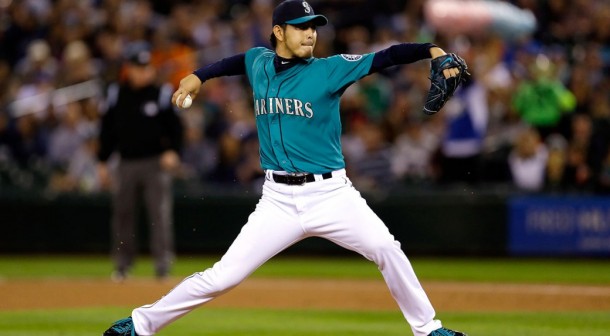 UPDATE: According to Jiji Press in Japan, the Los Angeles Dodgers have backed away from their agreement with Hisashi Iwakuma following the pre-signing physical taken by the starting pitcher. .
--------------------
The Los Angeles Dodgers have agreed to a deal with free agent right-hander Hisashi Iwakuma, as according to a report from ESPN's Jim Bowden on Sunday night.
Not long after the initial report, Joel Sherman of the New York Post reported that a deal had not been finalized between the two sides though other clubs expect that one would be done eventually. Ken Rosenthal of Fox Sports later reported that the deal was "moving toward completion" as one is now said to be agreed to and in place to sign.
According to Jon Heyman of CBSSports.com, it is believed that the Dodgers have a three-year contract settled for Iwakuma. At the time, a physical is still needed and the deal is pending.
Financial terms of the deal are yet to be reported as that would be the next step prior to a club announcement, which will likely be made on Monday when the Winter Meetings offically get underway from the Gaylord Opryland Resort & Convention Center in Nashville.
Iwakuma got off to a slow start in 2015 which involved an early delay due to an injury which healed rather quickly, allowing the 34-year-old to get right back on the bump where things turned around into a memorable campaign. He threw over 129 2/3 innings while posting an ERA of 3.54, having allowed 53 runs on 117 hits. 18 of those were home runs.
Iwakuma has spent his entire career with the Seattle Mariners, which started back in 2012 when he came over from Japan after the two sides agreed to a one-year deal. He has since become an ace, and he will continue to show similar stuff going forward in Los Angeles.
According to MLBTradeRumors, Iwakuma was projected to get a deal around three years as he has received a price somewhere around $45 million from the open market. He was being looked at from several other clubs. Some of those who were reportedly in the mix included the Detroit Tigers and San Francisco Giants before the Dodgers topped the leaderboards in the bidding for him.
The team's interest was very minor of late as the team was looking at other high profiled pitchers before expanding their research. The search led to Hisashi Iwakuma, and an aggressive pursuit quickly picked up, becoming the bigger picture.
Iwakuma should help stabilize the club's rotation behind left-handed pitcher Clayton Kershaw after losing out on free agent right-hander Zack Greinke. Grienke spent the past three seasons in Los Angeles before recently signing a deal with the Arizona Diamondbacks.