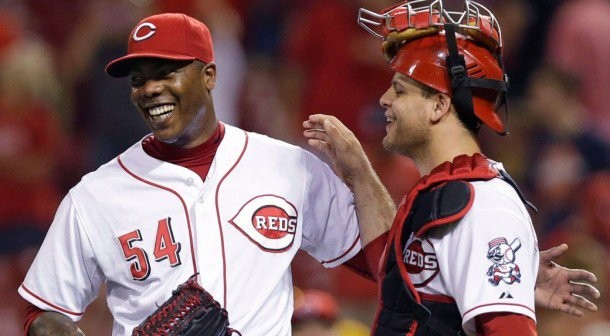 The MLB Winter meetings is one of the few times in a calendar year that all 30 MLB teams are gathered in one place. The 2015 edition kicked off on Monday morning, and the hot stove was burning.
Los Angeles Angels are looking to trade C.J. Wilson
The Angels have a solid offense, led by Mike Trout and Albert Pujols, but after that, they have no depth. To fix this, reports are saying that the Angels are looking to trade left-handed pitcher C.J. Wilson, who will be tough to move due to his $20 million salary for next season. Especially considering that last season, where he threw only 132 innings while posting a 3.89 ERA.
Mitch Moreland to Pittsburgh?
The Texas Rangers are looking to move first baseman Mitch Moreland, and according to reports, they may have found a trade partner in the Pittsburgh Pirates. There is a chance that the deal will fall through, considering that Moreland hit 23 home runs last season, which was tied for most in a season in his career. But if a deal were to happen, the Rangers may look at shortstop Elias Diaz, who the Pirates are not willing to include in a trade.
Wade Miley traded to Seattle
The first official trade of the winter meetings came when the Boston Red Sox and the Seattle Mariners made a four-player trade that centered on the Sox sending pitcher Wade Miley to the Mariners, along with pitcher Jonathan Aro, in exchange for pitchers Roenis Elias and Carson Smith. Last season, Miley compiled a 11-11 record with a 4.46 ERA. The Mariners front office are very familiar with Miley, as both general manager Jerry Dipoto and VP of player personnel Tom Allison worked for Arizona in 2008 when the Diamondbacks drafted Miley.
Tampa Bay Rays and Chicago Cubs talk Javier Baez
The Tampa Bay Rays and Chicago Cubs have talked to each other about a trade that would involve Cubs power-hitting shortstop Javier Baez. If this trade gets completed, it would make sense for both sides. The Rays are always known for developing young pitching, something the Cubs desperately need, and they could draw from a position of strength to add a power bat in the middle of the lineup to go along with Evan Longoria.
Detroit signs Mark Lowe
The Detroit Tigers signed reliever Mark Lowe to a two-year contract, which provides them with a veteran setup man for closer Francisco Rodriguez. The move is a welcome one for the Tigers, who finished the 2015 season in last place in the American League Central, 20.5 games behind the division champion Kansas City Royals. The deal is for $13 million over the two years. Last season, he split the season with Seattle and Toronto, putting up a combined ERA of 1.96, along with a 1-3 record.
Aroldis Chapman, will he be traded?
The Cincinnati Reds had a deal with the Los Angeles Dodgers that would have sent closer Aroldis Chapman to the Dodgers, but it suddenly was not happening anymore. Eventually, Yahoo Sports reported that the reason the trade was on hold was because Chapman had been involved in a domestic dispute with his girlfriend in October. According to police reports obtained by Yahoo, Chapman allegedly choked his girlfriend and also discharged a firearm in his garage. Bob Nightengale of USA Today later reported that Major League Baseball is investigating the incident under the league's new domestic violence policy.
Other news on Day One of the Winter Meetings:
-Kansas City Royals re-sign starting pitcher Chris Young to two-year deal.
-Chicago Cubs re-sign right-handed pitcher Trevor Cahill.
-Seattle Mariners are said to be pursuing Milwaukee Brewers first baseman Adam Lind.
-New York Yankees could be targeting infielder Asdrubal Cabrera to play second base.
-Closer Jonathan Papelbon has filed a grievance against the Washington Nationals.
- Free agent relief pitcher Shawn Kelley is going to the Washington Nationals, according to Jack Curry.
- In another trade that was rumored to be done, but did not happen was the one involving the Cubs sending Javier Baez to the Atlanta Braves in exchange for Shelby Miller.