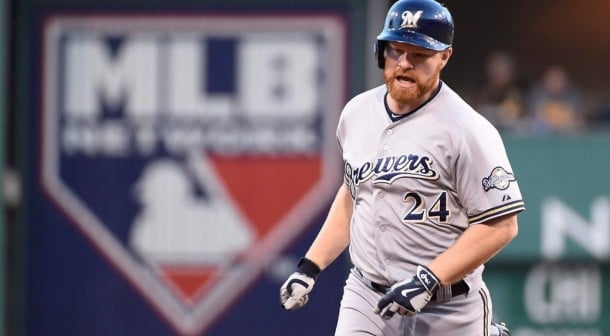 The Seattle Mariners have acquired veteran first baseman Adam Lind from the Milwaukee Brewers, according to a report from Jon Morosi of Fox Sports on Wednesday morning.
Jon Morosi of FOX Sports reported the Brewers are receiving minor league right-handers Carlos Herrera, Daniel Missaki and Freddy Peralta.
Ken Rosenthal of Fox Sports reported last night that the two sides were said to be nearing an agreement, while Jon Morosi reported that substantial progress had been made in trade talks.
Lind, 32, was traded from the Toronto Blue Jays to the Brewers in exchange for veteran right-hander Marco Estrada last November.
Milwaukee picked up his $8 million option for 2016, making this upcoming season his last before he hits free agency. Lind is coming off a great season where he slashed .277/.360/.460 with 20 home runs and 87 RBIs.
Lind is a much different hitter when facing right-handed pitchers as opposed to left-handers. Against right-handers in 2015, Lind hit .291/.380/.503 with all 20 of his home runs, while slashing .221/.277/.298 in only 112 plate appearances against lefties.
Once the season came to an end, it was said that he could be a potential trade candidate with his name having been tossed around quite a bit. Lind can play first base and be a designated hitter in the American League, but with his known struggles against left-handers the Mariners might have need a soft platoon to make up for that lack of production.
Lind has battled several injuries, most recently a leg injury he suffered when was with the Blue Jays. He is finally healthy and showed what he could do last year when he was, be a middle of the order bat that hits home runs and drives in runs.
Over the course of his 10 year playing career, Lind hit .274/.332/.466 with 166 home runs and 606 runs batted in over 4,298 plate appearances in 1,102 total games played. Looking at his career achievements, Lind is a former winner of the American League Silver Slugger dating back to 2009.
None of the three pitchers the Brewers received were among the Mariners' top 30 prospects that MLB.com ranks at season end. All three right-handers are under 20-years-old, giving them plenty of time to develop and make a future impact on a rebuilding Brewers club.