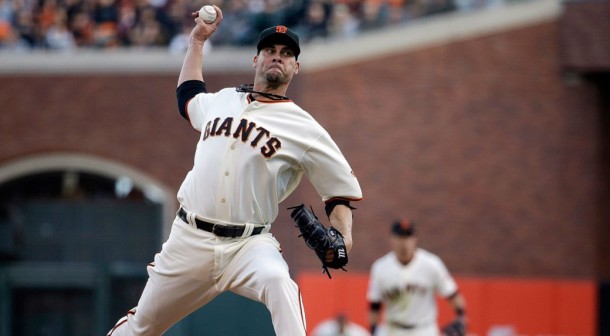 The Pittsburgh Pirates have agreed to terms on a one-year deal with free agent right-hander Ryan Vogelsong, according to a club announcement on Friday afternoon.
As noted by MLBTradeRumors, the deal is incentive-laden and can max out at $5 million.
According to MLB.com's Adam Berry, Vogelsong is guaranteed $2 million and can earn up to $3 million worth of incentives.
This would be Vogelsong's second stint with the Pirates dating back to 2006 when he apart of the organization's minor league system. That was before he became a free agent where he agreed to a deal with the San Francisco Giants heading into 2011.
The 38-year-old veteran previously spent six seasons in the Pittsburgh organization from 2001 to 2006. Before coming up with them, he spent the 2000 season within the minor league system of the Giants, therefore his return marked the start of his second stint in the Bay Area.
Vogelsong is a former fifth-round pick of the Giants back in 1998. As noted by Sportsnet, he was traded to Pittsburgh in July 2001 and went 10-20 with a 6.06 ERA in 33 starts and 76 relief appearances. He spent three years pitching in Japan where he transformed his career. Vogelsong would return to the major league stage where he played briefly for both the Philadelphia Phillies and Los Angeles Angels. He returned to San Francisco prior to the start of the 2011 season.
In the recent past, Vogelsong has been a key member of such a historic team as he helped guide them towards a World Series championship in both 2012 and 2014. Another achievement worth marking is Vogelsong's lone All-Star selection in 2011.
Vogelsong has seen his strong days and his poor days, however, last season was not just for days, it was every five days when he was called upon to make a start that he seemed to struggle.
He completed the 2015 season having posted an ERA of 4.67 alongside a 9-11 record, while allowing 76 runs on 140 hits, three of which were home runs.
On the positive side of things, he managed to start 22 games while compiling 135 innings with a strong velocity, especially with his fastball that averaged around 91 miles per hour on the radar gun.
Thus far into the offseason, the Pirates have looked rather strong as they have acquired everything they needed with limited resources, most of which have been acquisitions to the team's starting rotation.
Speaking of Pittsburgh's offseason pitching moves, RHP Charlie Morton was recently dealt to the Philadelphia Phillies after acquiring veteran LHP Jon Niese from the New York Mets. Niese provides another man of experience to top of the rotation, which is still being looked as other additions are continuously said to likely be made.
As of right now, the starting five will be made up of him, Niese, LHP Jeff Locke, RHP Geritt Cole and LHP Francisco Liriano.
According to Rotoworld.com, Vogelsong will open the 2016 season as the fifth starter in the club's starting rotation.