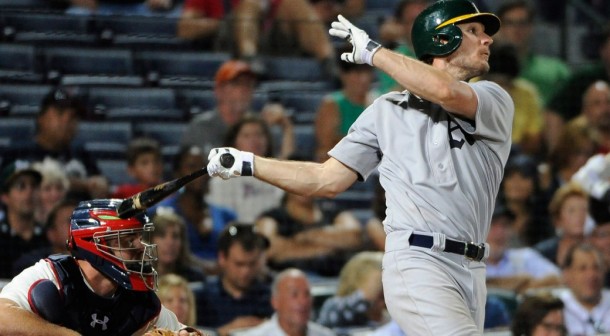 The Pittsburgh Pirates have agreed to terms on a two-year deal with free agent catcher John Jaso, as according to a report from Ken Rosenthal of Fox Sports.
As noted by Rosenthal, the 32-year-old will receive a total of $8 million over his contract while Joel Sherman of the New York Post reports that he will receive $4 million in each season. Jaso has the chance to earn $1 million annually with the addition of performance bonuses included.
Since the initial report, a club announcement to confirm the transaction has been made.
Jaso will serve as the club's left-handed half of a first-base platoon, splitting time with Michael Morse and Jason Rogers to handle those duties. Rogers was acquired from the Milwaukee Brewers last week.
In a statement from the team's press release following the acquisition, general manager Neil Huntigton said, "John Jaso is a proven Major League hitter who is a great complement to our existing lineup. John is enthusiastic about playing in Pittsburgh and developing as a first baseman. We feel he has the ability to play the position at the major league level, while adding significantly to our offensive production."
Jaso spent the wider portion of the 2015 season with the Tampa Bay Rays after being traded by the Oakland Athletics in exchange for shortstop Yunel Escobar and and infielder/outfielder Ben Zobrist back in January.
Over that time span, he hit with a .286/.380/.459 slash line to go alongside five home runs, 22 RBI and 17 doubles in 185 appearances at the dish. His season was played under limited conditions, keeping him at 70 games total while dealing with a sprained wrist.
Jaso has not played in more than 100 games since 2012 when he played for the Seattle Mariners, spending most of his time as the designated hitter which he will be no longer upon his arrival at the club's spring training complex in Bradenton, Florida.
In the past, Jaso has seen most of his time as catcher, lots of it early on with the Mariners and on an everyday basis with the Athletics. He has not seen much time behind the dish since joining Tampa Bay and looks to change that around as he will look to take over a position in which he has only played twice in his career.
Looking over his career statistics, Jaso owns an average of .263 alongside 37 home runs and 204 RBI's in seven seasons at the major league level.