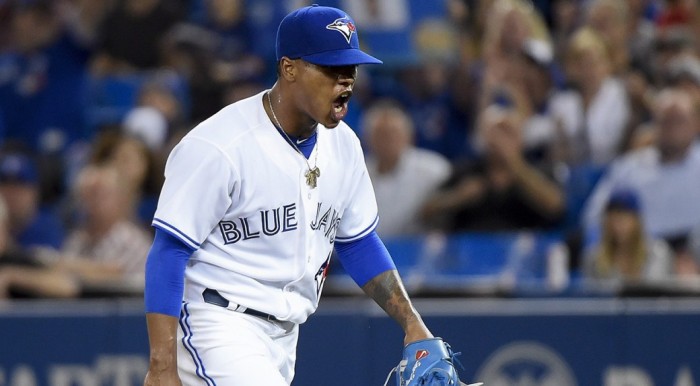 As the youngster once said, he was never supposed to have reached the major league level at the time of which he got the call. Marcus Stroman, who is 23 years of age, has worked himself over and over each and every day to achieve his goal of proving himself worthy to those who have doubted him growing up.
A large reason as to why he was doubted: his height. To this day, Marcus stands at 5'9, however, has already achieved so much while he follows his own motto "Height Doesn't Measure Heart."
What exactly does this mean?
Given all that Stroman is, he has had to prove himself as he continued to develop towards the Toronto Blue Jays pitching staff as not even himself ever saw the day where he could be pitching at the Rogers Centre.
That odd, he overcame with a little inspiration from the man himself, Mr. Martin Luther King Jr. Growing up, his friends and family would never have thought such a thing could come to be, however, as he got older, the overwhelming amount of support he has gotten landed him in Toronto.
"I will do whatever it takes."
Going in 2015, Stroman was looking forward to working hard in spring training for a front spot on the team's starting rotation, however, things very quickly took a turn for the worst, providing him with the ultimate challenge in terms of his health.
As the pitchers and catchers had just reported for the start of spring training, Stroman decided to get right to work as PFP drills were running on the back field of Florida Auto Exchange Stadium, however, not long after he started, it all came to an end. Tuesday March 10 was a devastating day for the Blue Jays who had just learnt of his diagnosis, a torn ACL in his left knee which was said to hold him out for the entire upcoming season.
As he remembers it, Marcus went to cover first base on a bunt, felt a pop in his knee and later underwent an MRI which revealed the damage.
When General Manager Alex Anthopoulos spoke about his expected timeline, Toronto fans were hit hard as he admitted that the expectation was for the promising young starter not pitch at all.
His teammates were also let down by this as he was the party in the clubhouse. The organization had been viewing him as the potential ace for a team of which made it to the postseason for the first time since 1993 with hopes having been raised higher up given their loss.
After making his return from the office of Dr. James Andrews in Pensacola, Florida, he sat down with Anthopoulos who said the product of Duke University was having difficulty coming to grips with the freak accident.
In a statement from Anthopoulos with regards to the incident, he said, "It's just one of those things. He's probably the best athlete on the team, as good of shape as anybody you're going to have, the last guy you would expect for that to happen. Just a freak thing and we move forward."
Following the recovery period that was given to him after the procedure done on his knee, Stroman was right back at it as he then flew to Durham, NC where he would be rehabbing alongside doctors who had once worked in the Blue Jays system.
As he continued to get closer and closer to an early return, Marcus added a changeup to his repertoire which played another key factor in proving everyone wrong as he returned in time to play a crucial role in the club's playoff run.
When Stroman first got the call, he couldn't have been anymore excited. The hard work not only lived on but made its way around the ballpark as inspiration hit not just the fans but the players and coaches as well. He ended his well anticipated rookie campaign with a 3.29 ERA in 20 games started while having finished as the team's best starter.
As noted by Sportsnet's Arden Zwelling, Stroman was scheduled to pitch the Blue Jays 2015 opener against the New York Yankees in his home state of New York where his family consisting of his parents, Adlin Auffant and Earl Stroman would be in attendance alongside his closest friends.
The hardest part of having to deal with this, breaking the news that they was no longer going to make that appearance. His parents tried to give him a positive outlook but he wasn't interested because he just wanted to pitch.
How would the next six months look for Stroman?
While starting minor workouts to get himself back into shape, the idea of not playing baseball had been on his mind plenty and so that was when the next thing that popped into his head became the motivation: school.
Back to Duke University
Making his return was not particularly easy, a matter of fact, it was one of the hardest things he thought he'd ever have to do. After having left three years earlier, making a return had people excited to meet the youngster and watch him progress back into shape as he had left to become a professional pitcher.
How did it start out, not well. Walking up the stairs was only the first of Stroman's challenge, however, it was made a little easier with his best friend Ryan Bahnsen by his side to help him out.
Going into his first night back, he had trouble sleeping but not because of what was running through his mind. As his main purpose for arrival was to get special treatment during rehab, his knee was swollen and throbbing, causing much pain which was followed by an upset stomach not long after. This is when he really had to come to terms with what had happened to him. A brace was required which ultimately would facilitate the healing process. This meant sleeping was awkward to say the least as he is naturally a side sleeper.
Some would consider the approach to be a full-body rebuild as this is something that gave Stroman a rough time all over. When he was up, he would walk around his condo to get the blood flowing through his leg.
Back on the educational side of things, Stroman had been enrolled in five courses which would take place on Monday's, Tuesday's and Thursday's, all of which were four hours long following five hour rehab sessions.
Once his schedule was intact, Stroman texted Bahnsen saying, ""Dog, are you ready for a new journey in life?" Bahnsen's response was simple: "Yeah, where are we going?"
"Now hang on, I've gotta do some backflips and dance and freak out."
And this led on towards his current status as he stands a healthy man once again heading into spring training 2016. He was back in the minor league system working his way back up way before he was said to be doing and was with Toronto for the playoffs against the Texas Rangers where he was called upon in game 2. Ahead of the appearance, he said, "It's actually happening. It feels unbelievable. This was always the goal—to be 100 percent healthy and to start in September."
Stroman will be amongst the list of pitchers and catchers reporting to Dunedin on February 21 with the first workout scheduled for the next day. The first full squad tune up will take place on February 26 ahead of the first set of games on March 4. Toronto will take on the Baltimore Orioles at Ed Smith Stadium in Sarasota, Florida.