The Kansas City Royals have agreed to terms on a two-year, $6 million deal with free agent left-hander Mike Minor, as according to a club announcement on Friday afternoon.
It is said that the 28 year-old's contract does include a mutual option for the 2018 season which is valued at a total of $10 million. He is expected to join the club on Saturday in Surprise, Arizona.
Over the lifetime of this deal, Minor is guaranteed a total of at least $7.25MM as there is a buyout option included as well valued at $1.25MM.
Minor has spent the entirety of his career in the National League East with the Atlanta Braves where he has pitched with lots of success, however, he missed the entirety of the 2015 season after undergoing Tommy John surgery.
This will be his first stint in the American league at the Major League level where he will likely join the starting rotation alongside former teammate Kris Medlen in late May if his recovery goes as scheduled.
As noted by MLBTradeRumors, this contract is one of which will include extensive performance incentives where he can earn a total of $1.65 million in roster bonuses for reaching 30, 60, 90, and 120 games. This would be followed up by $165K if he hits 11 through 20 starts upon being activated. Another $165K can be earned for every five innings pitched though it will be a while before he is seen at Kauffman Stadium with rehab being the next step for him towards returning. Added up together, he can earn a total of $1.65 million.
This is not the first time he has had to deal with health concerns given soreness that has hit him plenty ahead of his operation. This ballclub hopes he has the ability to re-gain what he had done beforehand.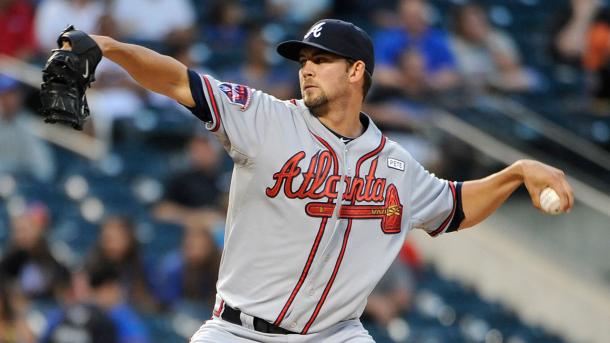 Is Kansas City taking a risk with an injury-prone pitcher?
Obviously, there is a chance that this deal won't work out as intended in the end given the fact that Minor will have to try to keep is health stabilized at all times. This means certain things will have to be avoided in order for the contract to ultimately pay off.
Minor was non-tendered by Atlanta after struggles hit him which there was not a known cause for at the time and was projected to earn a total of $5.6 million in arbitration which he almost got as that seemed to have been a nearly successful challenge. Due to the many possibilities of which he could end up back where he started, he did not end up receiving the anticipated salary and became a free agent.
When he does join the starting rotation, he will likely take the #5 slot in an order that consists of Yordano Ventura, Edinson Volquez, Chris Young and Ian Kennedy. If he joins the bullpen which he has done before, he will pitch alongside Kelvim Herrera, Joakim Soria, Danny Duffy, Ryan Madson and Luke Hochevar.
Minor was originally drafted by the Braves in the 1st round (7th pick) of the 2009 Amateur Draft where he later signed in August of that season. The Jet Sports Management client made his MLB debut the same month a year later against the Houston Astros where he pitched six strong innings of work.
Velocity will be one of the many things he looks to work upon with his shoulder cooperating with him when he is finally ready to hit the field for the first time to start baseball-related activities which will help him get back to the Big League stage stronger than before.