 The Detroit Tigers signed infielder Casey McGehee to a minor league contract, according to Jon Heyman of MLB Network. The deal includes an invitation to major league camp, which is where the 33-year-old will try and make the 40-man roster.
"We could use a third baseman, quite frankly," manager Brad Ausmus said. "Not necessarily at the Major League level, maybe Toledo – we could use one. And he's got Major League experience, he's got international experience."
The Tigers have Miguel Cabrera (first base) and Nick Castellanos (third base) as the starting corner infielders. Mike Aviles and Andrew Romine to fill in a third base, while starting designated hitter Victor Martinez and Jarrod Saltalamacchia have the ability to take over at first base.
"I was fighting for a job long before I was ever a regular," McGehee said. "It's back to how it all started, I guess."
While McGehee is currently in the Tigers organization, he has played for in the Major League Baseball for the Chicago Cubs (2008), Milwaukee Brewers (2009-2011), New York Yankees (2012), Miami Marlins (2014), San Francisco Giants (2015) and Miami Marlins (2015). McGehee also played for the Tohoku Rakuten Golden Eagles of Nippon Professional Baseball, which is based out of Japan.
The 33-year-old has posted a .259 batting average, .319 on-base percentage and .708 on-base plus slugging percentage across his seven-year major league career. The best season for the Califronia State University Fresno graduate came in 2010 with the Brewers, which he slammed 23 home runs and 104 RBI with a .285 batting average.
With the Golden Eagles, the infielder won the Best Nine Award. That award is given annually to the best player at each position in both the Central League and Pacific League in the NPB. McGehee and the Golden Eagles of the Pacific League won the 2013 Japan Series over the Yomiuri Giants of the Central League. In the 4-3 series win, Manabu Mima took home the Japan Series Most Valuable Player award.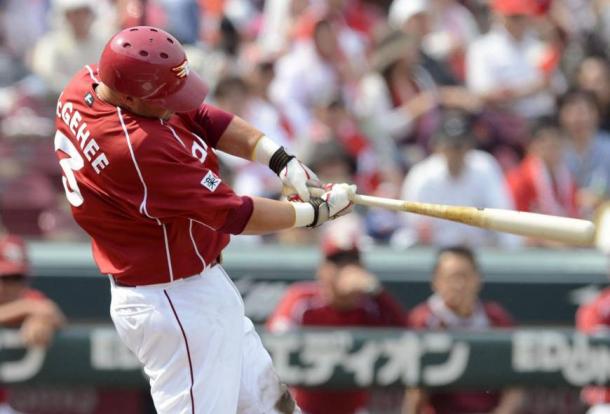 In 2014, McGehee won his one-and-only award in the MLB. He won the 2014 National League Comeback Player of the Year award after coming back from his time spent in Japan. The 10th round pick by the Cubs in the 2003 MLB Draft signed a one-year, $1.1 million deal to come back to the United States and got the start at third base. It was in Miami that the veteran got the nickname "Hits McGehee" for clobbering his first Marlins homer on May 10, 2014.
McGehee slashed .198/.264/.274 with two home runs and 20 RBI across 109 games played and 237 at-bats. The infielder picked up 47 hits, 12 doubles, 21 walks and one stolen base during last season.
"I am excited to be here," he said. "Hopefully I can find a way to make the team better and help the team win. That's the only reason I am here. I am trying to win a job."