Just one day after shocking the baseball world with the resigning of outfielder Dexter Fowler, the Chicago Cubs front office took action yet again as they snagged up veteran outfielder Shane Victorino to a minor league deal.
Victorino joins Jason Heyward, Dexter Fowler, Kyle Schwarber and Jorge Soler as outfielders for the 2016 campaign. At 35 years of age, Victorino is a 2 time World Series champ (Boston Red Sox 2013, Philadelphia Phillies 2008), 2 time all-star and has won 4 Gold Gloves.
Recent Play
Victorino, however, hasn't really been able to perform at his highest level throughout the past 2 seasons as he has had battled injuries. In 2014, he was placed on the disabled list and then eventually had season ending back surgery towards the later end of the year. He had a rough 2015, dressing in only 71 games with the Boston Red Sox and Los Angeles Angels. He batted .230 with only one home run; accounted for seven RBIs and only scored 19 runs.
Waiting Game
With the signing of Fowler and now Victorino, what does this mean now for outfielder Austin Jackson? Jackson, 29, spent the 2015 year with the Seattle Mariners and Cubs. Acquired on August 31, 2015 from the Mariners in exchange for a minor league player to be named later, Jackson finished the 2015 season with a .267 batting average, nine home runs, 48 RBIs and 131 hits. His play on the offensive side of things weren't all too great, however defensively he plays the outfield extremely well. For now, it's a waiting game. Will Theo Epstein bring back Jackson and utilize him as an outfielder for 2016? Or will another team grab him before the season begins?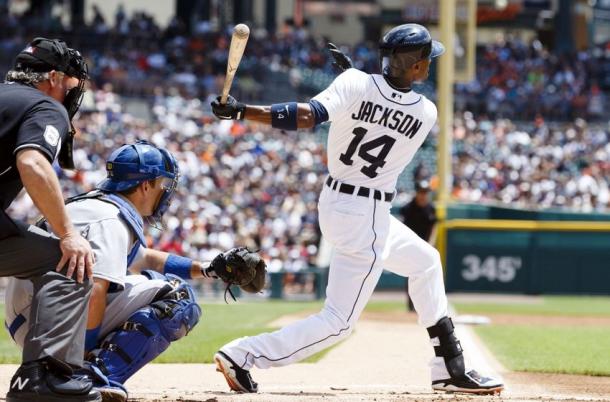 As of right now, with the additions of Victorino and Fowler over the past two days, the Cubs projected starting lineup looks like this:
C-Miguel Montero, David Ross, Kyle Schwarber
1st- Anthony Rizzo, Ben Zobrist, Taylor Davis
2nd- Ben Zobrist, Javier Baez, Tommy LaStella
3rd- Kris Bryant, Tommy LaStella, Ben Carhart
SS-Addison Russell, Javier Baez, Kris Negron
LF-Kyle Schwarber, Ben Zobrist, Jorge Soler
RF-Jorge Soler, Dexter Fowler, Ben Zobrist, Shane Victorino*
CF-Jason Heyward, Dexter Fowler, Albert Almora
The Cubs begin spring training play with their first game this coming week against the Milwaukee Brewers.