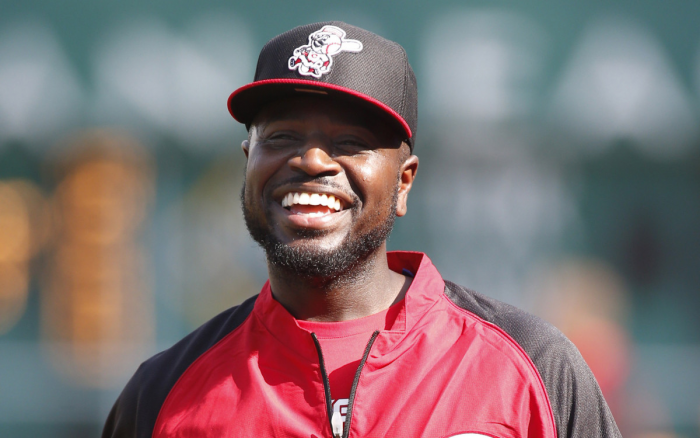 The good news is that baseball is back, the bad news is that the Cincinnati Reds aren't contenders. There are plenty of question marks laced throughout this Reds season. We may not get answers to those questions this season, but the next few years will be crucial to our prospects, so let's take a closer look.
Top 5 Cincinnati Reds Prospects
Jose Peraza is a 2B/OF who lands as the Reds #5 prospect. Peraza has a dynamic speed/contact combo offensively and a good glove at 2B. The 6' Venezuelan may not be starting to begin the season, but he should be a nice utility player for now. 6'5" southpaw Amir Garrett comes in at #4 on the Reds list of prospects. Garrett has a 90+ fastball and a good if not inconsistent slider as well, his change-up is decent but not a great pitch by any means. Garrett likely won't see time in Cincinnati this year, barring any extreme injuries or change of plans. 6'5" southpaw no yours truly isn't repeating himself this southpaw's name is Cody Reed and he is the Reds #3 prospect. Reed has two plus pitches in his 92+ fastball and a hard slider, with a decent change-up for added measure. Reed is in about the same situation as Garrett as far as Major League time this year, but he should be a good #2 or #3 pitcher in a few years. Perennial top prospect RHP Robert Stephenson is the Reds #2 prospect this season. Stephenson has a 94+ fastball with a plus change-up and a decent curve ball. Stephenson could see some time in Cincinnati depending on how he pitches and depending on what the coaches. But he probably won't start the year in GABP. OF Jesse Winker is this season's top prospect. Winker has a great, pure left-handed swing he is also a good all-around player fielding, running and throwing are all good. Winker has an outside shot of winning the LF position but he is more likely to start the season in Louisville, but that position is Winker's to lose in the future. Check out these guys and 25 more of the Reds top prospects.
Veteran Leadership
The Reds will have a young team but they also still have a few veterans to lead the team. Such as Joey Votto, Brandon Phillips, and Homer Bailey to name a few. They'll play a big role in how soon this Reds team competes again depending on how well they play and how well they teach the young players. But the Reds do have a lot of positions that have a lot of competition to decide who starts as a Red, the most intriguing place for yours truly is the bullpen.
Bullpen Performers
JJ Hoover, Jumbo Diaz, and Tony Cingrani will probably be the go-to guys in the bullpen this year. Michael Lorenzon may start in the pen, start or be in AAA depending on coaches and his performance. Carlos Contreras is likely the 4th pitcher in the bullpen. Blake Wood pitched well in AAA last year in Indianapolis for the Pirates affiliate and could be another pitcher to make the bullpen. Ryan Mattheus was very mediocre for the Reds last year, but he has one of few durable arms for the Reds so he could be a decent reliever. Caleb Cotham has big league experience with the Yankees and that could be enough to see him make the roster. A few less likely candidates are Stephen Johnson a young righty with a big arm, Zack Weiss another young right-hander, Jonathan Sanchez a veteran lefty and Chris O' Grady who is yet to make his Major League debut. To start they year yours truly sees this as the Bullpen. Closer: JJ Hoover, Set-up man: Jumbo Diaz, Set-up man: Tony Cingrani, Reliever: Carlos Contreras, Reliever: Caleb Cotham, Reliever: Blake Wood, Reliever: Ryan Mattheus and Long Reliever: Jonathan Sanchez.
Starting Pitching Rotation
While sticking with pitchers let's move to starters. There are locks such as Homer Bailey, Anthony DeSclafani and Raisel Iglesias. Then there are about 7 guys competing for the two spots left. The young guys Cody Reed and Robert Stephenson aren't likely to win a spot unless they light up spring training and show great progress. John Lamb has a decent shot but he is behind because of a back surgery. Keyvious Sampson and Jon Moscot have a good shot if they out pitch the others. The guys with the best shots may be Brandon Finnegan and Michael Lorenzon, but Lamb has just a good of shot if he is fully healthy and pitching well. Yours truly has their Starting Rotation looking like this 1. Homer Bailey 2. Anthony DeSclafani 3. Raisel Iglesias 4. Brandon Finnegan and 5. John Lamb if healthy, Michael Lorenzon if Lamb isn't healthy.
The Other 8 Men on the field
Now we'll do the middle of the ballpark. Devin Mesoraco is going to be the Opening Day starting catcher barring any injuries. Tucker Barnhart will be his back-up throughout the season, yours truly thinks this is one of the Reds deepest and best positions. Center Field will be covered by Billy Hamilton, Billy has become a very good fielder but he needs to put the ball in play more to use his speed. Hamilton's back-up is Tyler Holt a speedy 26 year old with a few MLB games under his belt. Yours truly likes the center of the field for the Reds, Mesoraco is a great power-hitting catcher and Hamilton is as fast as they come. They're both good fielders and have a few seasons experience.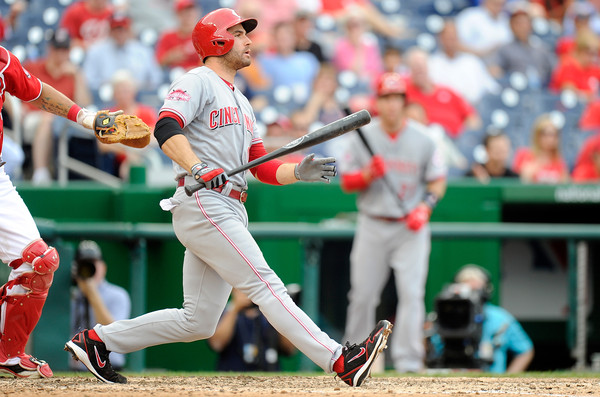 The right side of the diamond is easily the most familiar and most skilled side. Joey Votto will be the starting 1B again this season and hopefully he'll return to MVP numbers. The slick-fielding 2B Brandon Phillips will start the season at his usual spot. The inconsistent if not dynamic Jay Bruce will start the year in RF. Both Phillips and Bruce were close to being traded in the off-season but it looks like both of them will at least start the year with the Reds. Adam Duvall may back-up Joey Votto at first base this season. Reds #5 prospect Jose Peraza will battle for the utility infielder role with Ivan DeJesus, although the Reds may start Peraza in AAA for at-bats either way. The back-up right fielder could be Tyler Holt or Scott Schebler depending on what happens at other outfield positions.
The Left side of the baseball field holds the biggest fielding position question, Left Field. Adam Duvall has the inside track to start in Left. But Scott Schebler, Ivan DeJesus and Jesse Winker should all get a chance at it. Schebler is Duvall's biggest competition this season, but for years to come this should be Jesse Winker's position. Eugenio Suarez is the front-runner to start the season at 3B after the Reds traded Todd Frazier to the Chicago White Sox. The 2nd part of the slick fielding double play turners Zack Cozart is going to start at SS for the Reds this season. The back-up at both 3B and SS is likely to be Ivan DeJesus.
Cincinnati Reds Bench Projection
So obviously we have the backups for the positions but here is what yours truly sees the bench looking like. Ivan DeJesus will back up 2B, SS and 3B easily sometimes maybe LF. Tucker Barnhart will back up Mesoraco at the Catcher position. Scott Schebler will be a good bat off the bench and would likely be the back up for the corner outfielders. Tyler Holt is the best back up for Billy Hamilton because of his speed and some MLB experience.
Cincinnati Reds Batting Order Projection
The line-up is a tricky one because so many of the players have it in so many different orders for the Reds. But this author's projected line-up looks like this. 1. Billy Hamilton 2. Brandon Phillips 3. Joey Votto 4. Devin Mesoraco 5. Jay Bruce 6. Eugenio Suarez 7. Adam Duvall 8. Zack Cozart. Yours truly isn't even sure if this is the best line-up, but after much thought this was what happened.
Overall Outlook
The Reds immediate outlook isn't very good, in fact some media say the Reds could lose 100 games. While that is unlikely to happen, but barring a miracle these Reds shouldn't make the playoffs. The good news is that the Reds have 5 Top 100 prospects and plenty of good, young talent already on the roster. If the prospects grow well they could all 5 be in the Majors in 2017. If that happens and things go right the Reds could contend in 2018 or 2019. But more realistically it will be 2020 before the Reds contend for anything. Especially in arguably the toughest division in baseball. Don't worry though because the Reds have a plan and the future looks bright.