 The Texas Rangers are looking for an outfielder and have contacted shortstop Ian Desmond to fill the hole in left field, according to Ken Rosenthal of FOX Sports.
If the Rangers signed the 30-year-old infielder, they would have to give up the 19th overall pick in the 2016 MLB Draft, which takes place in June because Desmond rejected the qualifying offer from the Washington Nationals.
Desmond would probably only get offered a one-year deal from the Rangers because he is trying to rebuild his value and would play a new position.
The Colorado Rockies have been in contact with the Desmond's agent, according to Ken Rosenthal of FOX Sports. The potential connection between the two parties would depend on how long Jose Reyes gets suspended for by Major League Baseball. Reyes, who was acquired by the Rockies at the trade deadline of the 2015 season, should be the first suspended under baseball's new joint domestic-violence policy.
The Chicago White Sox are one of the teams considering the free agent shortstop, reports Jon Heyman of MLB Network. Last but not least, the Tampa Bay Rays have interest in Desmond, according to Chris Cotillo of SB Nation.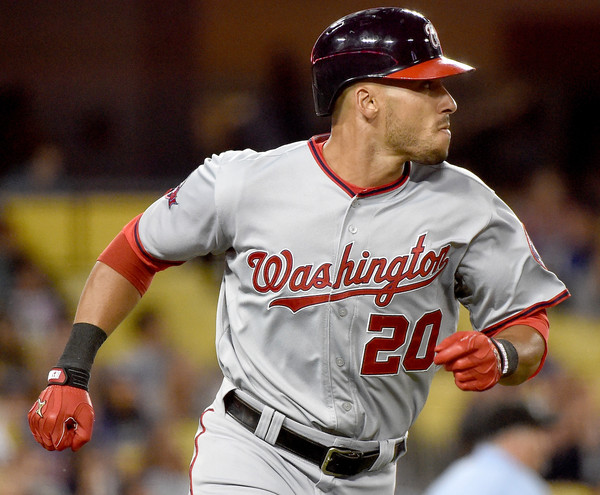 Desmond was drafted by the Montreal Expos, who became the Nationals, in the third round of the 2004 MLB Draft out of Sarasota High School in Sarasota, Florida. Since his debut on September 10, 2009 against the Philadelphia Phillies, which Desmond went 2-for-4 with one home run and four RBI, the infielder has played seven big league years. Across Desmond's career, the middle infielder has slashed .264/.312/.424 with 185 doubles, 21 triples, 110 home runs, 432 RBI and 122 stolen bases in 927 games played.
In 2012, the All-Star owned a .292 batting average with 25 home runs and 73 RBI. Last season, Desmond took 583 at-bats in 156 games and hit 19 home runs, 62 RBI and struggled with a .233 batting average.