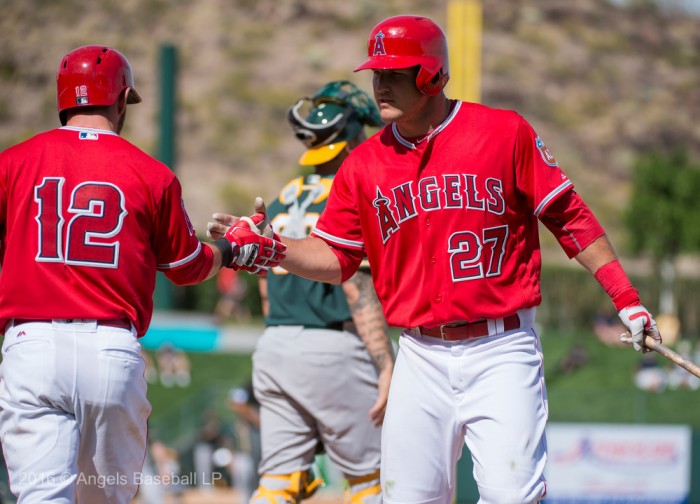 The Los Angeles Angels beat the Oakland Athletics 8-2 in Tempe, Arizona. This win gave Mike Sciosia's squad their first victory of Spring Training.
Bullpen shuts down A's offense
Garret Richards struggled a little in his two innings of work today despite a 1, 2, 3 first. In the second inning, Richards allowed the first two batters to reach base. Yonder Alonso drew a four-pitch walk and Marcus Semien doubled. On the next pitch, a ball squirted past Geovany Soto allowing Alonso to score while Semien moved up a base. Andrew Lambo platted Semien when he hit a pitch deep enough to right to bring him home.
That would be all the A's would get this game as the Angels bullpen took care of business the rest of the way. They used many relief pitchers as they got seven guys an innings worth of work. They allowed a combined nine players to reach base, off of six hits and three walks. Lucas Luetge had the best outing of the lot as he struck out three while allowing one hit in his inning of work.
Angels regulars set tone
Trailing 2-1 in the third inning, Angels' starters Kole Calhoun and Mike Trout singled. Both moved up 90 feet on a wild pitch. Then, one batter latter, Soto found a whole on the left side of the infield, scoring Calhoun. Daniel Nava provided a bit of offense as well, emulating Soto and driving in Trout to take the lead for good.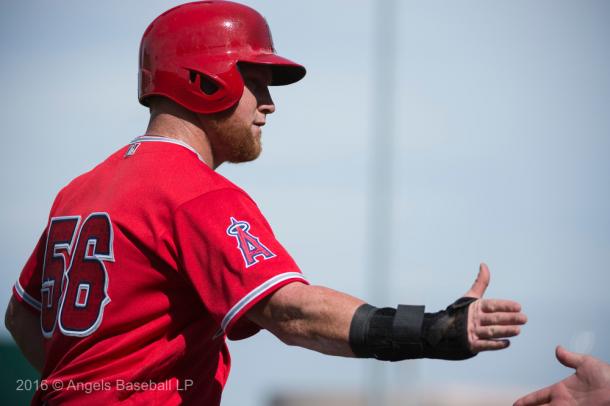 In the next inning, the Halos scored two more to up their advantage to four. Yunel Escobar, Calhoun and Trout reached base again. These three will be important all season long and to get timely hitting today will do a world of good. Escobar walked and Calhoun reached base on a hit up the middle. Soto got hit by a pitch and load the bases. Then Ji-Man Choi drew a four pitch walk and with nowhere to put him Calhoun scored.
Backups seal the deal
The final three runs came in the eighth inning of the game. Three back ups - Todd Cunningham, Rafael Ortega and Jett Brandy - loaded the bases. Choi, who has been productive so far this Spring, connected on the first pitch of the at bat. Oakland's Chad Pinder deflected the ball which allowed Ortega and Sherman Johnson to score. Pinder had a poor inning. On the next play, he could not quite gather committed another error which scored Choi.
Jered Weaver will take the mound for his first Spring Training action against the Cubs. Weaver's velocity has been dropping over the last couple of seasons. He still pitches well enough because his accuracy has improved and can the paint corners.
Meanwhile, the Oakland Athletics play with a split-squad tomorrow. In Mesa, their home for Spring, they face off against the Colorado Rockies. while the other half plays the Arizona Diamondbacks.