 Right-handed pitcher Alfredo Simon has agreed to return to the Cincinnati Reds on a one-year, $2.5 million deal, according to Ken Rosenthal of FOX Sports.
"We're very happy that this opportunity came about and (owner Bob) Castellini gave us the resources to extend the budget a little bit to make this happen beyond where we planned to go," said Reds general manager Dick Williams. "We're glad that Alfredo chose us to pitch for because we know he had other opportunities available."
Simon played for the Reds from 2012-2014 after playing for the Baltimore Orioles from 2008-2011 across his eight-year big league career. The 6-foot-6, 265 pound righty will look to return to his old ways after struggling with the Detroit Tigers during the 2014 season.
"Our history with Alfredo made this a much easier decision," manager Bryan Price said. "We know what we're getting. He is extremely resilient. His durability is a huge bonus.
"He gives us depth in the rotation. There are just too many question marks now with the readiness of some of our young guys that we don't want to force to the big leagues too soon, and there is the injury component."
The Reds traded Simon to the Tigers for Eugenio Suarez on December 11, 2014. With the Tigers, Simon went 13-12 with a 5.05 ERA across 187.0 inning in the Motor City. The 34-year-old, who was a 2014 All-Star, owns a career 45-40 record with a 4.17 ERA during 716.1 inning pitched. By getting Simon back, the native of Dominican Republic has gone full circle with the Reds.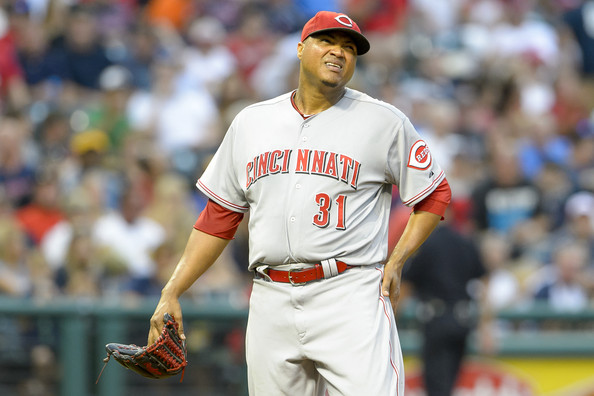 Simon will join Anthony DeSclafani, Rasiel Iglesias, Brandon Finnegan and Jon Moscot for the Opening Day rotation in Cincinnati.
Homer Bailey will not be back until May due to Tommy John surgery, Michael Lorenzen was diagnosed with a sprained ligament in his right elbow and is out indefinitely and John Lamb will not be ready for the start of the season because of back surgery. As a matter of fact, Jon Mascot got the day off and claimed to have soreness. With the addition of Simon, the Reds will no longer need to rely on young prospects Robert Stephenson and Cody Reed.
"You have to be very diligent about the way that young pitching develops and progresses," Williams said. "So even before we got to camp, we did want to supplement the ability of our rotation to throw innings and not put pressure on any pitcher to be asked to do more than he is ready to do at this point in his career. We think this was just a perfect fit for us to continue our strategy of developing our young talent."
It would only make sense that Simon had interest from other teams across the league, but not many would have offered him a major league deal. The Reds gave him a major league deal and the ability to immediately join the rotation.
"Right now, it's late," Simon said. "I had to make a decision. I had to sign. I had a couple of offers on different teams but I decided to come here. I played here. Everybody knows me here and I'm happy to come back here."