 The Asia Pool and the first Latin American Pool is loaded with not only talent, but players who know how to play with one another, and have won together. Teams from Asia and Latin America do very well in this type of tournament set-up, so it is reasonable to believe that a number of these teams could win this fictitious challenge. Or at the very least, you could make the argument that they could.
Asia Pool
Chinese Taipei
1) Chih-Sheng Lin- SS
2) Chin-lung Hu- 2B
3) Chin-Feng Chen- LF
4) Peng Chengmin- 1B
5) Chang Tai-shan- 3B
6) Dai-Kang Yang- RF
7) Byung-ho Park- DH
8) Lee Man-soo- C
9) Che-Hsuan Lin- CF
SP- Chien-Ming Wang
SP- Wei-Yin Chen
SP- Hung-Chih Kuo
SP- Wei-Chung Wang
SP- Pan Wei-lun
CP- C.C. Lee

Strengths
Chinese Taipei, much like the South Korean and Japanese team, depend on all the same ingredients for success. Good pitching, good defense, and timely hitting. However, this team is not quite as potent as the South Koreans and Japanese.
Weaknesses
Unfortunately, they are not the best team in their pool. The starting rotation is not as strong as Japan or South Korea, and the same can be said about their lineup. It is a good team, just not a great one.
Best Player: Chien-Ming Wang
Wang used to be a very reliable starter for the New York Yankees from 2005-2009. Wang won 19 games in back to back season in 2006 and 2007. Wang's famous sinker ball was one of the most dominating pitches for a few years in New York, it was simple yet effective. However, Wang battled a number of injuries which caused his career to end much shorter than he and the Yankees would have hoped for.
Australia
1) Trent Durrington- 2B
2) Joe Quinn- SS
3) Justin Huber- 1B
4) Trent Oeltin- CF
5) James Beresford- DH
6) Glenn Williams- 3B
7) David Nilsson- C
8) Chris Snelling- LF
9) Craig Shipley- RF
SP- Liam Hendricks
SP- Damian Moss
SP- Steven Kent
SP- Warwick Saupold
SP- Travis Blackley
CP- Grant Balfour
Strengths
Good beaches? Aside from that the Australians hardly resemble a respectable Single A team. They have some pitchers who have been very respectable in the majors, which is pretty good considering Australia is a little late to the baseball party.
Weaknesses
The Australians lack a little of everything. So for the time being, baseball is their weakness.
Best Player: Grant Balfour
Balfour has been one of the more dependable relievers in the past few seasons. But aside from Balfour, this team does not feature a lot of major league talent.
South Korea
1) Rob Refsnyder- 2B
2) Jung-ho Kang- SS
3) Shin-soo Choo- CF
4) Hee-Seop Choi- 1B
5) Byung Ho-Park- DH
6) Hyun-soo Kim- LF
7) Dae Ho Lee- RF
8) Lee Man-soo- C
9) Jae-Gyun Hwang- 3B
SP- Hyun-jin Ryu
SP- Chan Ho Park
SP- Cha-Seung Baek
SP- Jae-wong Seo
SP- Sun-Woo Kim
CP- Byung-Hyun Kim
Strengths
The South Korean team may not be loaded with star power, but there is little to deny how well the Koreans play in international play. They play defense, move runners along, and play smart baseball.
Weaknesses
It is a very fundamentally sound team, but a dominate pitcher or a dominate offense that they would have to face in this tournament would overwhelm the South Korean team.
Best Player: Shin-Soo Choo
Choo's season was revitalized last year in Texas and he could be one of the many reasons why the Rangers could contend for the World Series in 2016. Regardless with what happens with the Rangers this season Choo is the best talent to come out of South Korea.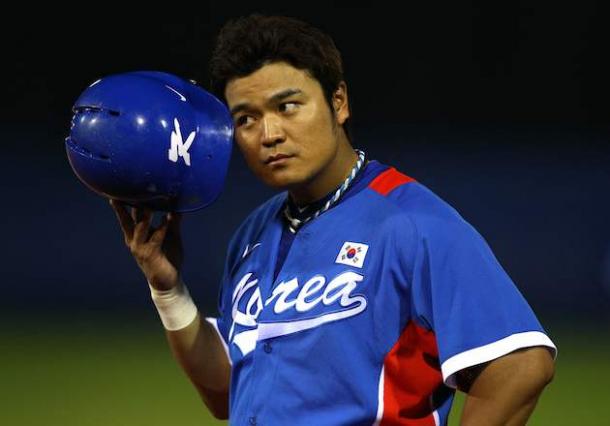 Japan
1) Ichiro- CF
2) Kaz Matsui- SS
3) Hediki Matsui- LF
4) Sadaharra Oh- 1B
5) Isao Harimoto-DH
6) Kenji Johjima- C
7) Koske Fukodome- RF
8) Shiego Nagashima-3B
9) Tadahito Iguchi-2B
SP- Yu Darvish
SP- Hideo Nomo
SP- Daisuke Matsuzaka
SP- Mashioro Tanaka
SP- Masaichi Kaneda
CP- Kaz Sasaki
Strengths
The Japanese have won tournaments around the world with a lot less talent, so it is hard to imagine the Japanese would not be a contender in this tournament as well. But if you look up and down the lineup, the pitching staff and the bullpen, you don't just see great Japanese players, you see great baseball players. Ichiro, Matsui and Sadaharra Oh provided a prowess that is unmatched by a lot of teams, and Darvish, Nomo, and Tanaka would give lineups fits.
Weaknesses
The Japanese would face teams that are more talented, but as they have proven time and time again, talent doesn't always win in these tournaments.
Best Player: Ichiro
As much as Sadaharra Oh has meant to the history of Japanese baseball, but there is only one Ichiro. Ichiro transcended Japanese baseball, and paved the way for Japanese players to become Major League stars. Ichiro should be a bona fide, first ballot hall of Famer (as long as the voters don't mess that up as well) and remembered as one of the greatest players of all-time.
Latin America Pool A
Dominican Republic 1
1) Carlos Gomez- CF
2) Robinson Cano- 2B
3) Sammy Sosa- RF
4) Manny Ramirez- LF
5) Nelson Cruz- DH
6) Edwin Enarcarcion- 1B
7) Miguel Tejada- SS
8) Aramis Ramirez- 3B
9) Tony Pena- C
SP- Juan Marchial
SP- Bartolo Colon
SP- Ervin Santana
SP- Edison Volquez
SP- Juan Guzman
CP- Roberto Hernandez
Strengths
This Dominican team, like the other, has a great collection of power hitters. From 1-9 in the lineup, there is a plethora of home run hitters and RBI producers. From a pitching standpoint, it doesn't get much better than Juan Marchial and Bartolo Colon as your 1-2 punch.
Weaknesses
But after Marchial and Colon the pitching is very thin. And despite all of the power in the lineup, a number of these hitters' strikeout far too many times.
Best Player: Manny Ramirez
One could make the argument, that Manny Ramirez was the best right-handed hitter since Hank Aaron. I'm one of those guys who make that argument. Ramirez averaged nearly 40 home runs a season over a 19-year career. Aside from hitting home runs, Ramirez career OPS is .996 and batted over .300, 11 times. If you can look past the issue with steroids and I know many "baseball purists" cannot, Manny Ramirez is one of the best talents we have seen in years. To make things even better, he was Manny Ramirez! His shenanigans were legendary.
Venezuela
1) Luis Aparicio- SS
2) Jose Altuve- CF
3) Bobby Abreu- RF
4) Miguel Cabrera- 3B
5) Andres Galaragga- 1B
6) Miguel Ordonez- LF
7) Victor Martinez- C
8) Pablo Sandoval- DH
9) Martin Prado- 2B
SP- Johan Santana
SP- Felix Hernandez
SP- Carlos Zambrano
SP- Freddy Garcia
SP- Carlos Silva
RP- Francisco Rodriguez
Strengths
As good as the Dominican teams are, this team from Venezuela has the same amount of beef in their order, but just far better pitching. Santana and Hernandez are clear aces and adding a Carlos Zambrano to the mix makes the pitching that much better. The Venezuelans would have the best pitching in either Latin American pools, and that could be just enough to win out.
Weaknesses
There is not many on this club. To nitpick however, Freddy Garcia and Carlos Silva are not exactly dependable starters in a tournament of this magnitude. But they were not scrubs either. It would be hard to imagine that this Venezuelan team would not go far. They would be considered legitimate contenders to win it all.
Best Player: Johan Santana
Johan Santana was, for nearly a decade, the best pitcher in baseball. Injuries unfortunately brought an abrupt end to his career, but after the pitching greats of the 90s retired, like Clemens, Maddux, Johnson and Glavine, it would be Santana who would usher in the next generation of great pitchers.
Puerto Rico 1
1) Roberto Alomar- 2B
2) Roberto Clemente- RF
3) Carlos Beltran- CF
4) Edgar Martinez- DH
5) Ivan Rodriguez- C
6) Bernie Williams- LF
7) Orlando Cepeda- 1B
8) Mike Lowell- 3B
9) Carlos Correra- SS
SP- Juan Pizzaro
SP- Javier Vazquez
SP- Ed Figueroa
SP- Jose Guzman
SP- Jaimie Navarro
CP- Jose Mesa
Strengths
The lineup for the Puerto Rico 1 team is incredibly balanced. Speed and contact at the top of the order, power at the bottom. But what makes this team truly unique is that the power hitters, Carlos Beltran, Edgar Martinez, Ivan Rodriguez, Bernie Williams and Orlando Cepeda are all incredibly disciplined hitters. They know how to take a way, work the count, and hit for a high average. And what these international tournaments have seemed to always prove is that if your lineup is filled with power hitters who tend to strikeout, you are working at a loss. This Puerto Rican team does not have the problem.
Weaknesses
The pitching is pretty weak for Puerto Rico. Despite the strength of their lineup, in order for Puerto Rico to win, they would need their pitchers to pitch out of their mind. Which would be a lot to ask for.
Best Player: Roberto Clemente
The greatest player to ever come out of Puerto Rico, just happened to be one of the greatest ambassadors of all baseball history. A true five tool player, Clemente was one of the greatest of the 1960s and early 1970s until his tragic death in 1972. He was a part of two World Series teams, won an MVP in 1966, and in his last game collected his 3,000th hit. A true great who paved the way for thousands of other Latin American players.
Panama
1) Roberto Kelly- RF
2) Dave Roberts- CF
3) Rod Carew- 2B
4) Carlos Lee- 1B
5) Ben Oglivie- LF
6) Hector Lopez- 3B
7) Carlos Ruiz- C
8) Ruben Tejada- SS
9) Manny Sanguillen- DH
SP- Bruce Chen
SP- Randall Delgado
SP- Juan Berenguer
SP- Ramiro Mendoza
SP- Rafael Medina
CP- Mariano Rivera
Strengths
There are not many strengths to this team from Panama. They do have a few great players like Rod Carew, Carlos Lee, and Mariano Rivera. But unfortunately those three would have to carry this club in every game. Any lead is safe once it gets to MO, however getting a lead would be very challenging for this team.
Weaknesses
Unfortunately, anyone else besides Rod Carew, Carlos Lee, and Mariano Rivera.
Best Player: Mariano Rivera
There are few baseball arguments that can be won so easily. Mariano Rivera was the greatest closer ever. Hardly an argument.