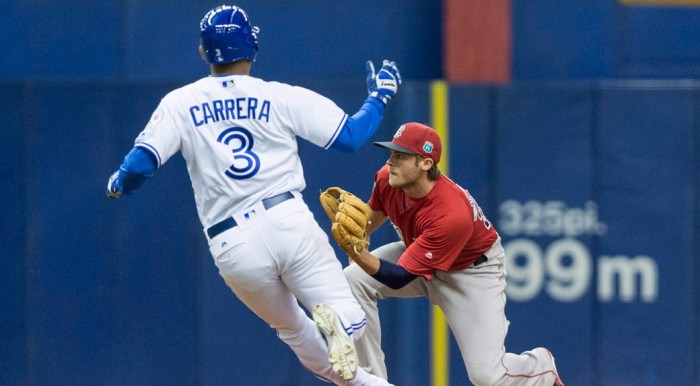 The Toronto Blue Jays were not enough for the Boston Red Sox as they came out on top in a two-game weekend series which took place at Stade Olympique in Montreal for the third consecutive year in an effort to get a major league baseball team back in the city for the first time since having lost the Expos back in 2004.
Prior to Friday night's match, the former team was honored as Pedro Martinez took center stage in a ceremony that also included guys such as Ellis Valentine, Tim Raines, Vladimir Guerrero, Jose Vidro and Marquis Grissom.
What did Friday night look like?
LHP J.A. Happ got the call on Friday evening against RHP Steven Wright, however, the show did not start at the bump as Kevin Pillar got things going as he hit a solo home run to left field which quickly put Toronto on the board 1-0. This got the crowd of 52, 682 ignited early on as many came out to support a great cause. Canadian Michael Saunders stepped up to bat in the second inning and hit a solo home run to center field which put the Blue Jays up 2-0, however, that was all the runs they could put up as Boston put a rally together late in the game which consisted of a two-run double off the bat of Ryan LaMerre in extra innings action to close things out 4-2.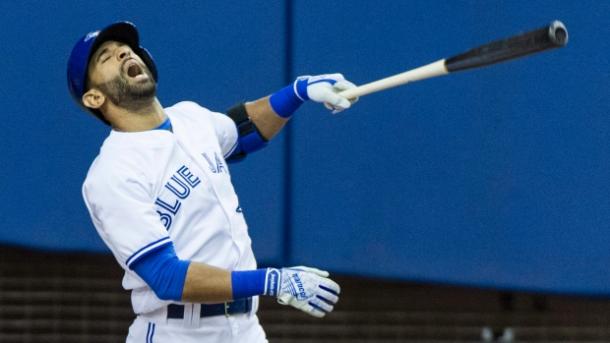 Could Toronto capitalize on Day 2?
As Saturday rolled around, more excitement was welcomed inside the domed stadium which was originally built for the 1936 Summer Olympics as Scott Copeland took to the bump against Sean O'Sullivan in what many considered a crucial matchup to even up the series for a team who was proudly playing host in honor of the well missed and fairly beloved Expos.
53,420 filed in for the second of a two-game series which made for a total of 106, 102 ecstatic Montrealers who couldn't have been happier to be viewing professional baseball in their city while rooting for the league's only Canadian team as it only made so much sense to do so.
Prior to the match, former Expos general manager Jim Fanning who recently passed away was honored with a banner which was unveiled on the left field wall to go alongside a commemoration video to recognize his accomplishments which will forever be remembered as he has been inducted into the baseball hall of fame located in Cooperstown, New York. Former team owner Charles Bronfman, his son Stephen and former star pitcher Steve Rogers were in attendance to observe the celebration.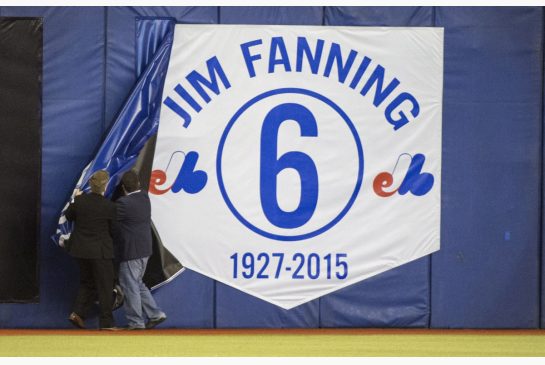 Things were a little slower to get started with as Montreal born catcher Russell Martin got things started with a bloop RBI single to center field in the third inning which drove in Darwin Barney from third base. Josh Donaldson stepped up next and did the same thing which drove in Roemen Fields from third base to quickly put Toronto up 2-0.
From there, things were slow once again until the top of the fifth when the Red Sox finally got on the board with a solo home run from Ryan Hanigan which was later followed up by a double off the bat of Josh Rutledge. That drove in Jackie Bradley Jr. from third base, giving Boston a pair of runs to tie the game.
As for how the rest of the match was played, a double was hit to score Mike Reeves which was followed by messy baseball which took full effect as a passed ball allowed Richard Urena to score for the Blue Jays, however, in the end, they were not enough for the Red Sox who took game 2 by a final score of 7-4 thanks to Jorge Leon and Blake Swihart who both went into the shallow infield with sacrifice hits, scoring Travis Shaw and Rusney Castillo.
Toronto ended spring training with a record of 17-8 before heading off to Tropicana Field in Tampa Bay, Florida where they would then take on the Rays in their 2016 home opener with Chris Archer and Marcus Stroman set to start the season with a battle on the bump.