 The Chicago Cubs are stacked with a star studded pitching rotation, offensive power and a considerable amount of postseason experience. They haven't won the pennant since 1945 or the World Series since 1908, but for the first time in some time, the Cubs are the favorites to reign victor come late October and the journey to the fall classic begins Monday night in Anaheim.
Opening Day Starters
The most anticipated season in the organization's history begins against the Los Angeles Angels, this being the first time in the team's history that they will be opening up a season against an American League team. Starters for the opener were announced roughly three weeks ago and to no surprise the Cubs went with the 30 year old, 2015 CY Young winner, Jake Arrieta.
The Angels went with right hander Garrett Richards. Richards breaks the 6 year streak of the Angels starting the year with veteran, Jered Weaver. Not only is there a vast amount of talent on the mound for Mondays season opener, the talent spreads throughout both teams lineups with most of the talent spewing from Joe Maddon's Cub team.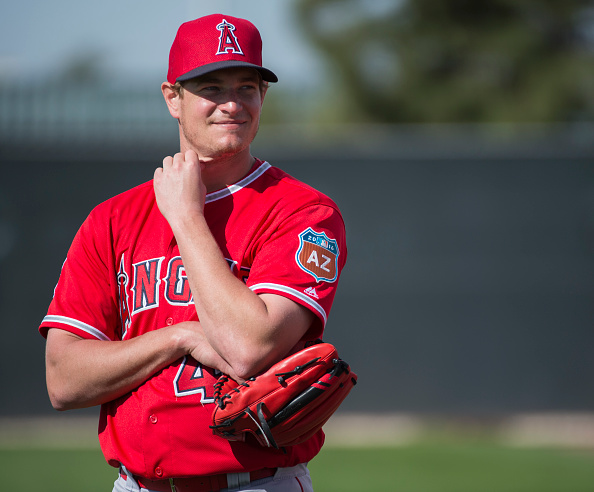 Offseason additions
This past offseason the Cubs went shopping and snagged some rather large prizes, stealing Jason Heyward and John Lackey from NL Central foe St Louis, while managing to get 2015 World Series Champion 2nd baseman Ben Zobrist from the Kansas City Royals. The signing of those three athletes created a vibe and buzz around the city of Chicago and the MLB, the vibe that the Cubs could potentially be in position to break the curse of the Billy Goat and become the 2016 World Series Champions.
Along with the three big signees the Cubs signed a few other players, they acquired Yankee pitcher Adam Warren in a trade that sent SS Starlin Castro to the Big Apple. They also managed to get pitcher Rex Brothers from the Colorado Rockies. After all of the work and negotiations by the front office to acquire all the talent this past offseason, the time has officially come to begin utilizing this superstar team.
Projected Starting Lineups
Chicago Cubs (0-0, 0-0 NL Central)
1. CF-Dexter Fowler
2. RF-Jason Heyward
3. 2B-Ben Zobrist
4. 1B-Anthony Rizzo
5. 3B-Kris Bryant
6. LF-Jorge Soler
7. C-Miguel Montero
8. DH-Kyle Schwarber
9. SS-Addison Russell
Los Angeles Angels (0-0, 0-0 AL West)
1. 3B-Yunel Escobar
2. LF-Daniel Nava
3. CF-Mike Trout
4. DH-Alber Pujols
5. RF-Kole Calhoun
6. 1B-C.J. Cron
7. SS-Andrelton Simmons
8. C-Carlos Perez
9. 2B-Johnny Giavotella
Prediction:
Cubs 6 Angels 2 - Arrieta goes the distance, strikes out 9 and gives up only 1 earned run. Homeruns by Bryant, Rizzo and Schwarber.