 The 2015 NL Cy Young winner Jake Arrieta picked up right where he left off on Opening Day 2016. He blanked the Los Angeles Angels, going seven scoreless innings. And the Chicago Cubs offense started early and continued throughout the night as they won 9-0.
Arrieta fooled the Angels' batters all night long. He mixed his pitches well while hitting each corner of the strike zone. The ace allowed two hits while striking out six and giving up just one base-on-balls. If Arrieta continues to pitch like this, then there is no reason why he should repeat as Cy Young.
Cubs off to fast start
Chicago's bats got going in the first inning, as they opened up a 1-0 lead before Arrieta even took the mound. Dexter Fowler saw two pitches before he doubled through the right hand side of the infield. The Cubs' first baseman, Anthony Rizzo, drove in the first run of the season getting a single to center.
Garrett Richards, after giving up a run in the first inning, pitched much better the next two. But the first-time Opening Day starter hit a lull in the top of the fourth inning. He lost command of his pitches, walking the first two batters. Jorge Soler then stepped up to the dish and drove in Rizzo, doubling the Cubs lead. Andrelton Simmons could not gather a ball well enough and Kris Bryant touched home.
Angels' bullpen struggles
One of the biggest question marks heading into the season for the Angels was about their bullpen. Fernando Salas took over from Richards but struggled, giving up two more runs. Miguel Montero, who had an RBI earlier in the game, came up big once more in the sixth. Montero latched onto a 1-1 fastball and drove it into the right field stands. This homerun put the Cubs up by five and with the way Arrieta was pitching, put the game to rest.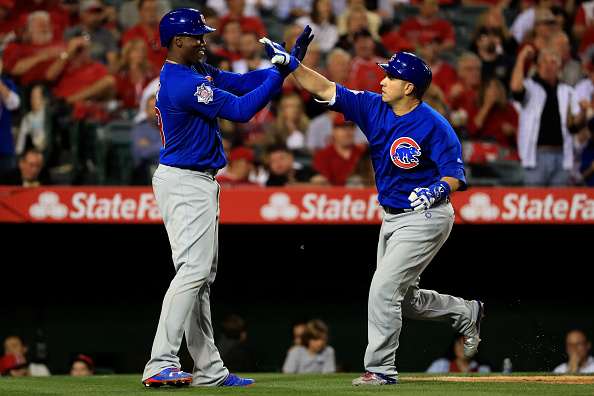 The Cubs continued to get quality at bats throughout the night and that continued in the seventh. A new addition to the Chicago roster, Jordan Heyward, took Cam Bedrosian deep in a count. On a 2-2 pitch, Heyward got a hold of one and doubled, moving Fowler to third. Kris Bryant then stepped up to the dish and worked a four pitch at bat before sacrificing Fowler home.
Matt Szczur tacked on three more runs in the top of the ninth inning. Mike Morin walked two batter to load the bases which brought the 26-year-old to the dish. He took a the Angels' reliever changeup that got left over the middle of the plate and cleared the bases.
Coming Up
These same two sides will meet again Tuesday night at Angel Stadium. The Angel's will send young Andrew Heaney to the bump as they search for their first win. Meanwhile, the Cubs are going with Jon Lester to start game two.