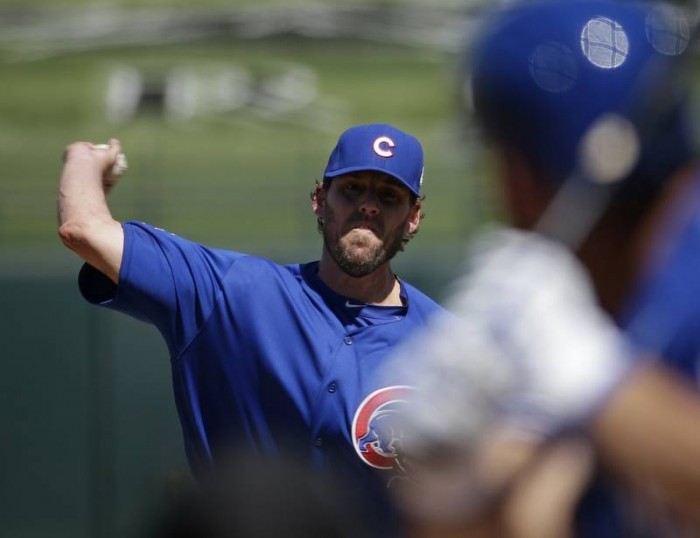 After completing a two game series sweep over the Angels of Anaheim, Joe Maddon and his squad look to continue the win streak this Thursday as they enter a 4 game series with the NL West's Arizona Diamondbacks.
First baseman battle
The series with the Diamondbacks will showcase two of the best first baseman in baseball, as Anthony Rizzo and Paul Goldschmidt go head to head in the desert. The talent that both players have is unreal. Last season, they 1 and 2 in the National League for Home Runs and RBI's by first baseman, Goldschmidt finished the 2015 campaign with a .324 batting average while Chicago's captain finished with a .278. Be on the lookout for a great series as these two first basemen battle it out.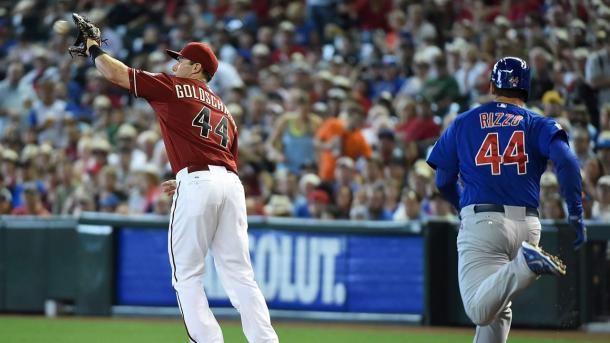 Pitching matchup: Game one
John Lackey will be making his first ever start in a Cubs uniform. Lackey, acquired in free agency this past offseason, posted a 2.77 ERA this past year with St Louis. Cubs manager Joe Maddon told reporters that he feels Lackey's delivery is a lot better now than it was when they won the World Series together in Anaheim back in 2002. This Thursday will be Lackey's fourth career start against Arizona.
Lackey will be squaring off against Arizona's right hander, Rubby De La Rosa.
De La Rosa was named as the team's fourth starter after Spring Training began back in February, even though his Spring Training performance wasn't all too well. There were times were he was on fire and then there were times where he struggled and he gave up 14 earned runs over 16 1/3 innings in his last three outings. However, he will have a very tough time against the Cubs stacked lineup.
Though the pitching might be a bit rough, the D-Backs will benefit from a couple of other big bats in their lineup other than star Goldschmidt, short stop Nick Ahmed and catcher Wellington Castillo will provide some added run support for De La Rosa and all the Diamondbacks can do is hope its enough.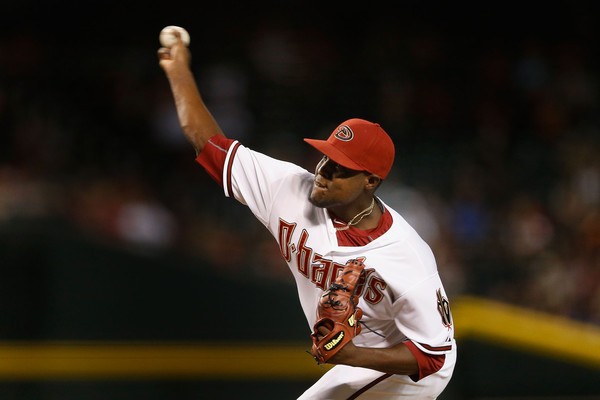 Projected lineup for Thursday's series opener
Chicago Cubs (2-0, 0-0 NL Central)
1. Dexter Fowler, CF
2. Jason Heyward, RF
3. Ben Zobrist, 2B
4. Anthony Rizzo, 1B
5. Kris Bryant, 3B
6. Matt Szczur, LF
7. Kyle Schwarber, C
8. Addison Russell, SS
9. John Lackey, P
​Arizona Diamondbacks (0-0, 1-1 NL West)
1. ​ Jean Segura, 2B
2. ​Chris Owings, CF
3. Paul Goldschmidt, 1B
4. ​David Peralta, RF
5. Jake Lamb, 3B
6. Brandon Drury, LF
7. ​Wellington Castillo, C
8. ​Ruby De La Rosa, P
9. ​Nick Ahmed, SS
​Prediction:
​Cubs take game one, Lackey pitches 7 2/3, Heyward, Rizzo and Bryant all go yard as the Cubs win 8-3.