 The Chicago Chicago's 23-year-old slugger, Kyle Schwarber, has been officially reported as out for the remainder of the season after tearing his ACL and LCL in Thursday night's game against the Arizona Diamondbacks.
Cubs officials made the announcement late Friday afternoon shortly after they ran an MRI. The injury occurred when center fielder Dexter Fowler collided with Schwarber as both players were trying to make a play on a pop fly. The collision gave Arizona's Jean Sigura his second home run of the game, but this time it was an inside the park homerun.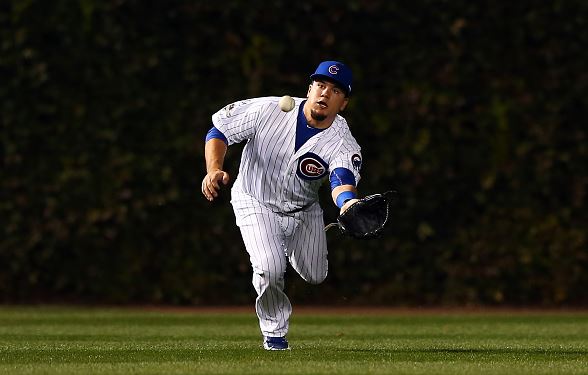 Last season, the Hoosier alum racked up an astonishing .842 OPS in his rookie year with the Cubs. Many anticipated Schwarber to be a big part of this year's team and was expected to help out in both the outfield and behind the plate. So what's the next move for the Cubs? Theo Epstein and his front office decided to call up infielder Munenori Kawasaki from triple a Iowa to fill the void left by Schwarber.
Schwarber was drafted fourth overall in 2014 out of Indiana University. He hit 16 home runs in 232 plate appearances this past season, and added 5 more homers in the post season. Schwarber blasted two of those homers, landing one in the Allegheny River in Pittsburgh and another landing on top the roof of the right field scoreboard at Wrigley Field.
As of right now, it's going to be time for the veteran catchers in Miguel Montero and David Ross to step up and play even better. With Schwarber out, this gives some other players like Jorge Soler and Matt Szczur some more quality playing time in the outfield. Not only do the Cubs have some options of mixing up playing time with Soler and Szczur ​in the outfield, they can also utilize second basemen Ben Zobrist and Javier Baez as additional support in the outfield.
For now, it's back to the drawing board for this 2016 Cubs team. A team that many believe will win the World Series, with Schwarber gone it's going to be a little bit tougher. However, with a team so close knit in the clubhouse like Chicago we can all hope that they utilize Schwarber's departure as fuel to play even harder.
­