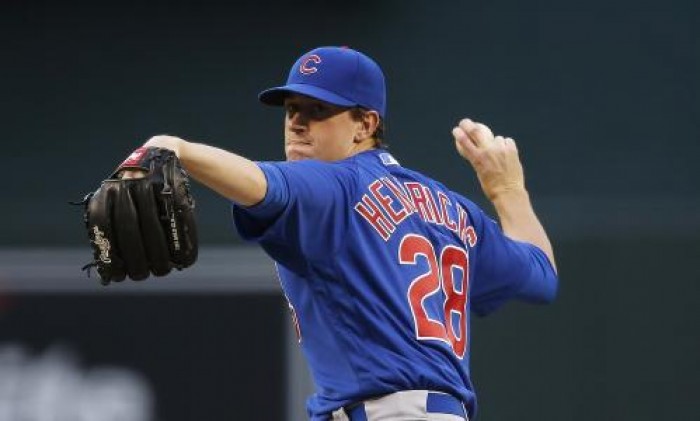 Diamondbacks pitcher Zach Grienke might be well known around the league. However, he was out played by young Cubs star pitcher Kyle Hendricks on Saturday night at Chase Field as Hendricks led the Cubs to a 4-2 victory. The victory brought the Cubs their fourth win in their first five games of the season.
Hendricks' pitching clinic
The 26 year old Newport, CA native Hendricks changed up his speeds while keeping the Diamondback hitters off balance throughout his 6 2/3 innings of play, Hendricks allowed 4 hits and 3 of them were singles. Arizona managed to put together a couple of runs eventually during the game, the first coming when center fielder Chris Owings scored on wild pitch and in the seventh inning when Brandon Drury drove in David Peralta on an RBI double.
Shifting focus over the Cubs bats: Chicago's offense gave Kyle Hendricks run support early on as they racked up three runs in the first inning while adding another run in the fourth via a Ben Zobrist RBI double. Zobrist wound up finishing the game with three hits and got on base four times.
Cubs offense gets going early
In the first inning of play, Diamondbacks pitcher Zach Greinke face essentially the entire Cubs lineup, Chicago sent eight batters to the plate in the opening half of the first. All-star first basemen Anthony Rizzo accounted for an RBI single as he drove one to center, Kris Bryant followed with an RBI double of his own and Miguel Montero hit into a sac fly which gave the Cubs an early 3-0 lead.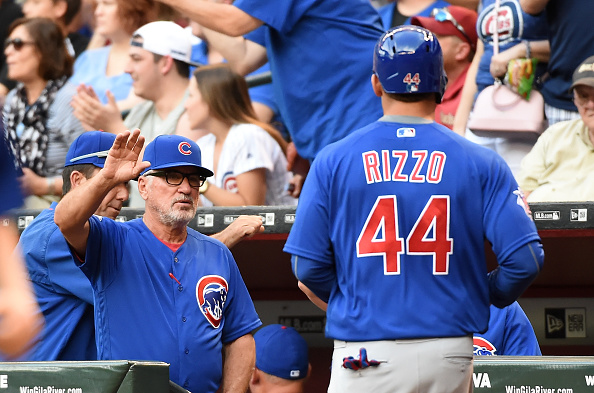 Chicago Cubs closer Hector Rondon racked up his first save in his first opportunity of the 2016 season, Rondon sent down Arizona's Paul Goldschmidt with a 90 mph changeup to start the bottom of the ninth, David Peralta ended up grounding out and former Cubs catcher Wellington Castillo swung and missed on a four seam fastball.
Sunday pitching matchup
Chicago looks to finish off the series against the Diamondback's this afternoon as they send their CY Young pitcher Jake Arrieta to the mound to take on Arizona's Shelby Miller. Arrieta will make his second start of the season Sunday in the series finale against the D-Backs. Currently Arrieta is on a streak of 29 consecutive scoreless innings, dating back to the final out of his final start last season. First pitch scheduled for 3:10 P.M. CT.
After this game Chicago will have their 2016 home opener tomorrow night at Wrigley Field when they take on the Cincinnati Reds, game scheduled for a 7:05 start. Cubs will send Jon Lester to the mound in that game against the Reds Brandon Finnegan.