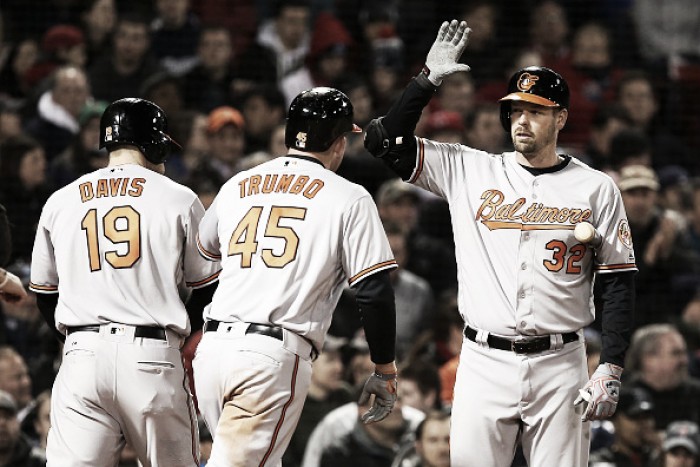 If the age old adage is true, that great pitching beats great hitting, then there is a real problem in the AL East. Because there is no great pitching in the AL East.
Even though the Baltimore Orioles lead the league in team ERA at this current point of the season, it would be hard to argue that they would remain there all season. Ubaldo Jimenez can only take you so far.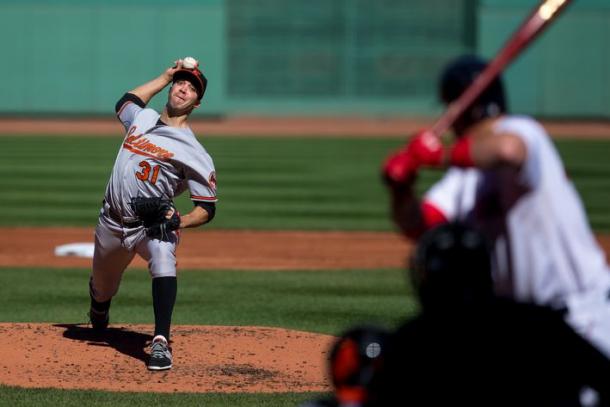 The Orioles are hot right now, but what is not hot is the rest of the AL East and their beleaguered pitching staffs. The Red Sox have very little behind David Price, and even he has been touched up in his first two starts. The Blue Jays are banking on a young Marcus Stroman to lead their rotation, but even if he emerges as an ace, there is not another one behind him. The Yankees are too dependent on Masahiro Tanaka and Michael Pineda to be aces, but they are banged up too often. Then there are the Rays, who have the best pitching in the division despite their early troubles, but their offense is so anemic that most have wrote them off. Even in just the first week of the season. Here is just how bad it has been so far:
Team ERA Leaders:
Baltimore: 2.50 (1st)
Tampa Bay: 4.15 (16th)
Toronto: 4.28 (17th)
New York: 4.30 (18th)
Boston: 5.37 (24th)
Four-fifths of the AL East is in the bottom half of all baseball in team ERA. Now as bad as that may seem, the AL East is able to balance that out with the best offensive production in the league.
Team Leaders in Runs:
Boston: 35 (7th)
New York: 35 (8th)
Baltimore: 31 (13th)
Toronto: 29 (15th)
Tampa Bay: 18 (27th)
While there may not be any solid pitching in the AL East, Boston, New York, Baltimore and Toronto can sure mash the ball. Most baseball experts would also agree that all four of these teams can sustain their offensive production throughout the season because of the talent each team has up and down their order. The AL East may be the home of the worst pitching in baseball, but it also may be the home of the best hitting.
But if that is the case, then which team is going to hit their way to an AL East crown? Each offense has their own unique strengths and weaknesses, but only one (maybe two or three) can make the playoffs. But who wins the division?
Boston Red Sox
What works: Great Depth
The Red Sox have prided themselves on having one of the deepest organizations in all of baseball, and in 2016, it should pay off big dividends. The Red Sox have a threatening bat in every spot of the order, whether it be a savvy veteran or a promising up and comer. While players like David Ortiz, Hanley Ramirez, and Dustin Pedroia will continue to be the backbone of the order, youngsters like Mookie Betts and Xander Bogaerts could soon be the new focal point of the offensive attack.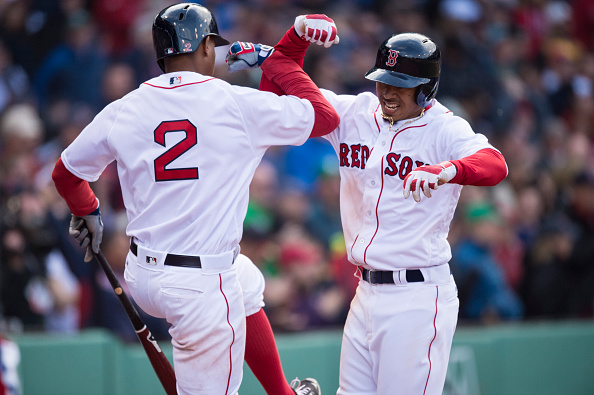 What hurts: Youthfulness
However, David Ortiz is entering his final year, Dustin Pedroia hasn't looked like an All-Start in a couple of seasons, and Hanley Ramirez is often injured. Therefore Boston, more than ever before, will have to rely on their young guys to be a consistent threat in the lineup. If Betts or Bogaerts (or both), struggle in the lineup than the Red Sox's offense will all of sudden become vulnerable. Even to AL East pitching. Betts and Bogaerts are only 23 years old. The existence of the Red Sox offense is a lot to put on their young shoulders.
New York Yankees
What works: Experience
The Yankees have arguably the most experienced lineup in all of baseball. Alex Rodriguez, Mark Texieria, Jacoby Ellsbury, Brian McCann solidify a potent Yankee attack on a night to night basis. A-rod, Teixeria and McCann all experienced nice bounce back campaigns in 2015, and look to continue their resurgence this season. But the Yankees have received a nice jolt of youth with their addition of Starlin Castro, who has been the brightest star for the Yankees early on this season. Castro provides even more pop and hope in the Yankees offense that is already stacked with proven hitters.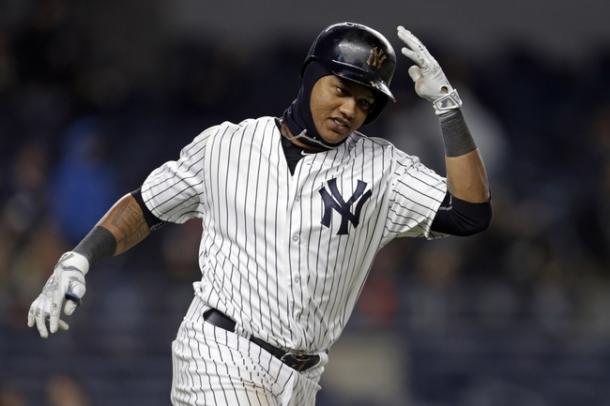 What hurts: Age & Health
However, saying the Yankees are experienced is really just a fancy way of saying they are old. A-rod is 40, Teixeria is 36, McCann and Ellsbury are 32, however they have been riddled with injuries the past few seasons, so it is as if we are using dog years to evaluate their actual age. For Yankee fans it won't be an issue of keeping their players healthy for the entire year, but making sure they are not hit with injuries all at the same time. The Yankees will be able to absorb a couple of injuries at one time (as long as its not long-term), but if two or more players are hurt at once, the Bronx Bombers will not be able to re-supply their arsenal.
Baltimore Orioles
What works: Best Player
Having the best player in the division, arguably in the American League, and arguably in all of baseball is always a nice asset to have. Manny Machado entering his third season in the the major leagues is the focal point of the Baltimore Orioles. After his breakout season a year ago, in which he hit 30+ homers with 20+ steals, Machado looks to improve on an already promising career. Macahdo's presence in the lineup makes the rest of the Orioles cast even more dangerous. Which is scary with the likes of Adam Jones, Chris Davis and Matt Wieters. The Orioles have got off to a fast start this season, large in part to the impact Manny Machado has had.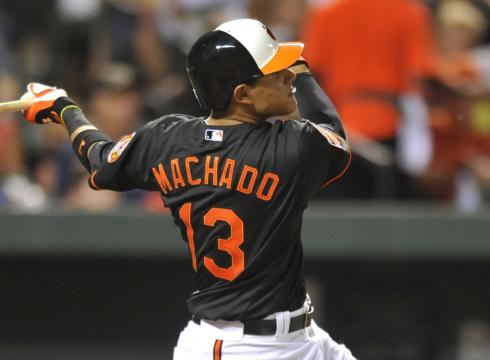 What hurts: Strikeouts
Over the last three seasons, the Baltimore Orioles have ranked in the top ten for most strikeouts as a team in all of baseball. Davis, Wieters, and others like J.J. Hardy are all prone to striking out at any given time. Even Machado struck out over 110 times last season. As potent as the Orioles attack is, when they face power pitchers, they are susceptible to being shut down.
Toronto Blue Jays
What works: Best power
Jose Bautista, Josh Donaldson, Troy Tulowitzki, Edwin Encarnacion. Power, power and more power. The Blue Jays have the best lineup, not only in the AL East, but all of baseball. Last season, the Toronto Blue Jays were nearly the 'Triple Crown' winner as they lead the league in home runs, RBIs, and were second only to the Tigers in batting average (Tigers: .270, Toronto: .269). Most baseball experts agree that with Troy Tulowitzki in the lineup for the entire season (or at least 130 games) the Blue Jays can eclipse the standard they set a year ago.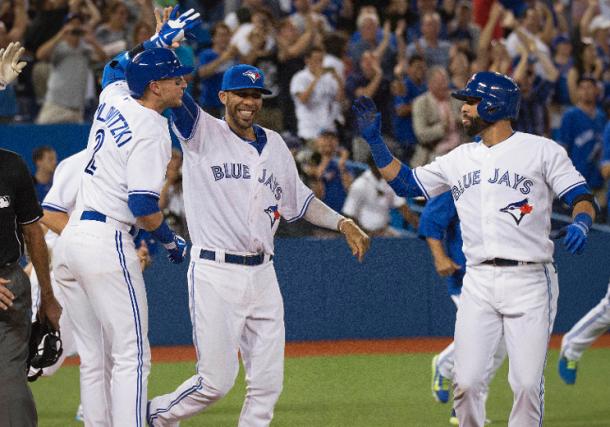 What hurts: Dependency
But Jose Bautista is 37, Encarnaicion is 33, and Troy Tulowitzki has not played more than a 140 games in a season, since 2011. When they are in the lineup, the Blue Jays are virtually unstoppable. However players who are older break down, and players who are often injured continue to get injured. It is not unreasonable to worry about the Blue Jays ability to sustain their stars throughout a 162-game schedule. If they are able to do it, the Blue Jays, more than anyone, should be able to slug their way to an AL East pennant. But a lot falls on the shoulders of their older and fragile stars.
So who wins?
That's an easy one. Its the Tampa Bay Rays!
Is their offense abysmal? Sure is. But do they have enough pitching to make a run to conquer these offensive juggernauts? Better believe it.
Even though the Sox, Yanks, Jays and Orioles will produce all-star after all-star and will lead the league in most offensive categories, unless these teams are able to discover or add major upgrades to their pitching staffs they will be in striking distance of the Rays. While the Rays team ERA is right around 4.10, one thing they do have going for them is the fact that Chris Archer has struggled so far this season. While they may not sound like great news for fans in Tampa, rest assured, the Rays have a much better chance regaining their pitching prowess than the Orioles do of maintaining theirs.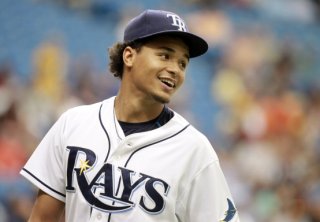 The fact remains, that while the offenses of the rest of the AL East are as potent as can be, the Rays are still in the best position to win the division./ However, as most fans do, overreacting is common in the first week or two of the season (just ask Mets fans). There is still a lot of baseball left, and if that old age adage remains true in the AL East this season, there is no reason to count out the Rays. Just like there is no reason to count out anybody so far, and so early on, this season.