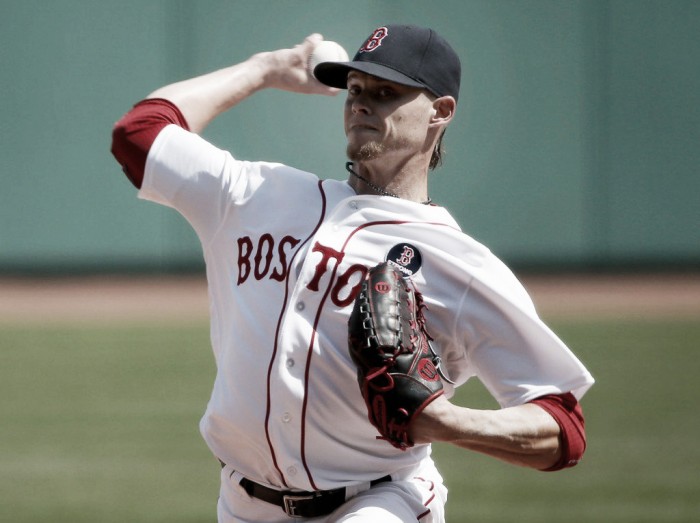 Red Sox fans were filled with optimism watching Clay Buchholz fire shutout inning after shutout inning.
Then their optimism, though, turned to pessimism as the bullpen melted in the eighth inning.
Then their hopes were raised briefly by a Red Sox rally in the ninth - only to be dashed by David Ortiz's strikeout while representing the winning run at the plate.
After an emotionally draining game, it's time to step back and see what we can draw from the Red Sox's 4-3 loss to the Toronto Blue Jays, losing the Red Sox the chance to take three of four from their division rivals. Instead, the Sox will welcome the Tampa Bay Rays into town on a two-game slide.
Clay Flashes Teasing Potential During Dominant Outing
For many years, Clay Buchholz has teased Red Sox fans by continuously flashing his potential then either slumping or being injured. Last year, given the role of ace, Buchholz pitched well into July, but then he was injured.
Over his first two starts of the season, Buchholz looked like the same old pitcher that just couldn't put his stuff together. He gave up ten runs over a total of nine innings in his two starts.
Then today, suddenly, Buchholz looked every bit the ace he was supposed to be last year. He seemed completely in control as he shutout the powerful Toronto offense over 6 2/3 innings. He scattered six hits, struck out two, and induced 11 ground-ball outs, including 4 double-play balls.
There is no question that Clay Buchholz has a surplus of talent. But can he put it together and continue this into his next starts? Could he actually maintain this and put together a good, and healthy, season at last? Or was this another tease? Good outing aside, Clay Buchholz still has plenty to prove.
Flaws of Red Sox bullpen exposed in ugly eighth inning
So much has been made this season of Boston's spectacular bullpen. People talked about how they had saved the rotation, particularly with several lackluster starts from Buchholz, Joe Kelly, and Rick Porcello. However, there was a major role reversal on Monday.
This time it was Buchholz acting as the dominant force on the mound, and his bullpen could not make a 1-0 advantage hold up. Koji Uehara, who had just been so dominant in his first seven outings, was absolutely terrible. He gave up an infield single and walked a batter.
A passed ball allowed by the normally sturdy Christian Vasquez did not help matters as Toronto put two runners into scoring position with nobody out. Uehara induced a ground out but Kevin Pillar scored the tying run. Then, featuring uncharacteristic wildness, Uehara hit Josh Donaldson and walked Jose Bautista. Manager John Farell had seen enough and called for closer Craig Kimbrel with the game tied and the bases loaded.
However, it wasn't the right situation for Kimbrel, who does walk batters at a frequent enough rate that this was a very dangerous spot for him. He blew away Edwin Encarnacion on three straight fastballs, the last one clocking in at 99 mph, but then things unraveled. He got ahead of Troy Tulowitzki 1-2, but his next three pitches weren't close and he walked in the go-ahead run.
Having failed to keep the score even, Kimbrel needed to use some damage control and give the offense a chance to come back. A pesky Russell Martin spoiled several full count pitches before poking a two-run single to expand the Toronto lead to to 4-3. The game exposed some deep flaws in the bullpen plan. It will work a lot, but there are some troublesome facts.
Koji is 41 years old. Kimbrel can be wild. And when one of those two pitchers is off, things can get disastrous very quickly. Certainly one game isn't reason to panic. But the Red Sox need to be aware that their 'pen isn't invincible. Especially when their offense is not producing like it hasn't the past two days.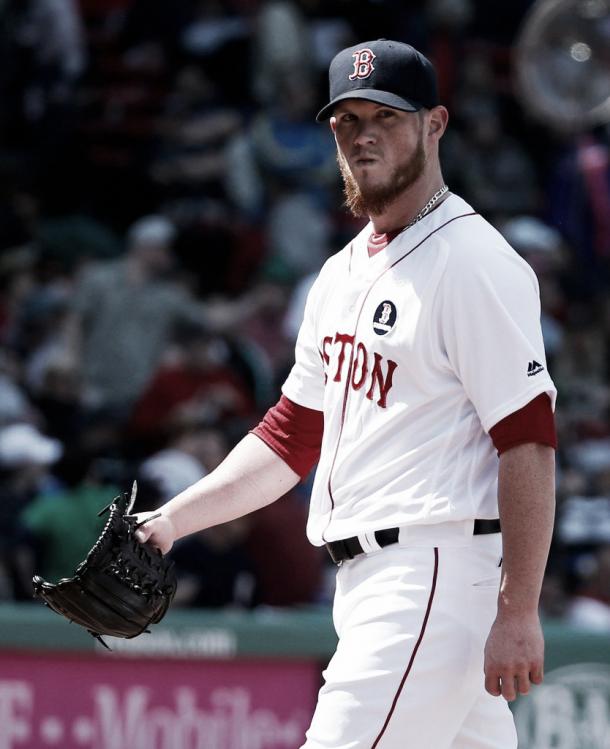 Stagnant offense needs to be more productive early
The Red Sox almost made a miraculous comeback in the ninth inning, scoring two runs and bringing the winning run to the plate. It's the second straight game the Sox have plated a pair in the ninth but, on both occassions, their rally fell short.
These Sox bats may have a penchant for late-game comebacks, but they need to start being productive earlier in the game. Teams are lucky to score two runs in the ninth - and they are really lucky if they do it twice in a row. The fact that that wasn't enough to win the game either time is a sad fact.
Boston managed just four hits before the ninth inning. The Sox have received two quality starts in a row, but their stagnant offense has turned those performances into two losses. Maybe it'll take some shuffling in the lineup. Maybe they just need to start stringing hits together. Whatever they need to do, they need to start doing it fast.
The Red Sox's loss is by no mean a reason to panic. They are still 6-6 and the division race isn't going to be decided by an early season loss. But this loss did provide plenty of food for thought. Boston has shown potential in all aspects of their game.
Now, can they start turning that potential into a string of W's?