 The Rockies have started the 2016 campaign as one of the most surprising teams in baseball. The Rockies currently sit at 7-5, good enough for second place in the very tough NL West.
Homers paving way for Rockies offense
Once again the Rockies are spearheaded by a talented offense led by Nolan Arenado, Carlos Gonzalez, and surprise rookie sensation Trevor Story who currently leads the league in homers with seven (Arenado is second with six). Yes, the Rockies could be relevant this year, and it could be that way because of their high-powered offense.
But we have seen this before.
There have been great Rockies' teams that have made their appearances in the post season and even the 2007 team made it as far as the World Series. Throughout the, albeit, brief Rockies history there have been great players like Larry Walker, Andres Galaragga, Dante Bichette, Vinny Castilla, Todd Helton, Matt Holliday, and Troy Tulowitzki. All of whom were either all-stars are deserving of Hall of Fame consideration.
It's Colorado, it's Coors Field, and it's roughly a mile above sea-level. It's therefore 'easy' to hit in Colorado, and because of that it is easy to write off the Rockies, and Rockies players.

But are we justified for doing so?
Case in point rests with Nolan Arenado. Aernado exploded onto the scene last season with the Rockies when he hit .323 with 42 homers and 123 RBIs. He plays a superb third base, and is being mentioned in the same company as Carlos Correa and Manny Machado as one of the best young talents in the sport. But he plays in Colorado, and conventional wisdom is that his numbers are inflated. Therefore should we consider Aernado as one of the best players in the game?
Hitters can't replicate numbers
One of the biggest knocks on Rockies players is that they cannot replicate their numbers outside of Coors Field. The math is there to support that. If you look at virtually any player who has played for the Rockies, their home and away splits cannot compare.
So it is simple to assume that players of the Rockies would not be as good if they played in other places.
But there is an exception. Great players are great anywhere they go.
The following players were high-profile players for the Rockies at some point in their career. During their Rockies tenure, these players experienced some of their best years of their career. But even more impressively was their success they found after leaving the space station that is Coors Field. Considering the following:
Andres Galarraga
Next Destination: Atlanta Braves (1998-2000)*
Average season: .303, 36 homers, 111 RBIs
*Andres Galarraga was diagnosed with cancer in 1999 which sidelined him for the entire season. He rebounded nicely in 2000 but after the season there was a major decline his production. Galaragga had already played 15 season in the majors and his prime was far behind him.
Matt Holliday
Next Destination: St. Louis Cardinals (2010- 2014)
Average Season: .295, 24 homers, 93 RBIs
*Injured in his first season with the Cardinals (63 games played) and in 2015 season (73 games played)
Larry Walker
Next Destination: St. Louis Cardinals (2004-2005)*
Total in 144 games: .286, 26 homers, 79 RBIs
*Walker came over in a trade in 2004 to help power the Cardinals to the World Series. In his last season of his career, Walker played 100 games with the Cards hitting .289 with 15 homers and 52 RBIs. While these numbers are way off his 162 game average, he was still a quality player in the twilight of his career.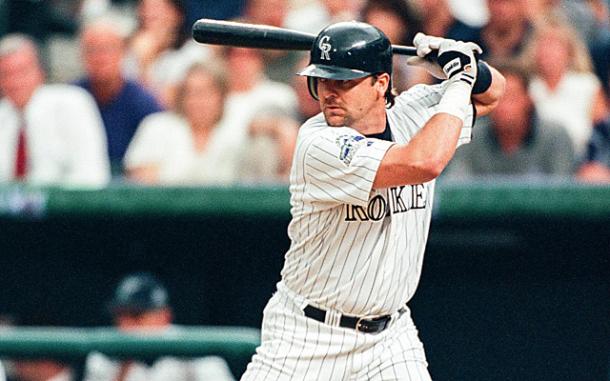 Troy Tulowitzki was the last superstar to leave Colorado when he was traded to the Blue Jays last season. During his brief stint in Toronto, 'Tulo' has struggled to hit for a high average but it is far too early to judge the caliber of player he can or will be for the Jays.
If the past is of any indication, Tulowitzki will be a fine player for the Blue Jays and reach similar expectations as he did in Colorado. Because while the park often simulates video game type numbers, and hitters who hit at ridiculous rates, there are great players who are or were Rockies. And great hitters will always be able to hit, in any park, on any team, and in any altitude.
Could Nolan Arenado and Trevor Story be great? Only time will tell. Not their location.