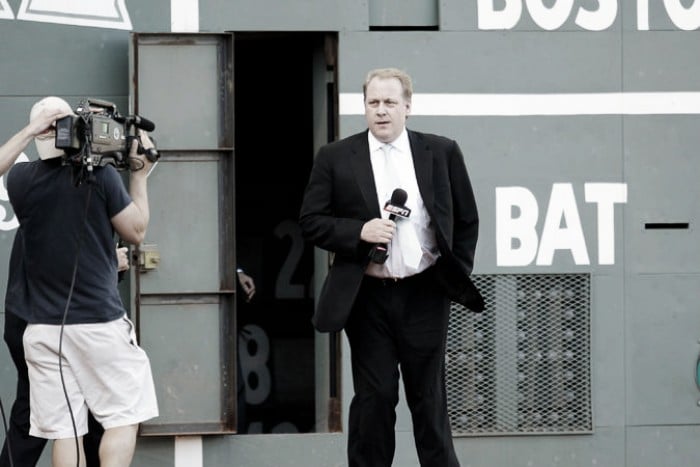 ESPN announced on Wednesday night that former Major League Baseball pitcher Curt Schilling had been fired from his position as a game analyst for yet another social media post that the company deemed insensitive.
In a statement, ESPN said "ESPN is an inclusive company. Curt Schilling has been advised that his conduct was unacceptable, and his employment with ESPN has been terminated."
This is not the first time Schilling has been in trouble
Schilling has been in trouble on multiple occasions for insensitive social media posts, most recently last fall when he used a Facebook post to compare the amount of Muslims who are terrorists to the amount of Germans who were Jews during the 1940s.
That post got him suspended from the network's coverage of the Little League World Series, and he was removed from Sunday Night Baseball coverage because of it. He was replaced by Jessica Mendoza, who has flourished in the role, and is seen as a future star in the business.
He also got in trouble in September, when he sent emails to a writer for Awful Announcing that basically questioned everything about the writer's journalistic ethics. That was in response to articles that AA had published in opposition to his post about Muslims.
In that email, Schilling says "Yet you, like so many others, continue to destroy what's left of the publics trust and confidence in media by creating a story of your own design and liking when you didn't need to, and smearing someone's reputation to do it."
He later went on to say "I think you lack integrity, I think you lack an ounce of pride in your work and I think you're a weakling to submit to personal attacks and lies in a public facing forum of a person you've never met, and don't have the first idea about off the field."
Schilling deserved to go
Yes, Schilling is entitled to his personal opinions. Yes, he has the right to express them however he wants, but his employer also has the right to terminate his contract if he crosses the line too many times.
He knew that he was a public figure, and he knew that he would be held under higher scrutiny then most people would, yet he still chose to post insensitive comments on his social media accounts.
ESPN let this go on for too long, just as they have done in previous incidents. However, on this one, they did get the call right, albeit a little late. Hats off to them for finally making the proper decision on something.