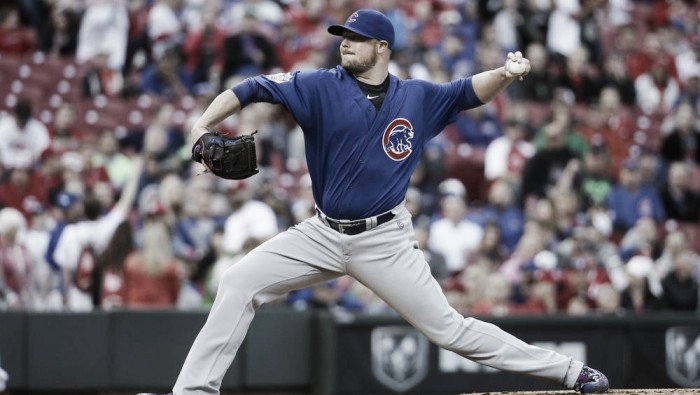 On a rainy day at Great American Ballpark, the Chicago Cubs managed to continue what they do best: win.
Just 24 hours after 2015 NL CY Young winner Jake Arrieta pitched his second career no hitter the Cubs were back doing what they do best, win. Joe Maddon sent veteran Jon Lester to the hill to square off against Cincinnati's Jon Moscot, Lester had yet another terrific start going seven innings giving up five hits and one run.
Rizzo in a league of his own
The Cubs had a 1-0 at the end of three but then all-star first baseman Anthony Rizzo belted his sixth homerun on the season into the right field stands to give Chicago a 2-0 advantage early on.
Rizzo's homer was his 92nd since 2013. The 92 homeruns are the most by any National League player over the past three seasons and the homer by Rizzo was also his third in the last three games.
Later that inning, Cubs catcher David Ross successfully completed a sacrifice bunt which brought in Javier Baez extending the Cubs lead to 3-0. Jon Lester added a sacrifice bunt of his own later in the fourth which brought in shortstop Addison Russell giving the Cubs a 4-0 lead heading into the fifth inning.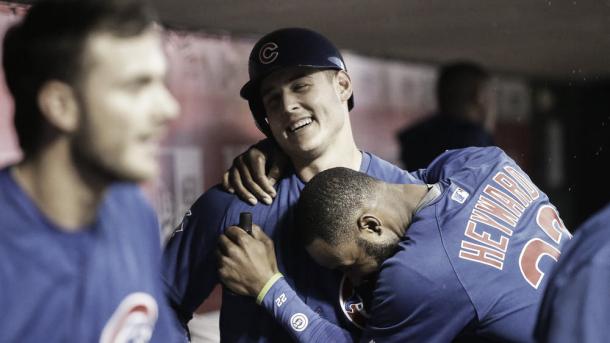 In the sixth inning, the Cincinnati Reds finally broke their 14-inning scoreless streak as shortstop Zach Cozart smacked his first home run of the year off of a 2-1 count from Chicago's Jon Lester. Though this was first homer of the 2016 season, he has been the best batter on the team this season so far hitting in 11 of his 12 games played.
Baez shows up
The Cubs never looked back after their three run fourth inning as they went on to win with an 8-1 victory. Cubs' third basemen Javier Baez added a home run of his own later in the ninth as Chicago put up four runs in the last inning to seal the deal and give Lester his second win of the season.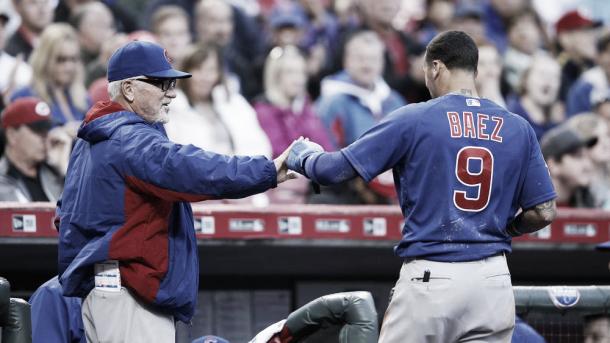 Looking ahead
Chicago looks to extend their winning streak to three games when they take on the Reds again tomorrow as they play the third game of this four game series.
The Cubs will send out right handed pitcher John Lackey to go up against Cincinnati's right hander Dan Straily. Lackey looks to improve to a career best 4-0 to start a season; Lackey is 4-2 in 10 career starts against the Reds.
Reds pitcher Straily will look to capture his first career win as a member of the Reds, Straily who once played with the Chicago Cubs in 2014, tossed 76 pitches over five innings against the Colorado Rockies on April 18th while allowing in one run.
The game is scheduled to start at 7:10 PM ET