 David Price's first four starts in a Boston Red Sox uniform were not ideal. The $217 million man had a 7.06 ERA in those four appearances, including being tagged by the Tampa Bay Rays his last time out. Price sent out a tweet to Red Sox fans asking for his patience after the game.
Those Red Sox fans who stayed patient sure are happy they did tonight.
The Red Sox defeated the Atlanta Braves 11-4 on Tuesday night at Turner Field. Price earned his third win for Boston, while Matt Wisler drops to 0-2. Boston has now swept the two game series in Atlanta, while the two teams will now head to Boston for two more games against each other. The Red Sox improve to 11-9, while Atlanta drops to a dismal 4-16.
David Price's best game as a member of the Red Sox
Price's night got off to a rough beginning in the first inning. After retiring the first two hitters he faced, he would give up singles to Adonis Garcia, Freddie Freeman, and Jeff Francoeur. Francoeur's single plated Garcia. The very next batter, Tyler Flowers, walked on eight pitches to load the bases. At that point it seemed as if Price would have another rough outing and there would be serious concerns about him.
However, from that point on, he was flawless.
Price struck out Drew Stubbs to leave the bases loaded, and that strikeout would be the first of his 14 on the night. The 14 would tie his career high, previously set in August of 2011 against his future team the Toronto Blue Jays while on the Rays. Price was simply fantastic all night long, as he recorded at least two strikeouts in five innings, including striking out the side in the sixth and eighth.
Atlanta's second run would come in the fourth inning. Francoeur would lead off the inning with a single, and while he did follow up with a strikeout to Flowers, Stubbs would walk and Erick Aybar would single to load the bases. Matt Wisler, the pitcher, would get the job done as he hit a sacrifice fly to right field just deep enough to plate Francoeur home. He would get out of the inning on the very next batter after Nick Markakis flew out.
In the eighth inning, Price was determined to come out and pitch one more, and was made visible in the dugout showing his eagerness. John Farrell let him pitch, already with 99 pitches under his belt. Price got out there with eleven strikeouts, and had a very visible showing of determination. Price would prove Farrell right, as he struck out the side.
Price finished eight innings giving up two runs, allowing six hits, two runs, two walks, and struck out 14.
Atlanta's final two runs came in the ninth inning off Pat Light in his MLB debut with RBI groundouts from Markakis and Daniel Castro.
Boston's offense pours on
Travis Shaw has very quietly had himself a very good first month of the season. After winning the third base job over Pablo Sandoval in the Spring, Shaw's average continues to be up over the .300 mark, and has really been a leader in Boston's offense thus far.
Shaw's hot streak would continue in the first inning of this one. Hitting cleanup tonight due to the rest of David Ortiz, Shaw would follow Dustin Pedroia's walk and Xander Bogaerts' single with a three-run blast, by far his farthest hit ball of the year. Shaw got a mistake pitch and took it into the second deck of Turner Field, and hit the ball at 109 mph.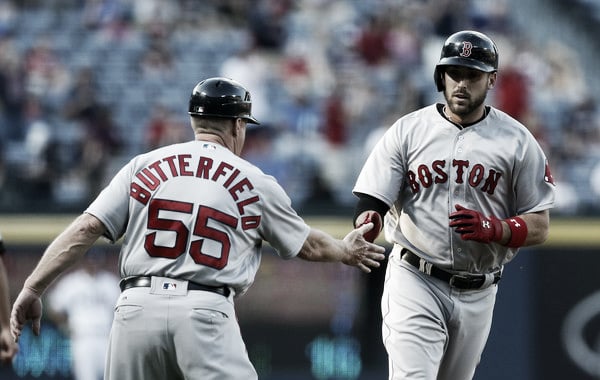 Boston's first inning would continue with Brock Holt's RBI double that scored Jackie Bradley Jr. after he was hit by a pitch, and the Red Sox quickly had a comfortable 4-0 lead. The Red Sox would remain scoreless until the fifth inning, where Dustin Pedroia would score on a wild pitch after a double and after Bogaerts advanced him to third, and would tack on their sixth run on a Bogaerts RBI double. The shortstop finished with three hits.
In the ninth inning, however, Boston's offense would really open up. The Red Sox combined for five extra base hits, and would go on to score six runs. Christian Vazquez and Chris Young got it started with back to back doubles, and while Vazquez could not score on Young's bloop double, Pedroia would single him home two batters later.
Shaw continued his hot bat, doubling home Young and Bogaerts who got on base from a fielder's choice. Shaw finished with two hits and five RBI's. Hanley Ramirez would follow with a double of his own scoring Shaw, and Bradley would connect with a triple that brought in Boston's 11th run of the day.
It was a great offensive night for Boston, as everybody in the lineup excluding Price got a hit.
Road ahead
After Boston took the two games in Atlanta, the teams travel to Fenway Park tomorrow, where Bud Norris will match up with knuckleballer Steven Wright.