 The Texas Rangers defeated the New York Yankees on Tuesday night, winning 10-1 at Globe Life Park. Of those ten runs manufactured, seven came with two outs, proving situational hitting to be the difference.
Texas heats up early
Texas' offense heated up early, getting to 22-year-old Luis Severino in the first inning. Nomar Mazara lined a single to left and reached third when Adrian Beltre sacrificed him over.
Prince Fielder then dug into the batters' box. Fielder so far this season has struggled to get going from an offensive perspective. Coming into tonight's game, Fielder had been hitting a mere .187 while striking out 17 times in 185 plate appearances. But in his first at bat in tonight's game, Fielder came through, connecting on a 96 mph fastball, bringing home Mazara.
Severino gets knocked around
In the bottom of the third inning, Severino's night imploded. Delino DeShields and Rougned Odor were retired with ease; but with two outs, the Rangers knocked in five runs. Mazara again came through on the fifth pitch of his at bat to keep the inning alive. Then Adrian Beltre slapped a double into the gap in right, moving Mazara to third; Fielder reached first on an intentional walk. Severino then walked Ian Desmond on six pitches, and with nowhere to put him, Mazara scored.
The carousel continued to go in motion that half of the inning. Mitch Moreland brought home Beltre and Fielder as Moreland hit a ball right up the middle. Then, Severino through a cut fastball in the dirt, which allowed Desmond to touch home plate. Elvis Andrus rounded out the third with single to left field, bringing home Moreland.
A.J. Griffin improved to 3-0 tonight, pitching eight innings and allowed only one earned run. He controlled the strike zone, punching out five Yankees.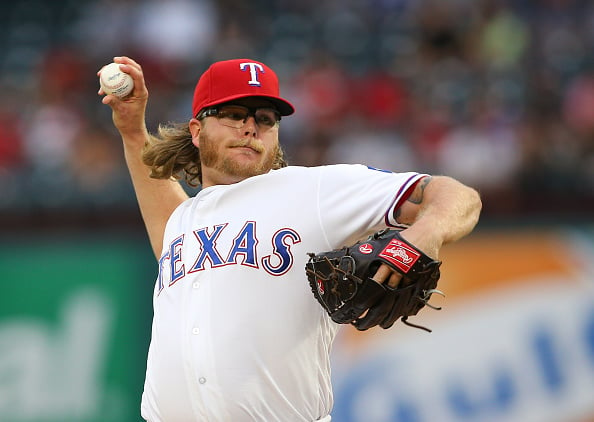 New York's only run came in the top of seventh after Griffin into a jam. Brett Gardner drew a four-pitch walk and Carlos Beltran hit a ball on the ground to right. Mark Teixeira brought home Gardner, his ninth RBI of the season.
Griffin showed that he could be an integral part of the Rangers rotation and said that, "I just feel like I'm all the way back. It's pretty encouraging."
The Rangers sent four more runs across the plate in the final four innings to put this game out of reach. Desmond hit his third home run of the season, blasting a shot to center in the fifth. Brett Nichols then punished a 2-seamer, placing it into the right corner, which platted Andrus. In the seventh, another ball got behind Brian McCann, allowing Andrus to score from third. Odor finished off the night by hitting his third home run over the right center field fence.
Coming up
In the final game of the series, the New York Yankees will send CC Sabathia, 2-1, 5.28 ERA, to face off against the Rangers' Martin Perez, 0-2, 4.50 ERA. The game's first pitch will be thrown at 8:05 PM Est.