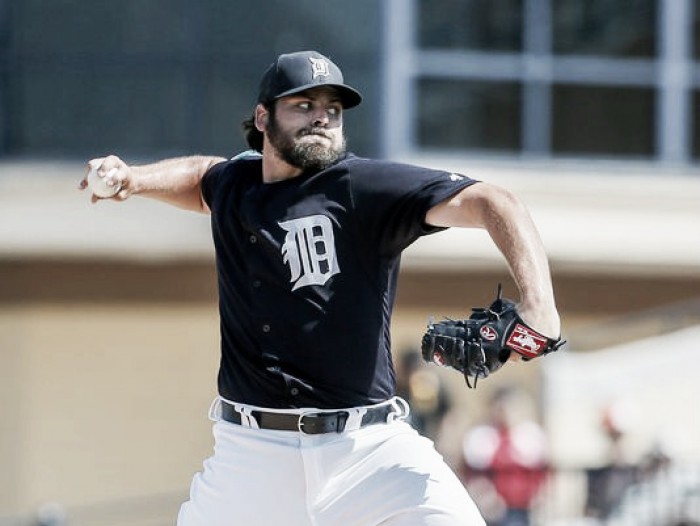 The Detroit Tigers are calling up top prospect Michael Fulmer to make his Major League Baseball debut on Friday against the Minnesota Twins at Target Field, according to Chris Iott of MLive.
Fulmer was slated to pitch for Triple-A Toledo on Thursday against Triple-A Gwinnett at 10:35 AM ET, but he will obviously skip that start for the Mud Hens to make his big league debut.
The 23-year-old picked up a win in his first start for Triple-A Toledo this season, limiting Triple-A Indianapolis to four hits across 5.2 innings. Fulmer finished the game on April 13, 2016 with seven strikeouts. In three starts with the Mud Hens, Fulmer owns a 4.11 ERA and a 20-to-5 strikeout-to-walk ratio across 15.1 innings of work.
Fulmer was in the mix for a bullpen job with the Tigers during spring training, but he was sent to Triple-A Toledo on March 18, 2016. Nevertheless, it was quite obvious that the right-hander would make his big league debut at some point in the 2016 season.
"Ultimately the development will serve him better than forcing him to pitch at the Major League level when he probably wasn't quite ready," manager Brad Ausmus said.
The Tigers acquired Fulmer and Luis Cessa, who the team later traded away, in a trade at the 2015 trade deadline with the New York Mets that sent outfielder Yoenis Cespedes to the Big Apple.
The right-handed pitcher made a huge impression during spring training. Fulmer pitched 7.1 innings in four spring outings and allowed five runs, four walks and seven strikeouts. The biggest struggle was controlling his mechanics throughout outings longer than an inning during the spring.
Detroit sent down Fulmer to also allow him to develop his changeup.
"That's another reason (for sending him down)," Ausmus said. "It allows him time to work on the changeup, which I think will help him in the long term. If he's pitching at the big league-level, he can't be working on a third pitch coming out of the bullpen."
Currently, Fulmer has a fastball that sits from 91-to-94 miles per hour, but it can reach 97 miles per hour. The right-hander also fashions a power slider, curveball and changeup. The fastball and slider allow Fulmer to get weak contact early in the count or punch out batters with two strikeouts. It is safe to say that Fulmer could be a No. 3 starter at some point in his career.
Fulmer is probably just filling in for Shane Greene, who has a blister on his finger. Essentially, this looks like just a one-time promotion for the right-hander this season.