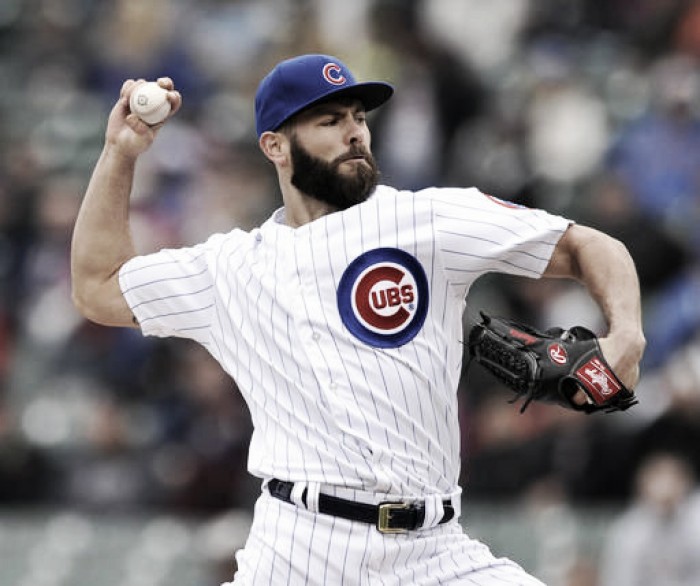 Chicago Cubs ace Jake Arrieta didn't quite pitch a no-hitter this time out. However, the 30-year old CY Young winner did improve to 5-0 on the year as the Chicago Cubs defeated the Milwaukee Brewers by a final score of 7-2. The Cubs, now 16-5, are off to their best start since going 17-4 in 1907 - the year they won the World Series.
The Cubs came into Thursday afternoons tilt against the Brewers after a day off due to postponement because of inclement weather on Wednesday, with Arrieta due to pitch on Wednesday there was questions regarding who would pitch on Thursday. Cubs manager Joe Maddon decided to keep the rotation intact therefore Mr. No-no got the start.
Arrieta was looking to do something that no pitcher has done since Johnny Vander Meer in 1938 that being throwing consecutive no hitters. Arrieta finished Thursday's game lasting only five innings giving up three hits and one earned run.
No-no hopes broken up early
All in attendance for Jake Arrieta day at Wrigley Field were hoping to see history with back to back no hitters but the no no hopes were broken up right out of the gates. Milwaukee's Jonathan Villar led the game off with a broken bat single to left field, the single coming on 2-2 count.
Villar would later score on an Alex Presley double in the fifth inning to end Arrieta's home shutout streak at 52 2/3 innings, second longest streak ever in the regular season in Major League Baseball. Chicago White Sox's pitcher Ray Herbert threw 54 straight scoreless innings at Comiskey Park from 1962-1963.
Offense goes off yet again for Chicago
Cubs catcher David Ross, got the start again for Chicago in place of injured catcher Miguel Montero, Ross who is in his final year perhaps had one of his most memorable homeruns ever in Thursdays game. Ross blasted a ball in the second inning off of Milwaukee's starter Taylor Jungmaan that landed outside of the ball park on Waveland Ave, stat cast calculated the homer at 420 feet.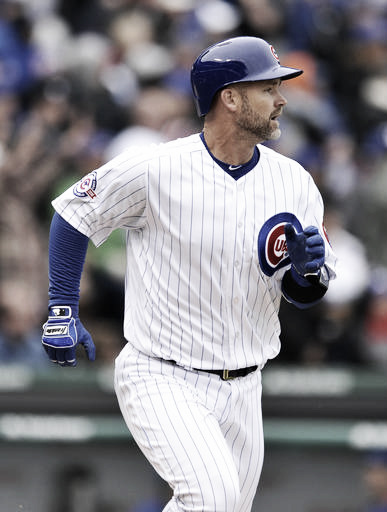 Newly signed Cub Ben Zobrist accounted for a two run single while Anthony Rizzo and Tommy La Stella both had RBI doubles for the Cubs, with the RBI Rizzo now has more RBI's (230 then games played by Chicago this season (21).
Looking Ahead
Chicago will welcome the Atlanta Braves to Wrigley Field on Friday to begin a three game home stand. Cubs will send pitcher Jon Lester, 2-1 with a 1.98 ERA will to the mound start in Fridays contest against Atlanta. Meanwhile, the Braves' Aaron Blair will get the call in this meeting.