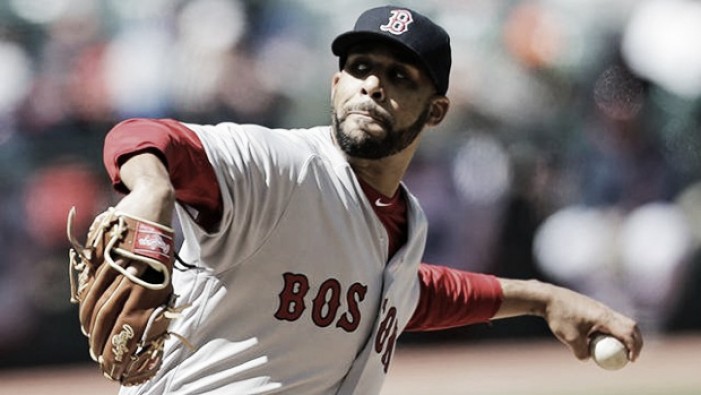 Thank you for being part of this LIVE commenary by VAVEL USA. My name is André Alba and we will soon meet again in yet another rendition of Major League Baseball.
The Yankees need to follow A-Rod´s example. He is not having a great season but he proved that he can still hit in big games. Teixeira, Headley, and Gardner need to step up in the same way.
What is really respectable from the Red Sox is the way their batting lineup can overcome virtually any deficit. They are excelling in getting those clutch hits, plus the bullpen looked rock solid today an Tazawa got the day off.
The starters from today´s rubber game were not at their best. Though both of them went deep into the game, they surrendered six runs each. Dellin Betances looked shaky again and it seems as though he can´t find his form away from home. David Price can´t keep on having these type of outings given the fact that he is the ace of the rotation.
The New York Yankees are now (8-15), the Boston Red Sox (15-10), fantastic Sunday night baseball at Fenway. The Red Sox will now go to Chicago to face the White Sox who are having a great run of their own. The Bronx Bombers return home to face the mighty offensive force of the Baltimore Orioles.
Top 9. 3 Outs.BALLGAME! (7-8) Red Sox SWEEP the Yankees and Kimbrel earns the save.
Top 9. 2 Outs. Ellsbury connects with the first pitch but he flies out to left center fiel.
Top 9. 1 Out. Gregorius gets blown away by Kimbrel´s fastball. One out.
Top 9. 0 Outs. Craig Kimbrel is getting his first glimpse of a Sox-Yankees game.
Bottom 8. 3 Outs. Miller works David Ortiz pretty well, he strikes out. Kimbrel in for the save now.
Bottom 8. 2 Outs. Bogaerts keeps the inning alive coming very close to a homer. He settles for a long double. Papi up.
Bottom 8. 2 Outs. Pedroia makes hard contact but straight to Hicks. Two outs.
Bottom 8. 1 Out. Andrew Miller enters the game. Mookie with a rough night at the plate, he grounds out to Didi Gregorious (defensive substitution).
Top 8. 3 Outs. SWING. Carlos Beltrán entered as a pinch hitter and he got blown away by Koji´s splitter. Red Sox three outs away as Sweet Carolina blasts the PA.
Top 8. 2 Outs.(7-8) Starlin Castro scores on a wild pitch! It´s a one run game.
Top 8. 2 Outs. Brian McCann will pinch hit for Romine, no day off for the big man.
Top 8. 2 Outs. Unassisted put out for Hanley Ramírez. Starlin Castro ends up at third. Two down.
Top 8. 1 Out. Starlin Castro gets something started in here with a double to the gap. Headley is up.
Top 8. 1 Out. And he blows away Mark Teixeira with a high fastball. On out.
Top 8. 0 Outs. The clock at Fenway marks Koji-Time. The japanese is out to the rubber game.
Bottom 7. 3 Outs. Jackie Bradley Jr. flies out to the warning track.
Bottom 7. 2 Outs. (6-8) MY WORD, Who said that Vazquez can´t hit? Two-run HOMER off of Betances. Red Sox lead.
Bottom 7. 2 Outs. Force play at second base. Shaw is out. Holt safe at first. Pitching substitution. Betances enters the fray.
Bottom 7. 1 Out. Have a ballgame Travis Shaw! Another single for the Mayor. Dellin Betances is warming up in the bullpen.
Bottom 7. 1 Out. After the 7th inning stretch, Hanley Ramírez pops out for the first out.
Top 7. 3 Outs. David Price gets Alex Rodríguez on a roller to second. That was surely his last pitch.
Top 7. 2 Outs. The crowd went WILD; they wanted the call of that third strike to A-Rod.
Top 7. 2 Outs. Gardner gets jammed on a changeup that Pedroia fields. Two Outs.
Top 7. 1 Out. And Price finally gets Ellsbury to pop out to first. He will face Gardner too.
Top 7. 0 Outs. David Price is still on the mound. John Farrell probably want the lefty-lefty matchup.
Bottom 6. 3 Outs. Phew! Great job by Iván Nova on stranding the runners. David Ortiz pops out to first base.
Bottom 6. 2 Outs. Nobody saw that one coming! Bradley Jr. steals third.
Bottom 6. 2 Outs. That was a brave attempt from Torreyes to get Bogaerts out. Derek Jeter used to pull off those plays. Two on, two outs, Papi to the plate.
Bottom 6. 2 Outs. The Yankees´outfield has it too! Hicks with a diving catch to rob Pedroia from his fourth hit.
Bottom 6. 1 Out. Nova gets Betts to fly out to right field.
Bottom 6. 0 Outs. Jackie Bradley Jr. takes a 3-2 pitch to walk without outs. That is the end of Eovaldi´s night, Iván Nova will enter the game.
Top 6. 3 Outs. The BROCKSTAR! Brock Holt with a beautiful catch to end the inning. It looks like Tazawa will take the ball in the seventh.
Top 6. 2 Outs. Ronald Torreyes´ liner is caught by Travis Shaw for the second.
Top 6. 1 Outs. Austine Romine swings and misses for the first out of the sixth
Bottom 5. 3 Outs. Vazquez grounds out but the Red Sox have tied this one up!
Bottom 5. 2 Outs. Whoa, Chase Headley with a great diving stop to nab Brock Holt
Bottom 5. 1 Outs. (6-6) MAYOR OF DING DONG CITY! He crushes a two run homerun to tie the game.
Bottom 5. 1 Out. Hanley Ramírez beats the double play grounder. Ortiz out at second. Hanley safe at first.
Bottom 5. 0 Outs. David Ortiz lines a single to left field with no outs.
Top 5. 3 Outs. Chase Headley swings and misses to finally end the frame.
Top 5. 2 Outs. Castro shatters his bat as he grounds out to third.
Top 5. 1 Out. Carl Wilis, pitching coach, out for a chat with Price.
Top 5. 1 Out. (6-4) Teixeira follows up with another single! Price is being punished by the Yankees.
Top 5. 1 Out. (5-4) ALEX RODRIGUEZ doubles to the wall in center. He drives in his 3rd and 4th run of the game. Yankees lead!
Top 5. 1 Out. Brett Gardner walks, Price pitching very inside.
Top 5. 1 Out. Ellsbury is plunked, he trots down to first base.
Top 5. 1 Outs. Romine goes down looking. First strikeout for David Price.
Bottom 4. 3 Outs. Xander Bogaerts ends the frame with a grounder.
Bottom 4. 2 Outs. PEDROIA! Another single for the small man. Gardner bobbles the ball and that permits Betts to advance to third.
Bottom 4. 2 Outs. Mookie Betts shows great speed, he beats the double play attempt. Bradley Jr. out at second
Bottom 4. 1 Out. Jackie Bradley Jr. keeps on the good work, another single for the outfielder.
Bottom 4. 1 Out. Christain Vazquez grounds out. He is still yet to prove that he can hit at the top level.
Top 4. 3 Outs. Torreyes grounds out softly to Xander Bogaerts for the force at second base.
Top 4. 2 Outs. Aaron Hicks safe at first on the double play attempt from the Red Sox. Castro out at second.
Top 4. 1 Out. Chase Headley bloops out to shallow center field.
Top 4. 0 Outs. Starlin Castro gets a single to start the inning. Price has not been able to retire the side in order in any inning.
Top 4. 0 Outs. The call STANDS, Ortiz is safe at home and the Red Sox lead.
Bottom 3. 3 Outs. New York has challenged the play on the field, they argue that Hanley was tagged out before Ortiz crossed home plate.
Bottom 3. 3 Outs. (3-4) Brock Holt unties the ballgame; his single scores Ortiz but Hanley is out at third. Bad baserunning.
Bottom 3. 2 Outs. Travis Shaw having evident trouble with Eovaldi tonight, strikes out for the second out.
Bottom 3. 1 Out. (3-3) Hanley comes clutch! Two-run single to tie the game!
Bottom 3. 1 Out. Bases loaded! David Ortiz walks. Hanley Ramírez up in a big spot.
Bottom 3. 1 Out. Fantastic play by Brett Gardner to reduce Xander Bogaerts´ liner to a single, runners at first and second.
Bottom 3. 1 Out. Dustin Pedroia hitting machine! Another single for the Lasershow.
Bottom 3. 1 Out. Mookie Betts grounds out to thrid baseman Chase Headley.
Top 3. 3 Outs. Teixeira ground out to third but the Yankees really got to Price!
Top 3. 2 Outs. (3-1) Alex Rodríguez silences Fenway! Two-run BOMB to center field.
Top 3. 2 Outs. Ellsbury moves to third on the second sacrifice from Brett Gardner.
Top 3. 1 Out. (1-1) Tie game! Jacoby Ellsbury shakes off the boos and delivers his second double to score Torreyes.
Top 3. 1 Out. The corners of the defense light up again! Travis Shaw and Hanley Ramírez link up to put Romine out.
Top 3. 0 Outs. Ronald Torreyes singles to center field
Bottom 2. 3 Outs. Jackie Bradley Jr. goes down with a flyout to left. Eovaldi registers his first zero of the night.
Bottom 2. 2 Outs. And Eovaldi responds well to the pressure. He snags a grounder by himself and catches Holt in between second and third.
Bottom 2. 1 Out. Oops, bad pick off attempt to first base results in Brock Holt advancing to second. Eovaldi looks pretty upset.
Bottom 2. 1 Out. Five balls in a row for Eovaldi, he has had problems with his command before...
Bottom 2. 1 Out. Brock Holt is walked after 4 pitches.
Bottom 2. 1 Out. Nasty Nate showing his filthy fastball. Ks Travis Shaw in just 3 pitches.
Top 2. 3 Outs. Dustin Pedroia does it all! The Little Papi with a magnificent inning-ending double play.
Top 2. 1 Out. Chase Headley breaks the diamond with the Yankees´ second base hit, a single.
Top 2. 1 Out. Starlin Castro grounds out to first base. Hanley Ramírez showing that he can handle the position.
Bottom 1. 3 Outs. Hanley Ramírez pops out to second base.
Bottom 1. 2 Outs. David Ortiz strikes out swinging. Huge out for Eovaldi.
Bottom 1. 1 Out. (0-1). Dustin Pedroia out at second on a fielder´s choice. Xander Bogaerts to first, Mookie Betts scores. Boston up 1-0
Bottom 1. 0 Outs. Pedroia follows up with a single of his own. Betts advances to third.
Bottom 1 0 Outs. And he instantly gets on base with a single to start the inning.
Bottom 1. 0 Outs. Mookie Betts is leading off for the Red Sox!
Top 1. 3 Outs. Whoa, terrific play by Xander Bogaerts at shortstop, he flashes the leader by catching a liner from Mark Teixeira for the third out.
Top 1. 2 Outs. Travis Shaw! The rookie third baseman nabs Jacoby Ellsbury at home on a tough groundball. A fielder´s choice leaves A-Rod at first.
Top 1. 1 Outs. Alex Rodríguez is given a warm welcome at Fenway Park. Loud boos echoe through the field.
Top 1. 1 Out. Nifty play from David Price as he flips the ball from his glove to first baseman Hanley Ramírez. Brett Gardner out at first on the sacrifice bunt
Top 1. 0 Outs. Jacoby Ellsbury slaps a double to left field for a leadoff double
Play ball! David Price takes the mound to deliver the first pitch.
On the other hand, the Yankees have their own superstar power hitter: Alex Rodríguez. Not many people expected A-Rod to have such a prolific season after he spent the entire 2014 campaign serving his suspension for the use of PEDs. 2015 was a great comeback year for the Bronx Bomber, but his start to the 2016 season has been a slow one. He is hitting .185 with four home runs, one of them against Henry Owens in the first game of the series. Alex Rodríguez has excellent lifetime numbers agains the Boston Red Sox so he really needs to rise to the occasion to help his team get out of this slump. A-Rod completely destroyed the Red Sox last year and he had an important eight inning homer off Tazawa to tie Willie Mays in the all-time list. He also went yard in back-to-back nights against Clay Buchholz and Eduardo Rodríguez just befoe the All-Star Break. Nobody questions the ability of Alex Rodríguez: he has proven throughout the years that he is a top notch player but his critics often cite his lack of "clutch" hitting.
One to watch today is David Ortiz. In Game 1 of the series, an video of Big Papi and Kevin Millar was published in which the two Red Sox stars showed their support for Maverick, a young Red Sox fan with a heart condition. But not only that, David Ortiz said in the video that he was going to hit a home run just for him in the evening. Well, Ortiz is a man of his word and he came up clutch in the bottom of the eighth inning against one of the game's top relievers. He crushed a slider from Dellin Betances to the Monster Seats as he fulfilled the promise he had made to Maverick. Big Papi doing Papi things. His good run seems to have no end, and yesterday he had another solo home run to demonstrate that despite this being his farewell season, David Ortiz is performing just like in his prime.
Nathan Eovaldi is set to try and prevent the sweep as he takes the ball for Game 3. The right hander from Texas has a record of 1-2 with a 4.38 ERA. The thing with Eovaldi with the Yankees is that you can always expect that he will get some run support. Last year, Eovaldi was a 14 game winner despite having an ERA over 4. However, when locked in he has filthy stuff. Eovaldi flirted with a no-hitter against the Texas Rangers before Nomar Mazara ended his bid in the seventh. His repertoire includes a flamethrowing four-seam fastball that tops around 98 mph. We can expect to see a good pitching duel.
Tonight's matchup involves recently signed free agent David Price. He will get the nod against the team he faced in his MLB debut, a dominant first outing of a struggling career against the Yankees' hitters. Since his debut with 5.1 IP and two earned runs allowed, Price has had not so great numbers against some of the Bronx Bombers. Specifically, Brian McCann is 10 for 29 against him with three homers and Chase Headley hits him over .300. His start to the 2016 season was ace-like with a quality outing at Cleveland. But apart from that outing and a brilliant 14K display against MLB's worst offense (Atlanta Braves), Price has been quite shaky in a Red Sox uniform with a 5.76 ERA. I know, April is always his worst month, it's in the statistics and the Red Sox Nation is really vouching that Price can become the consistent bona fide ace that the Sox were missing last year. With a solid appearance on tonight's grand stage, Price will certainly ease the anxiousness of the Red Sox fanbase.
This is the last game of this series of baseball's classic rivalry, and don't be surprised if you see a broom or two at Fenway as the Red Sox are looking for the sweep. Yesterday, the Yankees were shutout by Rick Porcello and company while the Red Sox offense exploded for eight runs against New York's pitching staff. Both teams live different realities. The Yankees were not expecting a great season but their initial results have been even worse than expected. Statistically they are the worst offense in the AL despite being a prominent force last year with power hitters like Mark Teixeira, A-Rod, and Brain McCann. The Red Sox, on the other hand, have managed to cover their irregular starting pitching with a great offense.
Welcome to VAVEL MLB's LIVE coverage of the 2016 MLB Regular Season game between the New York Yankees and Boston Red Sox. My name is André Alba, and I'll be providing minute-to-minute updates, commentary, and results of the game. The game starts at 8:05 pm ET, and there will be coverage pregame, mid-game, and postgame. Join us!