 Perhaps it was just an ordinary afternoon for the 25-year-old sensation, Marcus Stroman, on Sunday as he managed to keep the Tampa Bay Rays down to just one run over eight innings of work during the series finale at Tropicana Field.
Stroman was back at it for the sixth time this season as he did what he does best, setting the Rays down in order to lead the Toronto Blue Jays to their fourth set of wins in 2016 by a final score of 5-1.
Teams exchange home runs early
Things got started rather quickly when Josh Donaldson stepped up in the top of the fourth inning, crushing a solo home run to left field, getting Toronto on the board early with a 1-0 lead.
Leading of the bottom half, Evan Longoria stepped up and not for long as he hit a solo blast into the seats in left field to tie the game early on as he would be the one and only run Stroman would allow through his three-hit effort.
Taking the hill for Tampa Bay, RHP Jake Odorizzi got the call and got off to a lousy start. However, he quickly settled during the fifth inning as he took the middle of the order down looking which led him through to the seventh inning with no other problems as it was a game that remained tied until the top of the ninth.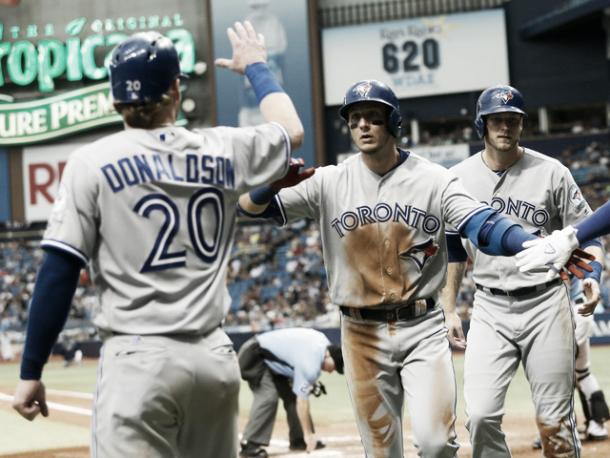 Could things carry even further?
This would conclude the early run game as both sides were solid on the bump until the top of ninth began as Darwin Barney stepped up to the plate against LHP Xavier Cedeno and promptly doubled to Brandon Guyer in left field. Michael Saunders then drew a walk and that forced Kevin Cash to make the call for RHP Alex Colome from the bullpen.
The first batter Colome faced was Donaldson who also followed through with a walk, setting things up for Jose Bautista who struck out swinging to record the inning's first out. Edwin Encarnacion came through next as he grounded out to Logan Forsythe at second base' it scored a run and gave the Blue Jays a chance to add some insurance runs and did just that as the next hitter stepped in. Troy Tulowitzki took a 2-1 pitch deep to left field which gave the team a 5-1 lead which would be all they needed to get by before heading home.
Roberto Osuna was called upon to close things out and did just that as he shut the Rays down in order to conclude the ballgame, handing Toronto their 12th regular season win while Tampa Bay recorded their 13th loss.
Last time the club was in town, it was opening weekend and Stroman was given the nod against fellow sensation Chris Archer where he performed in similar fashion having gone eight innings of three run ball on just six hits. Marcus had then became the third-youngest pitcher to get the nod for an Opening Day appearance which was rather well deserved after he had missed majority of the 2015 season due to a torn ACL in his left knee.
Coming up
The Blue Jays are back at it on Monday night as they play host to the Texas Rangers at Rogers Centre starting at 7:00 PM ET. The game will be available for viewing on all Sportsnet channels while it can be heard on Sportsnet 590 The Fan.