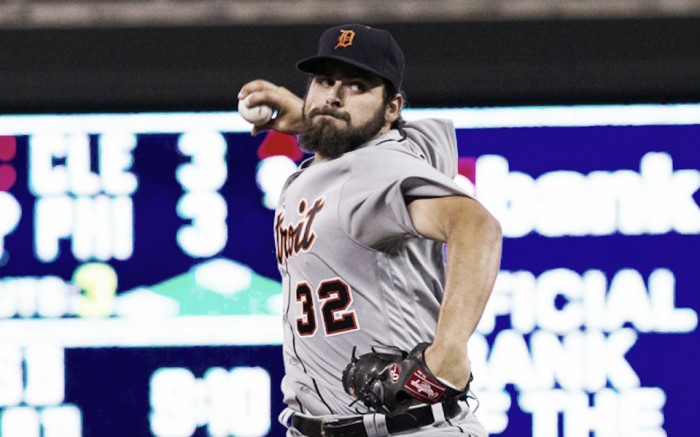 Michael Fulmer, the top prospect for the Detroit Tigers, will start on Thursday against the Cleveland Indians at Progressive Field in Cleveland, Ohio, according to Chris McCosky of the Detroit News.
The right-hander will be making his second career start after dominating the Minnesota Twins in his debut. Fulmer allowed two runs on seven hits with one walk across 5.0 innings. He struck out four in the victory.
"I just kept telling myself, 'Get the first batter of the game out.' Once that happened, I kind of settled in," Fulmer said. "I just tried to keep the emotions in check and felt I did a pretty good job of that. All these guys just told me to breathe and relax, and everything worked out very well."
"Felt like he earned another chance," Tigers manager Brad Ausmus said.
Shane Greene, who Fulmer is starting in place of, was sent to the disabled list with a blister on his right middle finger on April 29, 2016, retroactive to April 25. The 27-year-old tossed on Tuesday off flat ground for the second time in three days, which means the blister is healing. Greene should be back in a week, but his role after he returns is still unknown.
The top prospect has a fastball that sits from 91-to-94 miles per hour, but it can reach 97 miles per hour. The right-hander also fashions a power slider, curveball and changeup. The fastball and slider allow Fulmer to get weak contact early in the count or punch out batters with two strikes. It is safe to say that Fulmer could be a No. 3 starter at some point in his career.
The 23-year-old is 1-0 with a 3.60 ERA across one appearance in the big show. He has faced 23 batters, owns a 1.600 WHIP and a 4.00 strikeout-to-walk ratio. However, at the minor league level this season, Fulmer owns a 4.11 ERA and a 4.00 strikeout-to-walk ratio across 15.1 innings of work.
If he continues to pitch well, Fulmer could earn a rotation spot for the rest of the season.