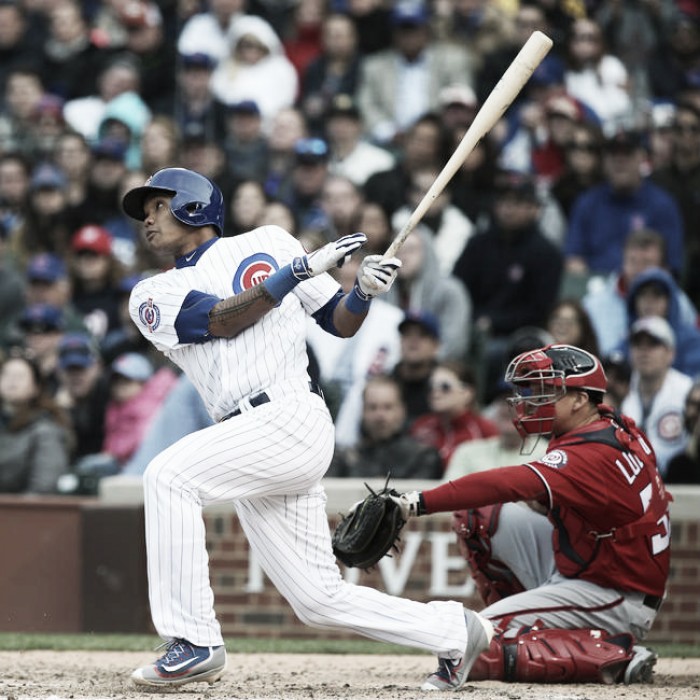 The Chicago Cubs came into Saturday's matchup against the Washington Nationals looking to write their name in the record book; they did just that, winning 8-5. With the win the Cubs are the first NL team since the 1977 Los Angeles Dodgers to win 23 out of their first 29 games in a season; John Lackey was only one years old and David Ross was just born.
Offense continues to impress
Cubs star shortstop Addison Russell had a three RBI game, two of which he got on a tie-breaking double with two outs in the bottom of the seventh inning. Russell's two run double put the Cubs out in front giving them the win. 2015 NL Rookie of the Year, Kris Bryant rocketed a ball out of the park into left center which gave the Cubs a 2-1 lead in the fourth inning. Later on, it was a managerial move that brought the recent call up from Iowa, Ryan Kalish, to the plate. Kalish wound up with a two run single which propelled Joe Maddon's Cubs to a 5-4 lead heading into the seventh inning.
Washington would eventually battle back in the top of the seventh inning when outfielder Ben Revere tripled, Revere would end up crossing the plate on Ryan Zimmerman's fielder's choice. However, the slight comeback by the Nationals wasn't enough as the Cubs went on to win for their sixth game in a row.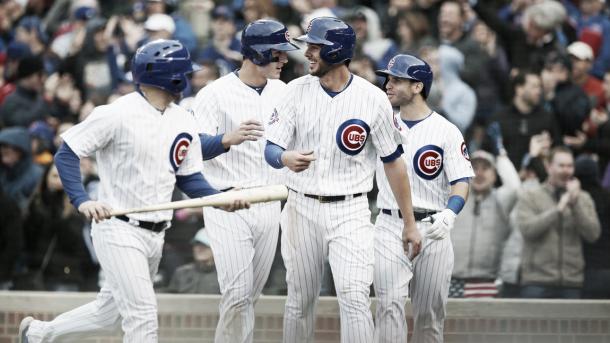 Hammel picks up the win
Cubs starting pitcher Jason Hammel pitched five innings in Saturday's game. As a Cubs starter, he now has gone at least five innings in all 29 games this season. That matches the longest streak to start a season since 1927.
History continues to be made
Chicago has a +101 run differential through 29 games played in 2016; the +98 run differential is the second highest in major league baseball since 1900 by team through 28 games. The Pittsburgh Pirates of 1902 had a +112 run differential through 28 games and had +113 through 29.
Looking ahead
The Washington Nationals and Chicago Cubs will square off in the series finale on Sunday afternoon.
Chicago will send CY Young winner Jake Arrieta to the mound while Washington will send Tanner Roark to the mound. Arrieta looks to improve to 7-0 on the year and continue to etch his name in the records book in the process. National's pitcher, Roark, will most likely have a rather large amount of family on hand as he will be playing in his home state. Roark grew up in Wilmington, IL, a town roughly 60 miles southwest of the Windy City; first pitch scheduled for 2:20 PM ET.