Amidst a struggle that has caused his team to fall to the bottom of the NL East standings, there was not much left to do.
Tuesday morning, a move was made by the Atlanta Braves; they agreed to part ways with manager Fredi Gonzalez, according to a report from David O'Brien of the Atlanta Journal Constitution.
Joel Sherman of the New York Post later confirmed the news while noting that Brian Snitker would be taking over as the interim replacement.
Snitker has been with the club's Triple-A affiliate in Gwinnett for the past 3 years after being demoted from his job as third base coach, which he started back in 2006 as a replacement for Gonzalez -- when Gonzalez left to take charge of the Miami Marlins.
Looking even further back, Snitker has also seen time as the club's bullpen coach both in 1985 as well as 1988-1990. He has seen several different roles since initially joining the Braves as a player back in 1977. As for where he played, most of his time was spent behind the dish as a Catcher, along with some occasional first base at the minor league level.
As per a report from Pete Abraham of the Boston Globe, Bud Black has been the rumoured choice to take over the Braves when the team is ready to put someone in on a permanent basis. However, the name of current Boston Red Sox bench coach, Torey Lovullo, has been tossed around quite a bit as well.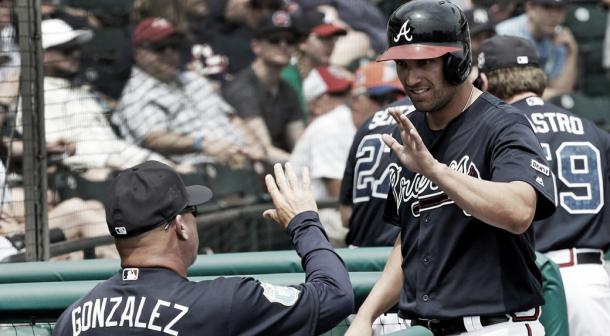 What led to Gonzalez' oddly-timed exit?
Many see this transaction as one that was not only unexpected but one that should've already taken place. The team has seen low records in recent years and so far this season, they have recorded just 9 wins and 28 losses.
As Sherman notes, there was an idea of firing Gonzalez last year, too. However, nothing was done in the end, with a stronger president in charge to look things over before further action was taken.
Back to Snitker, Jon Morosi of Fox Sports confirmed that he would be with the major league squad for tonight's game against the Pittsburgh Pirates at PNC Park.
As per a report from Jerry Crasnick of ESPN, Snitker will stick with the Braves for the remainder of the 2016 regular season.
In ten seasons as a major league manager, Gonzalez owns a career record of 710-692 as well as a 1-4 postseason record. For the Braves, 2016 ties a record for the franchise's worst 37-game start dating back to 1911 when they were the Boston Rustlers.
Taking a look back at potential replacements, Ken Rosenthal of Fox Sports reports that the team has shown interest in guys such as Terry Pendleton, Tony Perez and Bo Porter.
Bob Nightengale of USA Today Sports reports that Gonzalez first learned of his firing on Monday evening when he recieved an email with a one-way flight to Atlanta for Tuesday attached to it.