The Tampa Bay Rays' Kevin Kiermaier has been diagnosed with a broken left hand and will miss the next 8-10 weeks, according to a report from Marc Topkin of the Tampa Bay Times on Saturday evening.
The injury initially occurred when the 26-year-old went diving for a ball hit off the bat of Detroit Tigers catcher James McCann. As he was laying out, it is said that his hand looked as if it had been bent backwards, resulting in immediate pain.
Members of the team's training staff ran out towards him at that time to check him out and given what they saw, the decision was made to pull him for the entirety of the game as Desmond Jennings took his spot in replacement.
A club announcement has been made. As per another report from Topkin, Kiermier flew home on Sunday for an evaluation and is now set to undergo an operation on Tuesday to repair the fractures which will be performed by team specialist, Dr. Doug Carlan.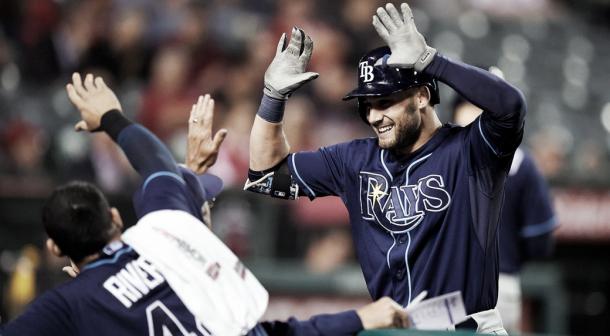 Where to look next for Tampa Bay?
Looking at the severity of Kiermaier's injury, the club was told on Monday that a re-evaluation showed a mild-displacement of the metacarpal bones in his left hand which made the decision to book an operation the logical move.
Mike Mahtook is among the list of options to get the call from Triple-A Durham to replace Kevin Kiermaier at Tampa Bay.
In a statement from the outfielder himself, Kiermaier said, "I heard it crack right away. ... I was in a lot of pain obviously. I knew something was broke right away."
Manager Kevin Cash spoke to the local media on Sunday where he said that it will be a mix and match over the next several weeks as they look to have some success while missing one of the more entertaining players in the game.