It is with open arms that the Toronto Blue Jays will be welcoming back second baseman Devon Travis. he has been out since last July after having suffered what was initially thought to be no more than just a strain of the left shoulder, according to a report from Jon Morosi of Fox Sports on Wednesday afternoon.
The 25-year-old infielder will join the club at Rogers Centre ahead of their second game against the New York Yankees which will see RHP Marco Estrada take to the bump against RHP Ivan Nova.
A club announcement has been made to officially confirm the transaction.
Taking a look back at May 2015, Travis was sidelined after having exited a game early due to what was just thought to be the follow-up reaction of a bad swing. However, after further testing, it came to be that surgery was needed as the operation included the insertion of screws which was performed by Dr. David Altchek in September.
Travis originally came up with the Detroit Tigers after having been drafted by the club in the 13th round of the 2012 amateur draft. He later signed in July of that season.
In a corresponding transaction, the Blue Jays have optioned switch-pitcher Pat Venditte to Triple-A in order to clear a 25-man roster spot. He will continue to work out of the bullpen in the early innings as needed.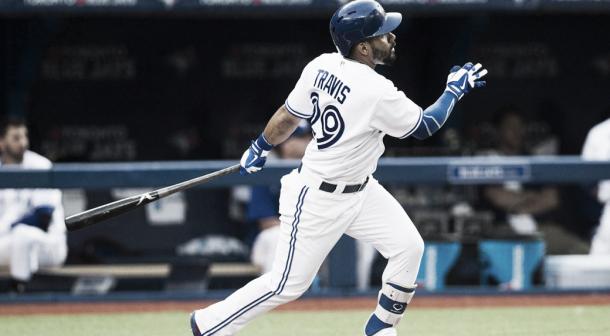 What can Travis bring to a struggling organization?
The 2016 MLB season has been more than just the ordinary struggle for Toronto which has caused wide-spread speculation given that general manager Ross Atkins has been on the lookout for replacements in recent weeks for several positions.
On Tuesday, the team said they would give Travis all the time he needed to get back to normal. However, after having lost Troy Tulowitzki during the seventh inning of Tuesday night's game due to a tight quad, this could be an early indication that a DL stint is on the horizon and could be made before Wednesday night's game as he is likely to be listed day-to-day.
Reflecting on his shortened 2015 season, Travis finished with a slashline of .304/.361/.498 to go alongside eight home runs and 35 RBI's in a total of 62 games played.
With his presence back both on and off the field, this should end up to be a significant upgrade at the dish, on the base paths and within the dugout and clubhouse as he looks to carry on with what was a fantastic rookie season until his early exit came to a quick and unexpected close.