 Prior to the 2016 MLB season, many insider and pundits predicted a rough season for the Baltimore Orioles, many saying they would struggle to crack 75 wins let alone a winning record or a playoff berth.
Coming into play Friday, Baltimore is in first place in the American League East, fighting off the preseason favorite Boston Red Sox and their juggernaut offense and the defending AL Champion Toronto Blue Jays, who the O's welcome in this weekend. Baltimore's 38-27 record has not been fluky either, with a Pythagorean record of 36-29. Thus far, manager Buck Showalter's club has excelled in spite of their woeful starting pitching. The O's offense once again leads the AL in home runs, but can they continue to mask the weakest link on the team en route to their second division title in three years?
Using the long ball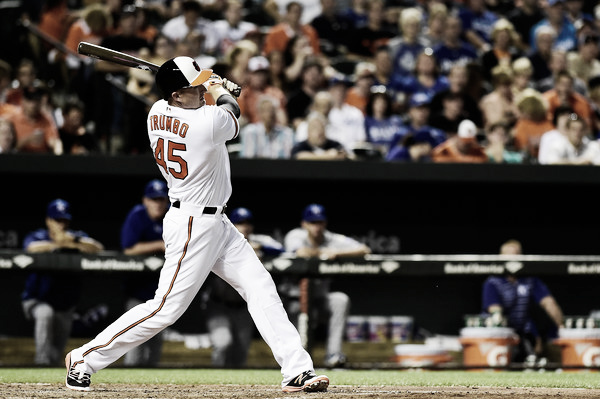 The consensus among baseball pundits was the Orioles ability to hit the long ball. Baltimore has ranked no lower than fourth in home runs in the AL. Home runs have been the calling card of this Baltimore team, which makes sense considering Oriole Park at Camden Yards' cozy dimensions, especially for power hitting lefties.
General Manager Dan Duquette once again bet on power in a division that houses three other hitters parks (excluding the Tampa Bay Rays Tropicana Field). Baltimore re-signed first baseman Chris Davis to a seven-year, $161 million contract. Prior to that, Duquette traded backup catcher Steve Clevenger to the Seattle Mariners for flawed slugger Mark Trumbo. Later, the Orioles took a one year flyer on former Pittsburgh Pirates third baseman, Pedro Alvarez.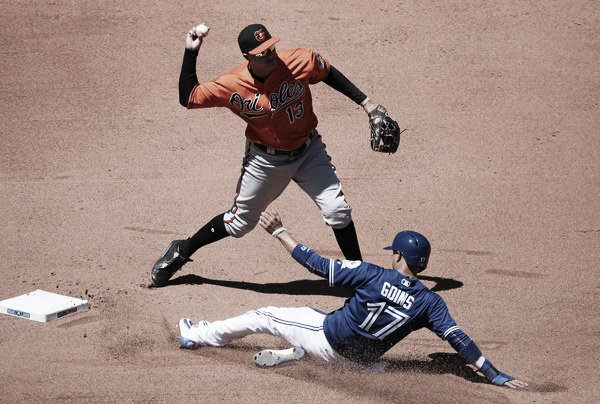 Thus far, the doubling down on power has paid off. Baltimore leads the entire Major Leagues in homers. As of this Friday, Baltimore is second in the AL in doubles, second in slugging and second in on-base plus slugging (OPS). Four of their position players have an OPS plus of 120 or better, the league average is 100 and a higher number is better. Third baseman/shortstop Manny Machado, a strong candidate for AL Most Valuable Player, is fourth in the Majors in Wins Above Replacement (WAR) per Fangraphs. The two-time All-Star sports a healthy .308/.373./.601 slash line and is second on the team in walks. Machado leads the AL in total bases and is second in the AL in slugging, OPS, and doubles, trailing another strong MVP contender David Ortiz in all. Additionally, the 23-year-old continues to play stellar defense at short in place of the injured J.J. Hardy and the hot corner.
Davis, for the most part, has done what he's been paid to do. The 30-year-old is seventh in the AL in home runs, fourth in walks and second in strikeouts. Per fangraphsTrumbo has surprised many with his production, entering play slashing .283/.332/.566. The former Los Angeles Angel leads the American league in with 20 home runs. International signing Hyun Soo Kim has taken advantage his playing time with a .319/.407/.415 slash line and an impressive 13 percent strikeout percentage. Alvarez started slowly, essentially playing against right-handed pitching, but has rebounded to a 102 OPS-plus.
This doesn't even include roughly decent contributions from perennial all-star centerfielder Adam Jones (13 home runs and a 96 OPS-plus) and second baseman Jonathan Schoop (.268 average, 10 homers, 101 OPS-plus). Jones has a .253 balls in play average, (.288 for his career) so his early slump was likely due to some bad luck. Additionally, Jones is making more hard contact this year than last, 35.2 percent compared to 30.6. As a team, they are doing a better job of drawing walks, with an 8.3 percent walk rate compared to seven percent last season.
Once the offense gets leads, the starters simply have to keep up their end until the bullpen comes in. Led by closer Zach Britton, his microscopic 0.96 ERA and AL-leading 20 saves, Baltimore's relief corps ranks second in baseball in team ERA. Relievers Mychal Givens (2.87 ERA) and Brad Brach (1.26 ERA) have picked up the pace in place of the injured Darren O'Day.
Signs of trouble
In spite of the impressive play of the relievers and the great power numbers, there is some cause for concern. As was the case the past couple seasons, the Orioles lineup is made up of free swinging hackers who struggle to work the pitch count. As of Friday, Baltimore is eighth in the Majors in strikeout rate. The uptick in walks has the O's ranked 16th in the Majors. And for all the dingers they launch, the Orioles rank just sixth in the American league in runs scored. Of the five team ahead of them, only two have generated fewer walks than Baltimore.
Looking at the lineup, there are some candidates for regression. Trumbo sports a .327 batting average on balls in play, league average is between .290 and .310. The 30-year-old is not going to continue to live off of an astronomical 26 percent home run to fly ball ratio, no matter how small the park is. Schoop and Jones both sport on base percentages below .300. The former Mariners top prospect is hitting much fewer line drives as well, 13.9 percent compared to 17.8 percent last year. Joey Rickard has already come back down to Earth after a hot start and who knows what sort of offense Hardy will provide when he returns (a .241/.291/.410 slash line before his disabled list stint).
If the offense cannot continue to put up runs, the onus falls on the starting pitching, which isn't a good thing. Baltimore's starters rank 22nd in the Majors in ERA, 21st in walks per nine innings, and 20th in strikeouts per nine innings according to rosterresource.com. The Orioles best starter, Chris Tillman ranks 35th among qualified starters in WAR according to Fangraphs. Tillman is averaging career bests in K/9 (8.72) and has a career low 2.87 ERA. He's looked like Pedro Martinez in his prime compared to the rest of the starters. Tyler Wilson and Kevin Gausman have been solid but inconsistent. Mike Wright and Ubaldo Jimenez and their respective 6.89 and 5.31 ERA's have been albatrosses all season. At least Wright is making the league minimum, the former Colorado Rockies ace is signed through next season at $13.5 million and now is not even in the rotation anymore.
For Jimenez, it was more of the same issues, walking 5.03 per nine innings, two more than last year. The uptick in walks accompanied a decrease in strikeouts per nine. Jimenez sports a .393 BABIP and a 62.1 percent left on base percentage, so some of it was bad luck, but not to an extreme degree (a 4.46 fielding independent pitching, which estimates a pitcher's ERA if the BABIP were at a league average rate).
Yovanni Gallardo, who has been out since April with shoulder tendonitis, looks to serve as a reinforcement but posted a horrid 7.00 ERA before going to the D.L. after just four starts. The O's cannot turn to the minors either for immediate help, their farm system is one of the worst in baseball.
Can the O's find magic again?
That being said, the Orioles hot start helped them a great deal. A team expected to be one of the worst in baseball has a 46 percent chance to make the playoffs according to Fangraphs.
The other teams in the division have obvious holes as well. Boston is 10th in the AL in team ERA and walk more batters than anyone in the junior circuit. Toronto lacks a true ace to go with their outstanding offense. The New York Yankees are second to last in the AL in on-base percentage and last in slugging and OPS to go along with their 11th ranked team ERA. The Ray's pitching has not been as good as many thought it would, with only Jake Odorizzi and Matt Andriese carrying ERA's below four.
The Orioles are not guaranteed to continue their smoke and mirrors act with the starters especially if the bullpen breaks down due to overuse (only five other AL teams use their bullpen more, only one of those teams has a winning record). As long as the ball continues to fly into the green bleachers in Camden Yards, the boys in orange and black have as good a chance as Boston or Toronto to win the east, and that's a better chance than they had coming into the season.