 This offseason, the Detroit Tigers are reportedly looking to cut salary, and get younger by optaining younger, cheaper players via trade. After seeing the Chicago Cubs win their first World Series championship in 108 years with plenty of young talent on their team in the likes of Kris Bryant and Anthony Rizzo, the Tigers look to be trying to follow in their footsteps by potentially trading away some of the veterans they've had on their team.The Detroit
Tigers offseason 2016-17
As a result of the likelihood that the Tigers will do this, it's worth taking a look at some of the different players that the Detroit Tigers may attempt to shop or trade away this coming offseason. With the end of the GM meetings marking only the beginning of the offseason this week, and the Tigers trade of Cameron Maybin already getting things started, it's about time to take a look at some of the many options the Tigers have this offseason.
While there are many unknowns to what the Tigers might do this offseason, it doesn't appear likely they'll be trading away players like Nick Castellanos and Michael Fulmer, however it sems any veteran player (including perhaps Miguel Cabrera and Justin Verlander) will be on the block.
The Tigers current roster as of November 7th
As of Thursday November 10, 2016, here's how the Tigers current roster looks:
Catcher: James McCann
First base: Miguel Cabrera
Second base: Ian Kinsler
Shortstop: Jose Iglesias
Third Base: Nick Castellanos
Left Field: Justin Upton
Center Field: Jacoby Jones/Anthony Gose
Right Field: J.D. Martinez
DH: Victor Martinez
Bench: Tyler Collins (OF), Andrew Romine (UTL), Dixon Machado (INF) and John Hicks (Catcher)
Starting Rotation: Justin Verlander, Jordan Zimmermann, Michael Fulmer, Daniel Norris, Matt Boyd, Anibal Sanchez/Mike Pelfrey
Bullpen: Kyle Ryan, Shane Greene, Alex Wilson, Bruce Rondon, Justin Wilson, Mark Lowe, Francisco Rodriguez.
Reference and other sources to use
For those who may not know a lot about prospects, here are a couple of sites to do some research. Here, Here, Here, Here, Here. The first link is MLB.Com's list, which is the most updated and the list that this writer will be using in his suggestions for potential trade deals the Tigers might be able to pull off this winter.
MLB The Show 16 suggested deals (using Operation Sports franchise mode rosters)
To get started, this writer will post a couple of the suggested deals that were offered in MLB 16 The Show, a Playstation exclusive video game. The rosters (done by Operation Sports) are updated as of the World Series, and include each teams top 90 players and prospects.
Here are some of the following deals that were proposed to the Tigers by player. Note: Only 3 players can be offered at any one time from either team.
Miguel Cabrera: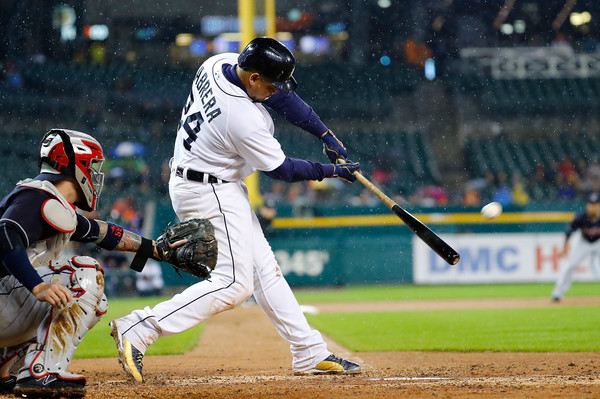 Boston Red Sox- Jason Groome, Rafael Devers and Deven Marrero
New York Yankees- Jorge Mateo, Tyler Austin and Chad Green
Houston Astros- Francis Martes, Colin Moran and Daz Cameron
Washington Nationals- Lucas Giolito, Osvaldo Abreu and Jake Lowery
New York Mets- Amed Rosario, Brandon Nimmo and Robert Gsellman
Philadelphia Phillies- J.P. Crawford, Thomas Eshelman and Cornelius Randolph
Chicago Cubs- Albert Almora, Eloy Jimenez and Duane Underwood
Pittsburgh Pirates- Allen Hanson and Austin Meadows
Arizona Diamondbacks- Braden Shipley, Mitch Haniger and Evan Marzilli
Colorado Rockies- Brendan Rodgers, Jordan Patterson and Raimel Tapia
LA Dodgers- Jose De Leon, Cody Bellanger and Will Smith
What deal offered above seems the best?
While a good portion of the above offers for Miguel Cabrera do look particularly enticing, there are a couple of them that stand out. Jorge Mateo is not far away from the majors and could be ready as early as next year and Tyler Austin is developing well at first base and would likely be able to start there as early as next year in place of Cabrera if he had to. The added offer of Chad Green, a nice young starter makes that deal look really enticing for the Tigers.
The Washington Nationals deal also stands out due to Lucas Giolito being included. Arguably the best pitching prospect not already in the majors, Giolito is easily one of the best prospects in baseball and is already major league ready by some teams' standards. He'd be able to step up and hopefully contribute big time to the Tigers if they were able to acquire him.
The Philadelphia Phillies are a particularly interesting case. J.P. Crawford is arguably the second best prospect in all of baseball right now right behind Yoan Moncada of the Red Sox. It is unlikely that the Phillies offer up one of the top young players in the game when they aren't in contention quite yet, but if they were to do that it certainly would be a great deal for the Tigers.
Arguably the best deal of them all however out of the ones listed above is the deal from the Pittsburgh Pirates. Austin Meadows is the best outfield prospect in baseball not yet to appear in the majors, and is projected to be a four or five tool outfielder in the major league level. His only weak tool is his arm, graded out at only a 40, but that is not detrimental to a team with how much he would be able to produce.
With the Tigers trade of Maybin and potentially J.D. Martinez, the Tigers would probably prefer another outfielder on the roster other than Tyler Collins (and Jacoby Jones) so he would be a huge piece. In addition to that, the Tigers would also get an MLB-ready infield prospect in Alen Hanson. The 23 year old utilityman (who plays everything except first base and catcher) hit .226 in 31 at bats, striking out five times, earning two stolen bases however only hit one double and no triples or homers at the major league level. If the Tigers could get a top 10 overall prospect and a major league ready young player plus, that would be a great deal for Miguel Cabrera.
Justin Verlander suggested trade offers: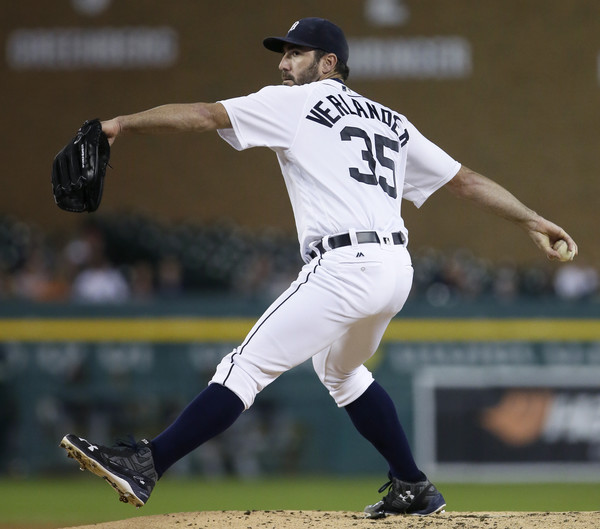 Justin Verlander:
Red Sox- Eduardo Rodriguez, Rafael Devers and William Cuevas
Yankees- Justus Sheffield, Billy McKinney and Johnny Barbato
Tampa Bay Rays- Willy Adames, Jake Bauers and Brandon Koch
Toronto Blue Jays- Anthony Alford, Sean Reid-Foley and Rowdy Tellez
Seattle Mariners- Dan Vogelbach, Drew Jackson and Adrian Sampson
Astros- Colin Moran, Daz Cameron and Roberto Pena
Atlanta Braves- Sean Newcomb, Travis Demeritte and Anfernee Seymour
Nationals- Victor Robles and Spencer Kieboom
Mets- Zach Wheeler and Michael Conforto or Brandon Nimmo, Kevin Plawecki and Matt W. Reynolds
Phillies- Jake Thompson, Darnell Sweeney and Cole Stobbe
Cubs- Ian Happ, Ryan Williams and Kelly Dugan
Cincinatti Reds- Jesse Winker, Tony Renda and Phillip Ervin
Milwaukee Brewers- Lewis Brinson and Isan Diaz
Pirates- Austin Meadows, Drew Hutchison and Chris Bostick
St. Louis Cardinals- Delvin Perez, Junior Fernandez and Nick Plummer
Rockies- Brendan Rodgers and Noel Cuevas
San Diego Padres- Anderson Espinoza, Buddy Reed and Jorge Ona
Which of the above looks the best?
Once again, a couple of deals stick out. The Yankees once again sent a big offer, suggesting Justus Sheffield, a 20 year old lefty with good potential, a young outfielder in Billy McKinney who is rated 15th in a good Yankees system and a young reliever in Johnny Barbato who still has some room to grow before he's major league ready.
Much like they did with David Price, the Blue Jays sent in a great offer on Verlander also. Anthony Alford is the Jays best outfield prospect and projects as a center fielder. He has great speed at 70 on the 80 point scouting scale, and has shown flashes of an above average glove (60) and hit tool (55). To go along with him would be Sean Reid-Foley who's currently the Blue Jays best pitching prospect.
On a team that has a good recent history with pitchers bringing up the likes of current Tiger Daniel Norris, Aaron Sanchez, Marcus Stroman and Roberto Osuna, the Tigers could get another good young pitcher from Toronto. He has a great fastball, and an above average slider as well. Rowdy Tellez may not be a top of the charts prospect, but he's not a throw in, either. He is a decent first base prospect who has 55 power, and if the Tigers were to trade Cabrera and not acquire a first baseman in return, he could step in and be a major league level player within the next couple of years. This year in 438 minor league at bats he hit 23 homers and hit .297.
If the Tigers aren't able to get a first baseman in return for Miguel Cabrera, the Mariners deal looks like a great one. Dan Vogelbach could be major league ready as early as next year for the Tigers and could be an intriguing prospect. Best known for hitting a 508 foot homer at the international showcase to break Bryce Harper's distance record, Vogelbach hasn't done much in 12 major league at bats, but certainly looks like a good future piece. In addition, the Tigers would be able to get Drew Jackson, a nice young shortstop who grades out as the Mariners number three prospect. He has a 70 arm and an above average run and glove tool, but very little power and only average contact.
The Tigers wouldn't need to rely on him next season with Jose Iglesias likely returning as well, so he would get more time to develop in the minors. Adrian Sampson isn't currently ranked in the top 30 on MLB.com, however he might find his home in the Tigers system, where he wouldn't need to be the first in line to be called up.
If the Tigers are looking for more immediate contributions to the majors, the Mets offered up two players with over a year of MLB experience in Michael Conforto and Zach Wheeler. Wheeler was a former top prospect for the Mets, but underwent Tommy John surgery and wasn't able to pitch this summer. He ended up getting lost in a deep Mets pitching prospect pool that included the likes of current Tiger Michael Fulmer, as well as some of the top pitchers in the league like Noah Syndergaard, Matt Harvey, Jacob DeGrom and Steven Matz. With Yoenis Cespedes potentially leaving the Mets, they won't be as likely to offer young outfielder Michael Conforto, who might be a starter for them next year if they need him to be. Conforto hits righties particularly well, even at the major league level and could provide a nice bat for a rebuilt young Tigers team if they were able to get him from the Mets.
Arguably the best deal the Tigers received for Verlander in this particular simulation though was the deal offered by the St. Louis Cardinals. Delvin Perez is a young 19 year old shortstop who ahs great potential to grow over the next few years. With Jose Iglesias he wouldn't need to contribute immediately at the major league level, and would get time to refine his tools, which are currently all average. Junior Fernandez is a solid prospect as well, who fits the Tigers mold of having an elite fastball. Graded out as a 70, Fernandez's fastball is already good enough to be effective against some of the game's best hitters, however he needs some work on his slider to be ready for full time major league action.
Touching 100 at times will certainly put him in high favor with a Tigers front office known for liking velocity in their young pitchers, though. In addition, the Tigers would also recieve Nick Plummer, another young prospect who needs a bit more time to develop to be major league ready, but could be a great player in a couple of years when he is. While he doesn't stack up to a Harrison Bader, the Cardinals top outfield prospect, he does have a nice five tool game developing, already showing signs of a potentially above average hit, power, and run tool at the age of only 20. He also would have a homecoming, after going to Brother Rice High School in Bloomfield Hills. If the Tigers could pull off a deal like this for Justin Verlander, it could be the start of great things to come for a Tigers team looking to rebuild for the future.
The Dodgers also put in an offer of Julio Urias, but that seemed too unrealistic to include in the list. The Dodgers have reportedly had a trade brewing with the Tigers for quite some time, reportedly including Trayce Thompson, Alex Wood and Austin Barnes.
Ian Kinsler suggested trade offers: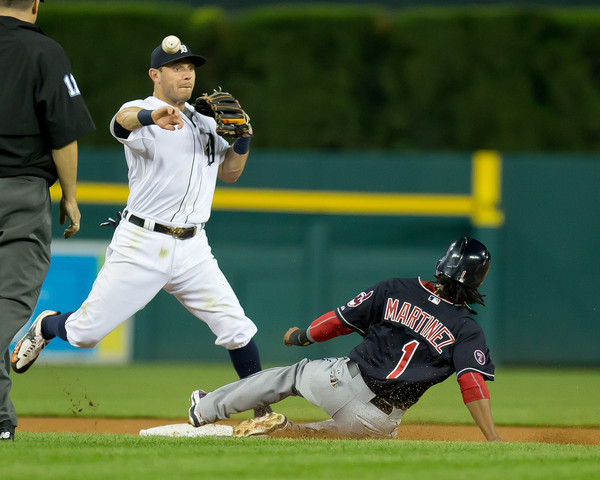 Next up we move to Ian Kinsler. While it has been rumored he could be included as part of a package with Justin Verlander, for now he will be kept seperate as he still attracted plenty of interest.
Yankees- Clint Frazier and Chad Green
Minnesota Twins- Nick Gordon, Alex Kiriloff and Nick Burdi
Kansas City Royals- Raul Mondesi and Matt Strahm
Chicago White Sox- Carson Fulmer, Omar Narvaez and Michael Ynoa
Oakland A's- Matt Olsen and Raul Alcantara
Mariners- Zach Lee, Kyle Lewis and Ben Gamel
Arizona Diamondbacks- Braden Shipley and Zach Borenstein
Rockies- Brendan Rodgers, Alex Balog and Jairo Diaz
Padres- Anderson Espinoza, Cory Spangenberg and Auston Bousfield
Dodgers- Yasiel Puig, Alex Verdugo and Gavin Lux
What's the best deal from above?
Starting with the Dodgers since they seem to be an interesting fit for Kinsler at the start, this deal is particularly intriguing. Yasiel Puig could either start in center field next year if he had to or replace J.D. Martinez in right if/when the Tigers decide to trade him away too. Puig is already an established major leaguer, which the Tigers might like, and it could be an added bonus for the front office. Meanwhile, Verdugo and Lux are two great prospects from LA. Verdugo has the potential to be a five tool player in the majors, and already at the age of 20 has an elite arm tool and a 55 hit tool to go along with 50 power, run and glove. He's currently ranked 45th amongst all MLB prospects on MLB.com.
Additionally, Gavin Lux is a quite intriguing prospect as well. Shooting all the way up the prospect charts this season despite being only 18 years old, he's looking like a quality player within a couple of years. Despite just being drafted this summer, he already has a 55 glove arm and speed tool, a 50 hit tool and a 45 power tool on his resume, which is quite nice for an 18 year old shortstop. While it doesn't look like he'll be the next Corey Seager, he might be a career plus WAR player.
The Padres deal is also intriguing due to the mix of prospect and MLB ready talent available. Cory Spangenberg has already seen some MLB time, and at 26 has shown decent contact and average speed and fielding at the major league level. Like Puig, he'd be able to step up and immediately be a starter on next year's Tigers and beyond and could play an interesting role in the lineup with his utility potential as well. In addition the Padres would also be giving up arguably their top prospect in Anderson Espinoza, an 18 year old starter who already has shown each of his three main pitches have plus potential, as well as above average command for his age.
The biggest knock on Espinoza is his slight 6'0" 160 lbs build, and he has had his workload managed carefully so he likely wouldn't be major league ready without injury concerns for a couple of years. A starting second baseman, an 18 year old being compared to Pedro Martinez, and another prospect thrown in seems like a great haul for a 34 year old second baseman if the Padres think they are willing to pay the price.
There were also some very interesting inter-division trades offered to the Tigers as well. While this writer thinks it's extremely doubtful the Tigers would consider trading Miguel Cabrera to the Twins or Justin Verlander to the White Sox, trading Ian Kinsler to a division rival might prove to be a boost to the types of packages they could get. The Twins, Royals, and White Sox each offered up one of their top prospects plus another player (or two) in their top 30 for the chance to have Ian Kinsler help them contend for a division title. The Royals seem to make the most sense, as Ian Kinsler would give Kansas City an established second baseman to pair with a solid young core of Eric Hosmer and Lorenzo Cain, and would help give some of their other young prospects time to mature, particularly Hunter Dozier. The Tigers meanwhile, get Mondesi (or Dozier) out of the deal, either of which are great young prospects. The Tigers would likely prefer Mondesi due to his MLB experience and his second base positioning, but either could be the key to getting a deal done.
The best deal of the bunch here has to be the proposed deal by the Mariners, though. While the deal for Seattle would likely indicate a move for Robinson Cano to DH, the Tigers would receive an elite starting pitching prospect and two of the Mariners top outfield prospects. Zach Lee is an MLB ready fifth starter who as a lefty relies heavily on his command to excel. While he doesn't have a plus pitch, if he can mix his pitches well at the major league level and locate as well as he has in the minors, he should be an effective back of the rotation starter for Detroit. Kyle Lewis is the Mariners current top prospect by MLB.com's rankings.
At 21 years old, he's graded out with 55 hitting and 60 power, above average in both catagories, as well as 55 running and 50 arm and glove. If he had to, he also could be ready to step in as early as next year in center field for the Tigers, who have quite the hole there entering the offseason.
J.D. Martinez suggested trade offers: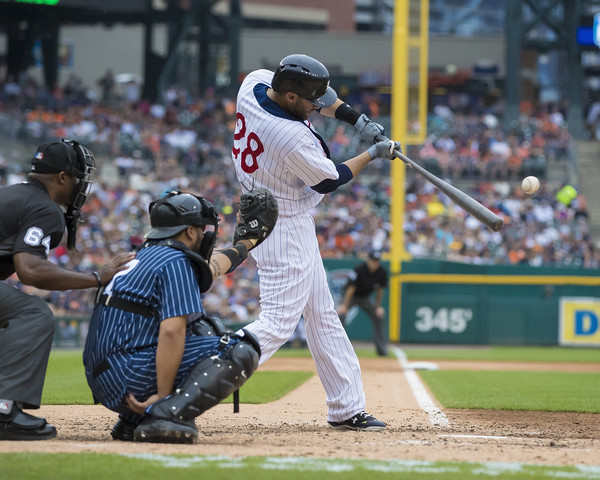 Boston- Rafael Devers, Henry Owens and Roman Mendez
Yankees- Justus Sheffield and Gleybar Torres or Jorge Mateo
Tampa Bay- Willy Adames (straight up)
Royals- Hunter Dozier and Pedro Fernandez
Seattle- Dan Vogelbach and Luiz Gohara
Rangers- Chi Chi Gonzalez, Delino DeShields and Ronald Guzman
Milwaukee- Phil Bickford and Michael Reed
St. Louis- Harrison Bader, Carson Kelly and Jack Flaherty
Colorado- Jordan Patterson, Forrest Wall and Antonio Senzatela
San Diego- Anderson Espinoza and Josh Naylor
Which of the above is the best?
Some of the top prospects are starting to reappear, which is quite intriguing. Names like Willy Adames have shown up for almost every player the Tigers have put on the block, and still different offers continue to come in.
While most of the names have already been mentioned, there are still two or three interesting deals here that might work out quite well.
The St. Louis Cardinals offer would certainly make for a blockbuster if they could pull it off. Earlier on in the Verlander portion of the story, the Cardinals put in the best offer for him with Delvin Perez, Junior Fernandez and Nick Plummer. It looks like the Cardinals (in this writer's opinion) have another best offer, with a nice package of Bader, Kelly and Flaherty. Harrison Bader is one of the names the Tigers would have liked in a Verlander deal (instead, they ended up with Nick Plummer, who is still a great get). Bader is the Cardinals top hitting prospect and is graded out as a 50-55 in every tool, possibly showing his development into a potential five tool player later on in his career. The 82 overall prospect when paired with some of the names the Tigers could have ended up with earlier would make for an absolutely unstoppable outfield group in two to three years, and Bader would certainly be an intriguing add to the group. In addition, the Tigers would receive the Cardinals top catching prospect in Carson Kelly.
Kelly is a more defensive minded catcher, with power potential, but could end up becoming a James McCann of sorts in the long term with a bit more power. He'd likely end up a bench player or platoon guy in Detroit with Castellanos at third (his second position) and McCann or someone else catching, but it might work out well for him regardless. In addition to that, the Tigers were also offered Jack Flaherty, who's the third best Cardinals pitching prospect behind rookie Alex Reyes and Luke Weaver. Flaherty is developing as quite the well-balanced pitcher with average to above average command, break and velocity on four different pitches. While he might not be exceptional at any particular area, the balance might play out well for him at the major league level, particularly in Detroit.
The other appealing option that the Detroit Tigers would look at in this situation would be the Rangers deal. Chi Chi Gonzalez and Delino DeShields have both already seen major league action, and Ronald Guzman could be an interesting long term DH option. Chi Chi Gonzalez has shown decent MLB potential incurring a 1.435 WHIP rate due in large part to control issues, he still has some room to grow at only 25.
A move to Detroit, where there is a 420 foot sign in center field instead of 400 feet, as well as getting out of the warm Texas air might help him continue to develop better. While he is coming off injury, he would be a decent starter in the rotation as early as next year. Delino DeShields now appears stuck behind Ian Desmond on the centerfield depth chart for next season, and the Rangers appear quite heavy at the corners too. If they were to trade for Martinez, even after giving the Tigers DeShields, they'd still have Carlos Beltran, Shin-Soo Choo, Carlos Gomez and Nomar Mazara at the corners as well. While Mazara and Choo are both platoon players vs. right handers at this point in their careers, it would appear to limit Delino DeShields potential playing time. DeShields has elite speed as evidenced by his 33 stolen bases over two partial seasons of play time, and has shown decent contact potential as well, hitting .245 while putting up a .680 OPS. While he doesn't have a ton of power potential, his role would likely be at the top or bottom of the lineup to add speed and defense in center, where he would get the chance to develop in a full time role.
Ronald Guzman is a first base prospect who's likely going to take on DH duties in the long term due to very poor speed and below average fielding abilities. His bat has shown potential though, hitting .274 and 17 homers in the minors this year with 463 at bats. The good news, is it does seem he has great baserunning ability and aggressiveness, as he earned six triples and 21 doubles this past season despite grading out to only a 30 run tool via MLB.com.
J.D. Martinez has been linked to teams including the Houston Astros, who didn't put in a top offer in this simulation.
Other suggested deals include Victor Martinez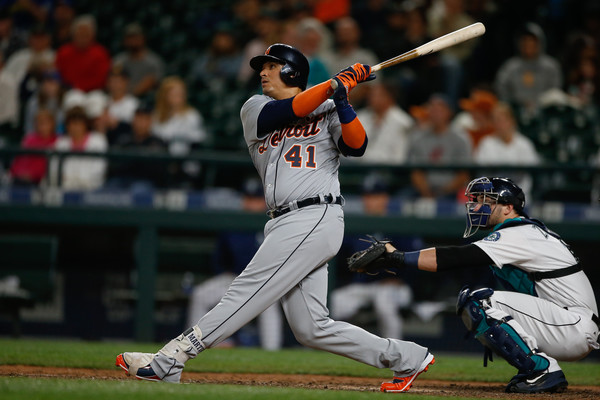 After making sure to get all the main deals done first, the Tigers then looked (in this simulation) to finish off the rebuild by getting all they could.
The Tigers then got a couple of offers for Victor Martinez, and ended up taking the Red Sox up on one that saw Martinez and 31 year old first base minor leaguer Chad Huffman shipped off to Boston in exchange for Rafael Devers, one of the prospects often packaged in deals for some of the players traded away earlier. The next move was sending Francisco Rodriguez to the Mariners for Tyler O'Neill and Luiz Gohara to give the Mariners a veteran presence in the back end of their bullpen along with Edwin Diaz. Anibal Sanchez was flipped to the LA Angels for Mike Morin, an inexpensive bullpen arm. To finish it of, with only two first baseman on the roster, Mike Pelfrey was shipped to division rival Cleveland Indians for Nellie Rodriguez.
Some unrealistic suggestions did take place, too:
Due to it being a video game and not being perfect, there are still some occasional flaws as well. The Tigers were actually offered Brendan Rodgers, a 19 year old young shortstop from the Colorado Rockies for Justin Upton and Jason Krizan, a 27 year old outfielder who didn't even make the Tigers top 25 list.
Also, in what was a little less surprising due to the weak pitching market, the Tigers were once again offered Anderson Espinoza and Cory Spangenberg, this time for Jordan Zimmermann. After not accepting the trades with either of them previously, the Tigers accepted the deal to get Zimmermann off their payroll.
In a somewhat unexpected turn of events, Jose Iglesias attracted quite a bit of trade attention, and the Tigers relented on their original plan to not trade him in this simulation, instead sending him to Philadelphia for first overall pick Mickey Moniak, premier catching prospect Jorge Alfaro and Dylan Cozens.
After receiving some good offers for Nick Castellanos, the Tigers still decided to keep him, not overwhelmed by any particular offer that was sent their way.
With several teams in need of bullpen help later on in the season, the Tigers were able to listen to offers on Justin Wilson as well, and received interesting offers that included the Cubs sending top prospect Eloy Jimenez in exchange, the Red Sox sending Michael Kopech and Marco Hernandez, or the Blue Jays who offered up Sean Reid Foley or Rowdy Tellez. The Yankees however, put up an almost unbelieveable package of Gleybar Torres, Blake Rutherford and Luis Cessa, which was too hard to beat. Justin Wilson originally started his career in a Yankees uniform, and would be heading back to the Bronx to get a bigger role with the Yankees who have since traded Andrew Miller and Aroldis Chapman.
While it remains to be seen how far the Tigers will go in their rebuild, it's been reported that Cabrera, Verlander, Kinsler, J.D. Martinez, Pelfrey, Sanchez and even Iglesias have already been mentioned in trade rumors. As soon as one deal is completed, it will certainly help show what the Tigers plans are for both the short and long