 The Los Angeles Dodgers traded Howie Kendrick to the Philadelphia Phillies earlier today for Darin Ruff and Darnell Sweeney. Howie Kendrick typically plays second base, while Ruff and Sweeney are utility players, who could play multiple positions for the Dodgers next season.
How the deal impacts the Dodgers
The Dodgers seem to be clearing some of their salary in the deal, with Howie Kendrick making $10 million next season compared to Darin Ruff's $527,000 and Darnell Sweeney's $125,000.
The Dodgers are also currently projected to lose Chase Utley during free agency in addition to trading away Howie Kendrick. As a result, the Dodgers are now without a starting second baseman and third baseman heading into mid-November.
However, the boys in blue have an extra first baseman on the roster in Ruff who also plays outfield and a backup infielder in Sweeney who may be on the major league roster next year as an outfielder or backup infielder.
Los Angeles is now incredibly deep in the outfield with Yasiel Puig, Joc Pederson, Andrew Toles, Andre Ethier, Trayce Thompson, Darin Ruff and Kike Hernandez, while having no third baseman or second baseman on the roster except for Sweeney who is not projected to be ready to start next year.
What this means for the rest of the offseason
After recent rumors connecting the Dodgers to several big names, this trade makes those options much more likely. Most notably, rumors linking Justin Verlander and Ian Kinsler to the Dodgers seem much more realistic with the Dodgers now having a hole at second base and having cleared money they could use to absorb more of Verlander's contract.
Ian Kinsler now fills a key hole on a hypothetical Dodgers roster next year, making his acquisition also more likely. In addition, the Dodgers also need two starters, as the only starting pitchers on their roster currently (according to the Dodger's official website) are Clayton Kershaw, Kenta Maeda and Julio Urias.
By trading Kendrick away for two inexpensive players, the Dodgers now have even more money, the need, and the players to make a big time blockbuster deal for Verlander and Kinsler that might put them over the top in the National League.
As for what the Dodgers received, getting two players who can play outfield makes an already very deep outfield even deeper. Should the Dodgers opt to trade for Verlander and Kinsler, they'd be able to offer up a major league outfielder such as Yasiel Puig, Andre Ethier or perhaps even Joc Pederson, Andrew Toles or as has been rumored Trayce Thompson without feeling any loss of depth in the outfield.
Another name to watch in a potential deal with the Tigers due to their deep depth in the outfield is Alex Verdugo. One of the Dodgers top prospects, he's projected to play center field, a position of strong weakness for the Tigers in the major leagues. While he may not be ready in 2017, he could be a deal starter for both the Tigers and the Dodgers should something happen.
How the flip impacts the Phillies
The Philadelphia Phillies as a result of the trade are showing that they are serious about getting better next year and that they aren't willing to give up on winning now quite yet.
Trading for Howie Kendrick gives them a reliable hitter who can play several positions for them next year. While they have a decent option at second and third already with Cesar Hernandez and Maikel Franco, Kendrick could start in left field for the Phillies next year, who's current starter is Roman Quinn (according to their official website).
Kendrick also gives the team a much needed veteran presence as the team is quite young with the exception of him. While the Phillies aren't a complete win now team quite yet, they could be with a couple of other additional moves this winter.
How the Phillies could be wildcard contenders in 2017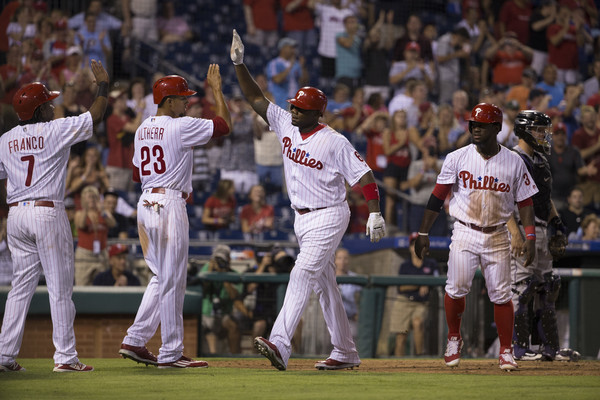 There are a couple of moves the Phillies could make to put themselves in wildcard contention as early as next season.
First of all, like the Dodgers, the Tigers fire sale might be worth getting in on. Recent rumors have linked the Phillies to interest in J.D. Martinez, who's currently on a one year deal before his free agent season. If the Phillies want to go all in for next year, it wouldn't hurt to give up a young prospect or two from their deep system to give them a starter at what's now their biggest position of need.
Additionally, the Phillies could look to free agency to sign a relief pitcher. While the Hector Neris and Jeanmar Gomez combination wasn't too bad last year, acquiring a left hander or top right hander would help give the Phillies a better chance to hold onto late leads in key games late in the season.
The final piece the Phillies would look to get would be a starting pitcher or two. While they aren't likely to make a move for Justin Verlander and nothing currently connects them to Chris Sale or Chris Archer, they could make a play on somebody after completing the other two objectives.