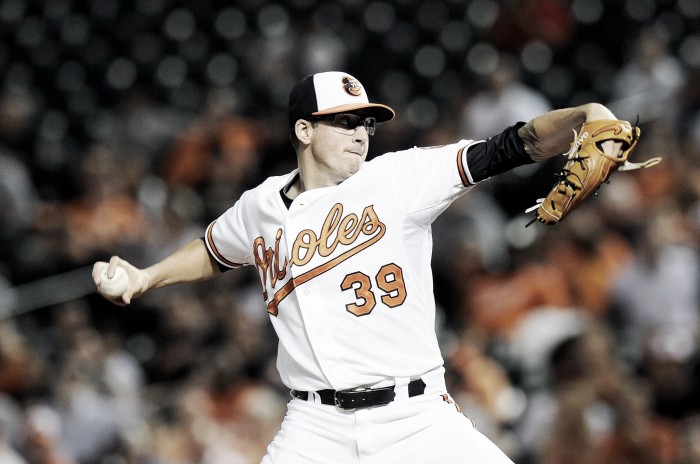 For the past five seasons, the Baltimore Orioles have remained playoff contenders despite pundits predicting last place finishes throughout that span. In those five seasons, Buck Showalter's club blasted more home runs than any other team in the American League. Starting pitching remains the primary detriment to the O's becoming title contenders. Former top prospects Dylan Bundy and Kevin Gausman's progression as top of the rotation starters are vital to the Orioles making that leap.
Hope for a shaky rotation
The Birds ranked 26th in MLB in fielding independent pitching (FIP) and 24th in expected fielding independent pitching (xFIP) since 2012. General Manager Dan Duquette filled the Baltimore rotation with soft tossing starters that produced average strikeout and walk ratio numbers (not counting the dreadful Ubaldo Jimenez). The stellar Orioles defense helped mask the average starting pitching. Among the Chris Tillman's and Miguel Gonzalez's of the world, Bundy and Gausman provide glimmers of hope for the O's future.
At the moment, they are just glimmers. In 453 innings, Gausman has a career 3.92 FIP and 3.72 xFIP. Both numbers are roughly league average totals. I presume that the Orioles did not draft Gausman fourth overall to be a league average starter. They could have kept Wei-Yin Chen if average starting pitching was their preference.
Bundy was just as middling, pitching to a 4.02 ERA. FIP and xFIP indicated that Bundy had a bit of luck preventing runs (4.70 and 4.61 respectively). Like Gausman, Bundy showed flashes of staff ace potential. However, Bundy lacked consistency in the rotation. In 14 starts, Bundy pitched to a 4.52 ERA, although he held batters to a .213/.313/.443 slash line.
Both men exhibited a great ability to miss bats. Gausman had a 10.8 percent swinging strike rate while Bundy finished at 10.5 in 2016. Both rates are above the 9.5 percent league average. With those numbers, it is not surprising to see their good strikeout numbers (8.72 K/9 for Gausman, 8.53 for Bundy, 7.7 is league average).
Both men represent the Orioles best chance at landing a staff ace. Outside of the terrible in hindsight Jimenez signing, Baltimore does not allocate much of their resources to starters. Besides, staff aces the caliber of a Chris Sale, David Price or Masahiro Tanaka are out of their price range. The O's control Gausman through 2021 and Bundy through 2022. The Orioles could have two discounted frontline starters, allowing them to spend in other areas.
Tillman, Jimenez and Wade Miley fill out the rest of the prospective Baltimore rotation. Tillman is the most reliable of the trio, even though he posted league average numbers by FIP standards (97 FIP-). The starters do not look any better than last year.
Taking the next step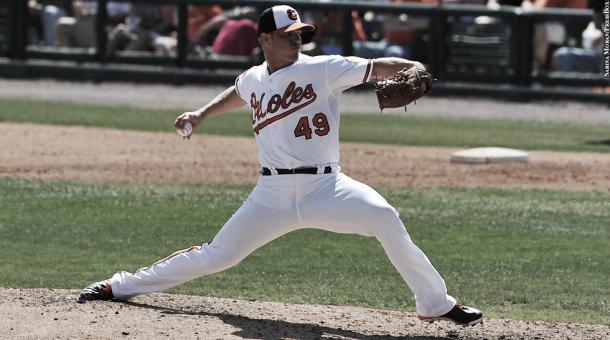 The O's need Gausman and Bundy to be great to take that next step. Sure, the Orioles made the playoffs last season. And yes, there are more potential issues with this club than their rotation. They need more players that work the count and draw walks. They need much more speed. They need to avoid putting all of their eggs in the home run basket. However, I'm sure the outstanding Baltimore bullpen wants more out of the starters. Last season, only three AL teams rotations pitched fewer innings than the O's.
The stiff AL East competition is not going anywhere either. The Boston Red Sox added Sale to a team that won the division last year. The New York Yankees are cultivating young prospects and are one spending spree away from title contention. The Toronto Blue Jays still have a ton of talent despite losing Edwin Encarnacion and possibly Jose Bautista.
Baltimore has defied the odds numerous times to reach the postseason despite predictions to the contrary. Stellar pitching and defense give the Orioles a chance to win their first title since 1983. They have one part of the equation. Bundy and Gausman could give them the other.