With four days left in office, President Barrack Obama had one last guest visit the White House. the guest? 2016 World Series Champion Chicago Cubs.
The visit to the white house was a decision made by the team and President Obama, a Chicago White Sox fan, however he couldn't pass up the opportunity to be a part of history. As everybody knows, the Chicago Cubs had not won a World Series in 108 years. That was until they beat the Cleveland Indians in game 7 of this past years Fall Classic ending a century worth of heartbreak. So, what better of a decision then visiting the White House to see President Obama?
The first African-American president in the history of the United States meets the 2016 Chicago Cubs, a team that ended the longest drought in the history of American sports. It simply couldn't get any better than that.
Gifts From The Cubs
The Cubs awarded President Obama a lifetime pass to the Friendly Confines of Wrigley Field as well as the number 44 from the manually operated scoreboard that sits in dead center field. The President also received a W flag from the team signed by everybody part of the 2016 team. "This is by far the best swag I've received as a President" said Obama.
Amongst the Cubs in attendance were former Cub and now St Louis Cardinal, Dexter Fowler and former closer and now New York Yankee Aroldis Chapman. Hall of Famers Ferguson Jenkins, Ryne Sandberg and Billy Williams were also in attendance, noting that this was an opportunity that they could not pass up.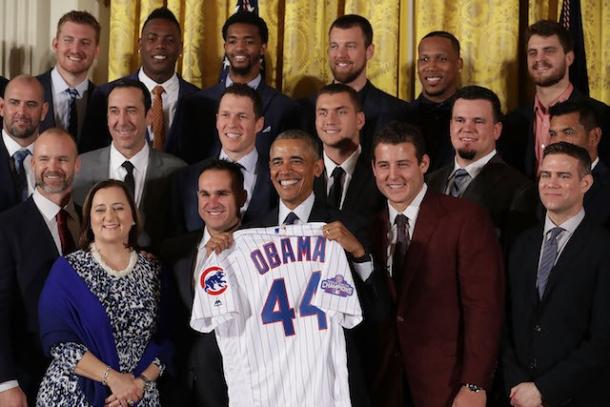 Chicago connection
The President had quite a bit of fun during the Cubs visit, from politely declining the request that he put on the Cubs jersey presented to him from the team as well as turning now Theo Epstein's pardon to become a Cubs fan before midnight. As many know, Obama grew up in Chicago on the south side, meaning he grew up as a Sox fan.
However, the First Lady, Michelle Obama spoke differently. President Obama said, "Michelle had not come to a single event celebrating a championship team at the White House until Monday. Obama noted that there was a personal touch to this particular visit. She remembers coming home from school and her dad would be watching the Cubs game and the bond and the family, the meaning, that the Cubs have for her in terms of connecting with her father, and why it meant so much for her. I almost choked up listening to it and it spoke, I think, to how people feel about this organization."
This a trip that surely no one will forget.