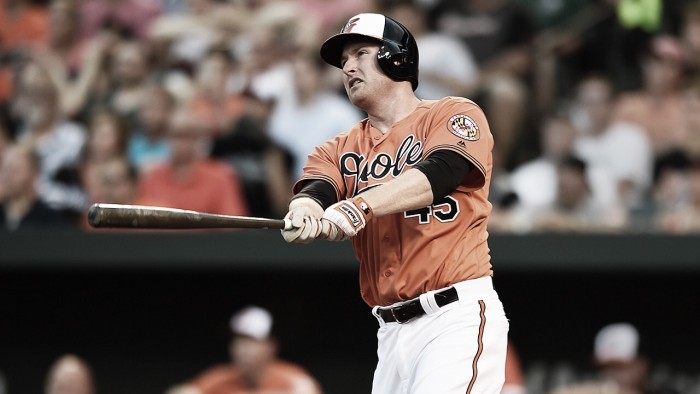 The Baltimore Orioles decided to retain the services of their best home run hitter for several years. The team re-signed slugger Mark Trumbo to a three year contract and will make $37.5 over the life of the deal. Jon Meoli of the Baltimore Sun reports that Trumbo will make $11 million per season and will receive $1.5 million per year in 2020-22. Trumbo's new pact also includes a no-trade clause, allowing him to block swaps with seven teams.
The Orioles offered Trumbo a four year offer worth more than $50 million, but later took the deal off the table. It looked like both sides moved on until they agreed to terms yesterday. Baltimore also loses out on an additional draft pick, as Trumbo declined the Orioles qualifying offer earlier this offseason.
Lots of power, but little else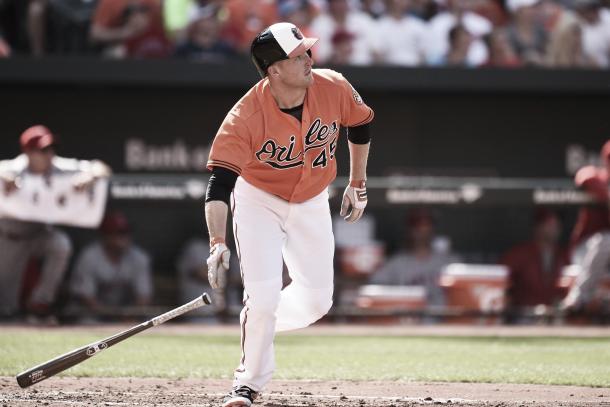 Trumbo provided home run power for an Orioles team that hits them often. The Anaheim, California native led the major leagues with 47 homers. Overall Trumbo posted a .256/.316/.533 slash line, a 123 wRC+ and a 120 OPS+. Trumbo's power numbers are a hallmark of his career. He has had two 30-plus homer seasons with the Los Angeles Angels.
Trumbo, however, struggles with strikeouts and drawing walks. The slugger had a 7.6 percent walk rate and 25.5 percent strikeout rate. Both rates line up with his career averages (6.7 BB% and 25 K% respectively). In seven major league seasons, Trumbo has a .303 OBP, just 52 points higher than his batting average (.251).
Trumbo is a big liability in the field. As an outfielder, Trumbo has a -21.1 ultimate zone rating (UZR) and -24 defensive runs saved For his career. Trumbo actually has 12 DRS as a first baseman, but only played 37 innings there last year. With Chris Davis signed for the foreseeable future, Trumbo will likely get time elsewhere. Trumbo projects to spend most of his time at DH, while splitting time in right field with recent acquisition Seth Smith.