 After sweeping their preliminary-round pool, Team Israel continued their hot start to the World Baseball Classic with a 4-1 win over Team Cuba in Pool E play on Saturday night in Tokyo. Israel was led by catcher Ryan Lavarnway, who went 2-4 with one run batted in. Blake Gailen also added a hit and two runs batted in, while the Israel bullpen went 3 1/3 innings, giving up just one hit and no runs.
CUBA SCORES FIRST
Cuba got on the board first in the second inning when Alfredo Despaigne hit a home run to left-center field to put them up 1-0. After that, it was all Israel, as they scored four unanswered runs, the first of which came in the fourth inning when Ike Davis drew a leadoff walk. After two straight strikeouts, Lavarnway doubled to right field to score Davis and tie the game.
Israel took the lead in the sixth inning when Ty Kelly led off with a single to left. After Cody Decker flew out, and Nate Freiman walked, Zach Bornstein singled to right field to score Kelly and give Israel the lead. Lavarnway followed it up with a lineout for the second out, but Gailen doubled to score Freiman and make it a 3-1 lead. The inning ended when Scott Burcham flew out to left field.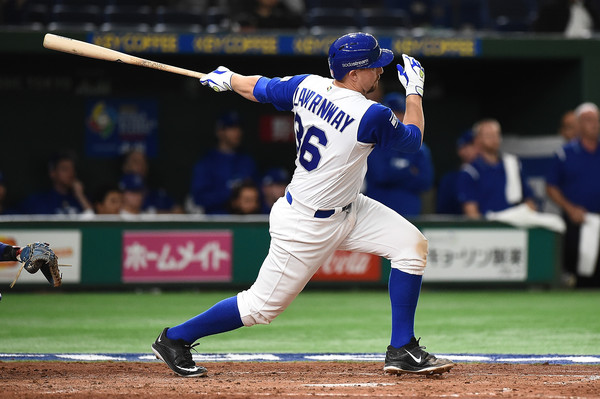 ISRAEL PICKS UP INSURANCE IN THE EIGHTH
They tacked on an insurance run in the bottom of the eighth when Borenstein led off with a walk. He advanced to third when Lavarnway singled and scored when Gailen hit a sacrifice bunt, resulting in the run coming across the plate. After Tyler Krieger drew a walk, and Cuba made a pitching change, Burcham grounded into an inning-ending double play to end the scoring chance.
Cuba stepped up to the plate in the ninth needing a big rally, but they were unable to muster anything against Josh Zeid.The first batter was Yurisbel Gracial, who struck out swinging. Yordan Manduley also struck out swinging for the second out of the inning, while Yosvani Alarcon grounded out to shortstop to end the game. Israel is now undefeated at the WBC, as they swept their opening-round pool.
UPCOMING ACTION
Israel is now 1-0 in Pool E and will face the Kingdom of the Netherlands on Monday at 6 a.m. ET, while Cuba will face Team Japan at 6 a.m ET on Tuesday. The top-two teams in the pool will advance to the finals in Los Angeles, CA. Japan and The Netherlands will play their opening game on Sunday at 6 a.m. ET.
Win - Zack Thornton (1-0)
Loss - Yoennis Yera (0-1)
Save - Josh Zeld (1)
Player of the game - Blake Gailen (1-2, 2 runs batted in.)