 When the Atlanta Braves began their rebuild of the franchise two seasons ago, the owners and upper management claimed that 2017 was when the team would once again reach a level of playoff contention.
The roster that will take the field at newly-minted Suntrust Park this season will have a difficult time achieving that goal, however. While this offseason involved less trades of core players and more free agent signings, the Braves have an uphill battle as they play for a return to the postseason. In order for that to happen, many things will have to fall Atlanta's way and the team will have to continue their good play from the second half of 2016.
Here are the three main headlines to watch in the Atlanta Braves' 2017 season as they begin their campaign to compete for a playoff spot.
How will the starting rotation hold up?
The turnover, injuries, and general hardships of the Braves starters last year were well classified and covered. The team used 16 different starters, with a diverse mix of veterans and prospects coming in to patch up a leaks whenever a new hole sprung. Despite all the changes, the ship that was Atlanta starting pitching still took on lots of water by giving up many runs, contributing to their poor record (68-93).
This offseason, general manager John Coppolella signed three veteran starters to help bolster a rotation that will essentially work as a stopgap until the younger starters in the minors can prove they are ready to pitch full-time in the big leagues. This tactic may seem like a good plan...until you hear that the veterans are knuckleballer R.A. Dickey, the ageless wonder Bartolo Colon, and injury-prone Jaime Garcia.
Granted, these players have not pitched worse than most of Atlanta's starters did last year, but having to rely on that trio to hold the middle of the rotation is a risk for the team's chances at competing for the postseason. Colon, Dickey, and Garcia are 43, 42, and 30, respectively. With the ages of the other projected starters (star pitcher Julio Tehran and Mike Foltynewicz) taken into account, Atlanta's average age for the starting rotation is over 33 years old. Will the veterans provide enough quality innings pitched for Atlanta to keep up during games?
Whether this group will stay healthy and play well for the whole season is going to be a huge factor in where the Braves will be positioned in October. If the wheels fall off and the season starts poorly like last year, no one would be surprised to see Coppolella trying to shop the veterans to get any sort of return. But, it's possible that if the 40-year-olds pitch as well as last year, they could provide the team with more stability from the mound and keep them competitive until the younger prospects are more ready.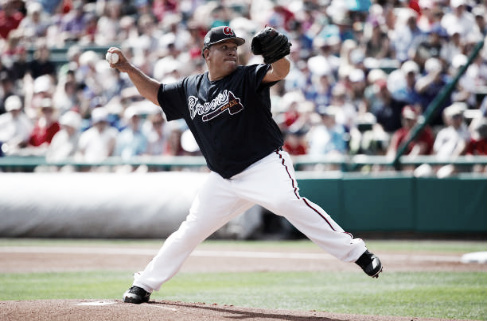 Is Dansby Swanson ready to be a star?
Speaking of younger prospects, the number one overall pick from the 2015 Draft is on the Opening Day roster this year. There's no doubt Dansby Swanson generates a lot of buzz and makes Braves fans hopeful for the future, but how the shortstop performs this year could potentially have fans excited now.
Prepared to play a full season in the MLB, Swanson made his debut last year to impressive results. Though he struggled initially, he appeared in 38 games for Atlanta and hit for over .300 against major-league pitching. Swanson's explosive bat and defensive skills have him as the popular pre-season pick for Rookie of the Year, especially with his Spring Training numbers being as good as his debut season stats.
For Atlanta to contend for the NL East or a wild-card spot, Swanson will have to maintain, if not better, this production throughout the whole season. He will likely be the key to how much the Braves grow offensively this year and his maturity in the league will be a big factor in how far the team may go.
The Braves are still considered to be first-baseman Freddie Freeman's team, and rightfully so, considering he and Tehran are the only remaining pieces from Atlanta's last competitive season. He leads the team during games and still owns his superstar status, but Swanson has the opportunity to join him in that exclusive tier by playing well in his first full season with the club.
Will the older players maintain their offensive production?
It is clear that Atlanta's main firepower is expected to come from the trio of Swanson, Freeman, and outfielder Ender Inciarte. But another part of the roster that could be concerning for the Braves is whether the older veterans will be able to keep hitting at the clip they did last season. Right fielder Matt Kemp, third baseman Adonis Garcia, and newly-acquired second baseman Brandon Phillips all are over 30 years old, and they are expected to help provide consistent production until prospects like Ozzie Albies or Rio Ruiz come up to add more youthful pop to the lineup.
Kemp is likely the biggest question of this trio in terms of what he'll bring offensively. Once he came over from the San Diego Padres last year, Kemp hit fairly well for Atlanta, collecting 60 hits and 12 home runs with a .280 batting average in 56 games. It's a small sample size, but it's slightly better numbers than what he produced in San Diego before being traded. But, when he battles injuries and slumps, Kemp's numbers tend to dive rapidly. It's key for him to stay healthy this season and bring a strong bat to a lineup that has struggled hitting for power the past two seasons.
Brandon Phillips' production will be important too. By trading for Phillips from the Cincinnati Reds, management brought another veteran presence into the clubhouse to help the developing players. Having the four-time Gold Glove winner will also likely teach Swanson and potentially Albies some tricks of the fielding trade too. But at age 35, Phillips is the oldest position player on the roster, and the third oldest player on the entire team behind Colon and Dickey. Though his average was over .290 the past two seasons, it will be interesting to see whether Phillips is able to keep up this production with his new teammates.
About to turn 32, Adonis Garcia has hit acceptable numbers in his two seasons with the Braves. He has recorded a .274 clip with 198 hits and 24 home runs in 192 games on the team. But at his age, it does not seem likely that Garcia will be able to significanly improve those numbers to become a major offensive contributor to the team. For the Braves to also improve their record this year, it falls on falls on Garcia's shoulders to find more production playing an important position on the roster.
If Kemp continues his power hitting and good health, Phillips maintains his offense, and Garcia provides even marginal improvement, it should help put Atlanta in a position to contend for the postseason.
The Braves will begin their 2017 season on April 3 with a three-game series away against the New York Mets.